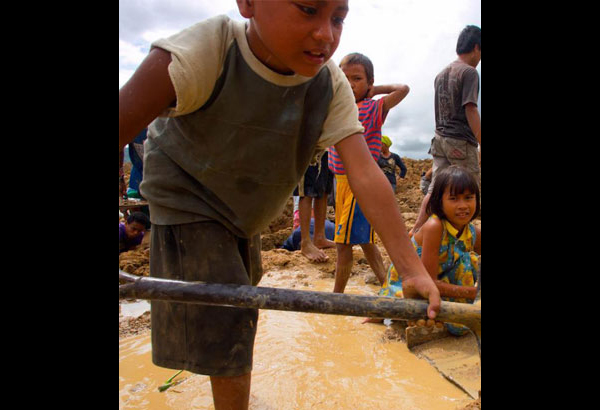 Children are calling on Congress to pass House Bill 4907 or the "Positive and Non-Violent Discipline Bill" that could help eliminate the practice of corporal punishment on children especially in homes, "Jophet," one of the UNICEF youth ambassadors said. File
Strengthen laws on child protection, lawmakers urged
Ghio Ong
(The Philippine Star) - November 23, 2017 - 4:00pm
MANILA, Philippines — With the prevalence of issues troubling children like sexual abuse, exploitation and deprivation of basic services, children are calling on legislators to strengthen further the laws and policies ensuring their protection.
Young Filipino ambassadors of the United Nations Children's Fund (UNICEF) laid down their proposals during an event in Manila yesterday before their supposed "take-over" at the Senate.
Children are calling on Congress to pass House Bill 4907 or the "Positive and Non-Violent Discipline Bill" that could help eliminate the practice of corporal punishment on children especially in homes, "Jophet," one of the UNICEF youth ambassadors said.
He cited the National Baseline Study on Violence Against Children released last year, which disclosed that three out of five people suffer both physical and psychological abuse during their childhood. This could be in the form of physical violence, verbal abuse or even abandonment.
Meanwhile, the government must ensure that services and assistance are given to females who became mothers at a young age, another UNICEF youth ambassador "Unice" said.
Local government units could create "teenage facilities" that could offer skills and livelihood training and basic training on peer education to help teenage mothers cope with the trauma brought about by their pregnancy and help provide basic necessities for their offspring, she explained in her speech in Filipino.
Citing data from the Young Adult Fertility and Sexuality Study, "Unice" said that 20.8 percent of the youth in 2013 have limited or no knowledge about sex, a 3.1-percent increase from the last figure in 1994.
The same data revealed that people who experienced early sexual encounter increased by over 10 percent in the last 20 years.
Moreover, the age of sexual consent must be raised from 12 to 18 years old, so as to prevent sexual abuse on minors, UNICEF youth ambassador Jicarl Gopleo said in his speech.
He also asked law enforcement agencies to implement in the entire country laws like Republic Act (RA) 7610 that protects children from abuse, exploitation and discrimination; RA 8353 or the Anti-Rape Law and RA 9775 or the Anti-Child Pornography Act.
The Philippines is still one of the 10 countries considered as hotspots of online child sexual exploitation, he added, citing information from law enforcement agencies. – Marvin Sy