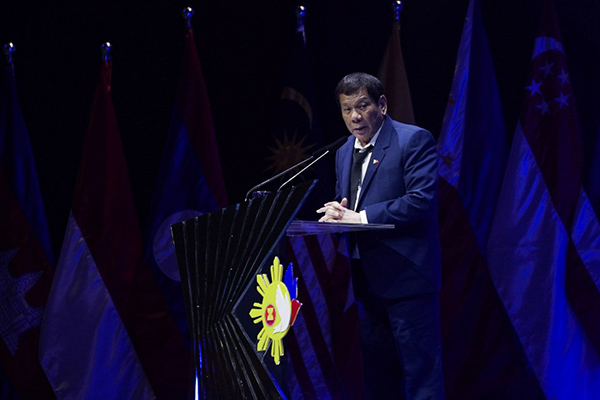 President Rodrigo Roa Duterte, in his speech during the closing ceremony of the 31st Association of Southeast Asian Nations Summit and Related Summits at the Philippine International Convention Center on November 14, 2017, expresses the country's continuing commitment to building a strong and resilient ASEAN Community. King Rodriguez/Presidential Photo
Revolutionary gov't remark not an outright statement, Duterte insists
MANILA, Philippines — President Rodrigo Duterte clarified that he would only declare a revolutionary government if "things go out of control" and the government is in danger of being overthrown violently.
Duterte accused the media of "chopping" his statements and leaving out the condition that would warrant such declaration.
"Revolutionary? Then we should have a revolution first then… Until there is a revolution 'yung ma-ano, malabo (it is unlikely)," the president told reporters in Davao City Saturday.
"You are always shortchanged of quotations. I said before and I repeat now, and I know it would not be taken into account again. I said if things go out of control at tumagilid 'yung gobyerno, 'yun ang predicate ko (and the government is placed at risk, that is my predicate). It was not an outright statement," he added.
Earlier, Duterte said he would set up a revolutionary government and declare all state posts vacant if the Philippines plunges into chaos because of the alleged destabilization plots against him.
"If I declare a revolutionary government, arestado kayong lahat. Hindi ako nananakot (All of you will be arrested. I am not scaring you)," Duterte told state-run television network PTV 4 last October 13.
"If I think you are about to take over the government, you destabilize the government, bantay kayo (watch out)," he added.
"If my see that my nation tilts into chaos and is really destabilized, I will declare a revolutionary government."
The remark drew flak from the opposition, who accused the president of being paranoid and of trying to "annihilate democracy."
Duterte claimed that only the parts of his statement that were "good for a public criticism" came out in news reports.
"Because they would always omit the predicate—Kung tumagilid ang bayan ko (if my country is in danger) and I see revolutionaries bringing firearms on the streets, well, maybe, huwag ka nang magdalawang-isip (do not think twice), I will declare a revolutionary government," he said.
"Ayaw ko ng (I do not like) martial law. Maraming (Too many) restrictions. Todohin ko na lang (I might as well go full force)… Do not do something that will cause or even attempt to topple government, hindi ako papayag ng ganun (I won't allow that to happen)."
The 72-year-old Duterte has repeatedly denied seeking to perpetuate himself to power, saying he is not happy being a president because of the demands of the job.
Last month, Solicitor General Jose Calida claimed that the opposition, communist rebels and some members of the clergy are planning to oust Duterte but did not disclose their identities.