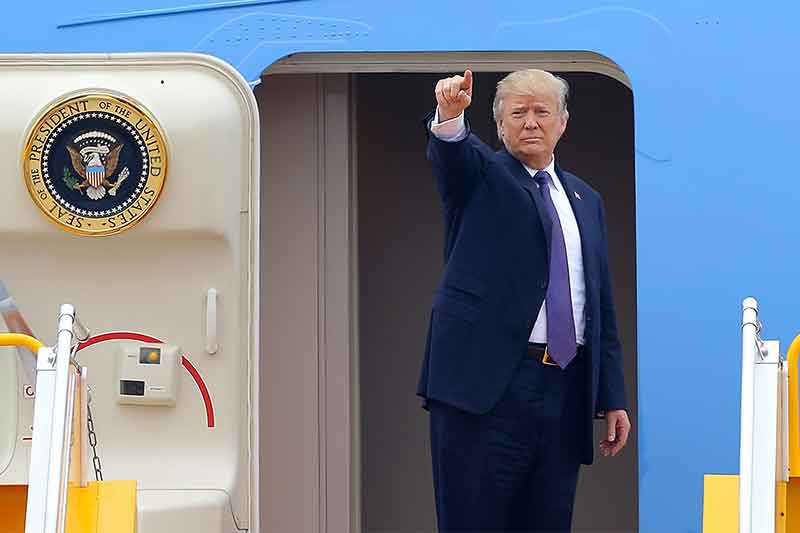 U.S. President Donald Trump boards Air Force One before departing from Noi Bai international airport, in Hanoi, Vietnam Sunday, Nov. 12, 2017. Minh Hoang/Pool Photo via AP
Philippines welcomes Trump offer to mediate dispute vs China
MANILA, Philippines — Foreign Affairs Secretary Alan Cayetano described the offer of US President Donald Trump to serve as a mediator on the South China Sea dispute as a "generous offer."
Trump, in a meeting with Vietnamese President Tran Dai Quang, described himself as a "very good mediator and a very good arbitrator."
Vietnam and the Philippines are two of the major claimants in the South China Sea. China claims almost the entire resource-rich region through its nine-dash line claim, which was invalidated by the UN Permanent Court of Arbitration in July 2016.
Cayetano told reporters on Sunday: "We thank him for it. It's a very kind, generous offer because he is a good mediator. He is a master of the art of the deal."
Cayetano, however, said that claimant countries have to answer as a group with regard to Trump's offer.
READ: Trump offers to mediate on South China Sea
"Not one country can just give an instant reply because mediation involves all of the claimants and non-claimants," Cayetano said.
He noted that claimant states, including the Philippines and China, are moving forward on the code of conduct in the South China Sea.
Following the bilateral talks between President Rodrigo Duterte and Chinese President Xi Jinping in Vietnam last Saturday, Beijing has agreed to work on the sea code.
According to Cayetano, the talks on the code of conduct would include preservation of marine life, access to fishermen, having less Navy and more Coast Guard in the area.
"I'm not saying the issue is solved. I'm not saying the dispute has been resolved. I'm not saying there are no problems. I'm saying it's getting better," he said.
Cayetano added that needing a mediator for the South China Sea dispute would depend on the ASEAN as a group.
"I do not want to speak for ASEAN at this point because for me to speak, we need a consensus," Cayetano said.
The Philippines, on the other hand, has "very good" bilateral relations with China.
"Our negotiations, our arguments are going very well on a bilateral matter and we will continue with China," Cayetano said.