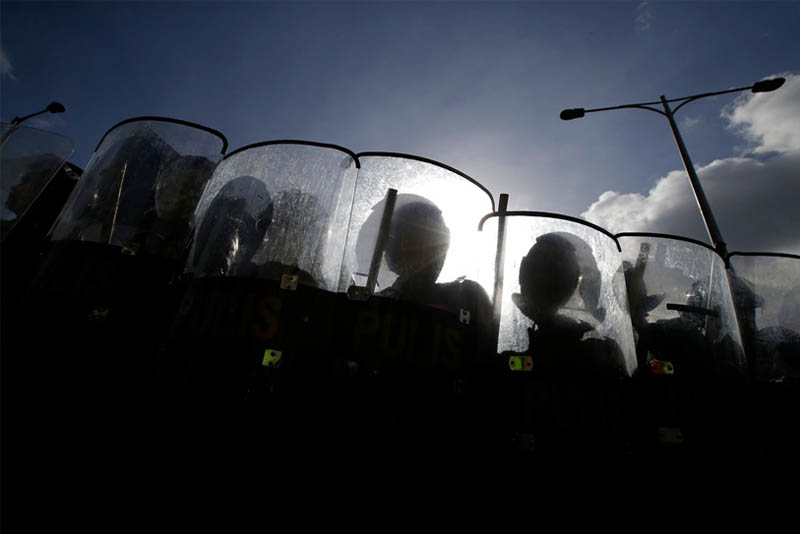 Riot police prepare to push back people protesting the visit of U.S. President Donald Trump outside the main venue of the ASEAN summit meetings Saturday, Nov. 11, 2017 in Manila, Philippines. Trump is currently on a visit to Asia with the Philippines as his last stop for the ASEAN leaders' summit and related summits between the regional grouping and its Dialogue Partners. AP/Aaron Favila
UN rapporteurs raise alarm on ASEAN rights problems
(Philstar.com) - November 11, 2017 - 10:50am
MANILA, Philippines — Four United Nations human rights experts urged the 10-member Association of Southeast Asian Nations to discuss "pressing" regional rights issues during the bloc's key summit in Manila.
From November 11 to 14, 21 world leaders—along with the UN chief—will sit down for talks in Manila for the 31st ASEAN meet.
SPECIAL COVERAGE: ASEAN Summit in the Philippines
In a statement dated November 10, the UN experts, while recognizing the "important work of the many active civil society organizations across the region," expressed concern over the "worrying deterioration in the environment" where human rights defenders operate.
They also expressed dismay at the "increasing harassment and prosecutions" of bloggers, journalists and social media users.
"Human rights defenders, social activists, lawyers, journalists, independent media and even parliamentarians trying to speak out and protect the rights of others, increasingly face a multitude of risks ranging from judicial harassment and prosecution to threats, disappearances and killings," the experts said.
"We condemn the public vilification, harassment, arrests and killings of members of civil society, and call on Member States to rigorously uphold their duty to ensure the freedom and protection of those exercising their fundamental rights to freedom of expression, association and peaceful assembly," they added.
"Independent media, members of civil society and human rights defenders should be viewed as partners and as an essential element of democracy."
The Philippines, one of the bloc's founding states, chairs this year's ASEAN summits. Members of the 10-nation bloc take turns at chairmanship.
Among the human rights issues hounding the region were the Philippines' bloody "war on drugs," the Rohingya crisis in Myanmar, the crackdown on dissenters in Vietnam and Cambodia, and junta rule in Thailand.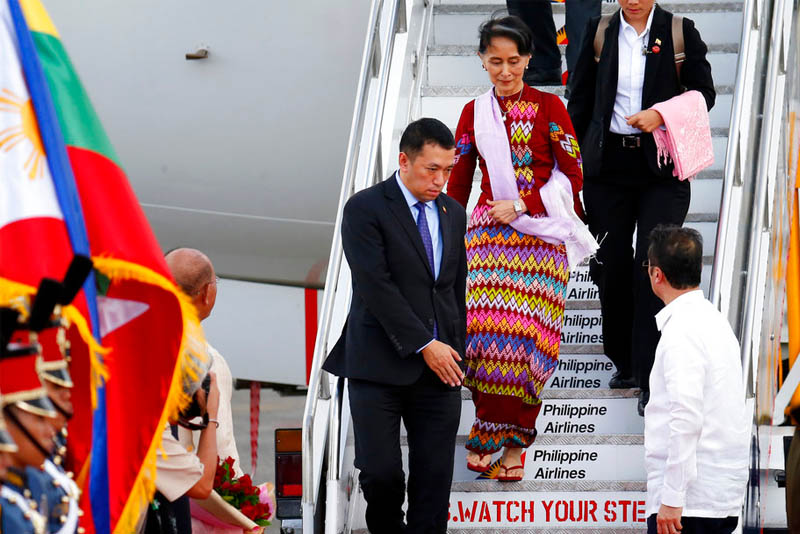 Myanmar State Counsellor Aung San Suu Kyi steps down from her plane upon arrival at Clark International Airport in Clark, Pampanga province north of Manila, Philippines Saturday, Nov. 11, 2017. Suu Kyi is one of more than a dozen leaders who will be attending the 31st ASEAN Summit and Related Summits in Manila. AP/Bullit Marquez
READ: Leaders urged to bring up regional rights issues at APEC, ASEAN
According to the UN rapporteurs, the ongoing ASEAN meetings in Manila should be used by member-states as an opportunity to "make real progress" on the region's rights issues and to show that the bloc is "fully committed to securing human rights."
They likewise encouraged Southeast Asian governments to see human rights monitoring and reporting, not as a threat, but as a positive tool that can help them comply with these commitments.
The statement was issued by UN special rapporteurs Annalisa Ciampi, Michel Forst, Yanghee Lee, and Agnes Callamard, who has been verbally attacked by Philippine President Rodrigo Duterte for criticizing Manila's deadly drug war.
Faced with strong criticism of the administration's violent campaign against drugs, Duterte on Thursday floated the idea of calling for a global summit on human rights violations by other countries.
"Not zero in on me. Why just me? There are so many violations of human rights, including by the United States, including the continuous bombing in the Middle East killing civilians. Even of children... of their schools," he said.
READ: Int'l watchdog reacts to Duterte's plan to hold human rights summit