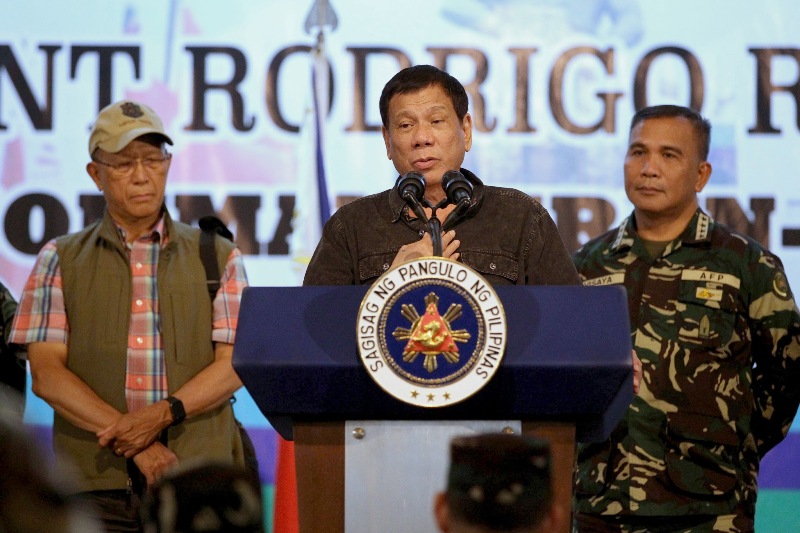 President Duterte was in Zamboanga City to visit wounded troops. PPD/Ace Morandante, file
Duterte insists on public debate with UN special rapporteur
MANILA, Philippines -- President Rodrigo Duterte on Saturday rejected United Nations Special Rapporteur Agnes Callamard's proposal to hold a private meeting with him on extrajudicial killings and insisted on having a public debate with her on the issue.
The government had invited Callamard to the Philippines to investigate the alleged extrajudicial killings of drug suspects but insisted that she comply with some conditions. They include engaging Duterte in a public debate where the president would be allowed to ask her questions.
Callamard has rejected the conditions, saying they go against the code of conduct for special rapporteurs. She said the findings of an investigation should be confidential so she can build trust among her sources of information.
Instead of a public debate, the rapporteur suggested holding a private debriefing with Duterte and a joint press conference where the president can challenge her findings.
The president, however, was firm on his stand that he and Callamard should have a public debate.
"No, I want it discussed in public so she can state her case. If that's what she did then I can refute her and ask her where did you get that garbage? What extrajudicial killings?," he said in a news conference in Zamboanga City.
"I've been very open about everything. My order is to destroy (the drug apparatus). They did not understand the enforcement and the presidency," he added.
Duterte said his order to destroy the drug apparatus includes not only tangible objects but also people involved in the narcotics trade.
"I'm not ordering a punitive police action. I'm declaring war because of the number of people, Filipinos who were victimized by drugs," he added.
Duterte chided the western nations for supposedly trivializing the Philippines' drug problem, which he claimed has affected four million Filipinos.
"I am angry because they are trivialize. They are underestimating the four million (addicts), sons of b******, because they are not Filipinos," the president said.
The figure of four million is not supported by data from the Dangerous Drugs Board.
Duterte said his critics did not seem to grasp the reality that he did not have enough funds to address the drug problem.
"I assumed the presidency midterm. My budget was the budget of (former president Benigno) Aquino (III). He did not think that the number of Filipino addicts was that high," he said.
"Whats the favorite battle cry of LP (Liberal Party)? Bottoms up, disburse everything. I was left with nothing, just the funds for maintenance and operation."
Duterte insisted that he never ordered security forces to execute people who whose hands were already tied and those begging for their life.
"Did I order them to shoot people whose hands were tied? If some say I did, I will resign tomorrow," he said.
"If you order an illegal thing to the military and policemen, they will mount a coup d' etat."
Duterte visited wounded troopers at Camp Navarro in Zamboanga City yesterday and handed out financial assistance to 16 battle casualties. Families of soldiers who were killed in clashes received at least P500,000 each.