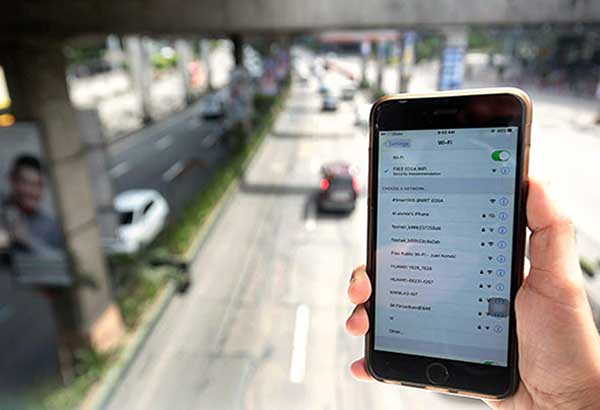 In particular, LTE availability in the Philippines was at 58.83 percent. This was an improvement compared to the Philippines' LTE availability of 52.77 percent in OpenSignal's June 2017 report. File
Philippines ranks near bottom in internet speed — report
MANILA, Philippines — The Philippines ranked close to the bottom in terms of long term evolution (LTE) availability and speed, according to research firm OpenSignal.
OpenSignal's The State of LTE November 2017 report showed the Philippines placed 69th out of 77 countries in terms of LTE availability.
LTE is the type of 4G – or fourth generation mobile type of technology – that delivers the fastest connection for a mobile internet experience – up to 10 times faster than 3G.
In particular, LTE availability in the Philippines was at 58.83 percent. This was an improvement compared to the Philippines' LTE availability of 52.77 percent in OpenSignal's June 2017 report.
OpenSignal's availability metric tracks how often consumers with 4G devices can connect to an LTE network in their respective countries.
In terms of LTE speed, the Philippines ranked 74th out of 77 countries, with an average download speed of 8.24 megabits per second (Mbps), slower than the country's average download speed of 8.59 Mbps recorded in the June report.
OpenSignal said global average for LTE downloads went up slightly in the last six months to 16.6 Mbps from 16.2 Mbps.
It said a country's 4G speed can depend on factors such as the spectrum devoted to LTE, whether new 4G technologies like LTE Advanced are being used, how densely networks are built and how much congestion is on those networks.
"In general, though, the countries with the fastest speeds tend to be the ones that have built LTE-Advanced networks and have a large proportion of LTE-Advanced capable devices," it added.
The results of the latest report are based on more than 50 billion measurements collected by more than 3.8 million smartphone and smart device users from July 1 to Oct. 1.
South Korea topped the list in terms of LTE availability at 96.69 percent, while Japan came in second with 94.11 percent and Norway placed third with 88.66 percent.
On the other hand, Algeria had the lowest 4G availability at 41.50 percent.
In terms of LTE speed, Singapore was the leader with an average download speed of 46.64 Mbps, followed by South Korea with 45.85 Mbps and Norway with 42.02 Mbps.
Meanwhile, India had the lowest LTE speed at 6.13 Mbps.