According to the annual report of the World Economic Forum released November 2, the country dipped to 10th place this year from seventh place last year. It got a score of 0.790. AP Photo/Bullit Marquez
Philippines still tops in gender equality in Asia but falls 3 notches in world ranking
(Philstar.com) - November 2, 2017 - 9:16am
MANILA, Philippines — The Philippines maintained its status of having the narrowest gender gap in Asia but fell three places in the world ranking, according to the 2017 Global Gender Gap Index.
According to the annual report of the World Economic Forum released November 2, the country dipped to 10th place this year from seventh place last year. It got a score of 0.790.
The Philippines also ceded its position as the highest performer in the East Asia and the Pacific region to New Zealand, which scored 0.791.
"A worsening performance on the wage equality for similar work indicator, dropping from 7th to 21st, partly accounts for this fall. The country also reopens a health and survival gender gap for the first time since 2006, although the educational attainment gender gap remains fully closed," WEF said in its report.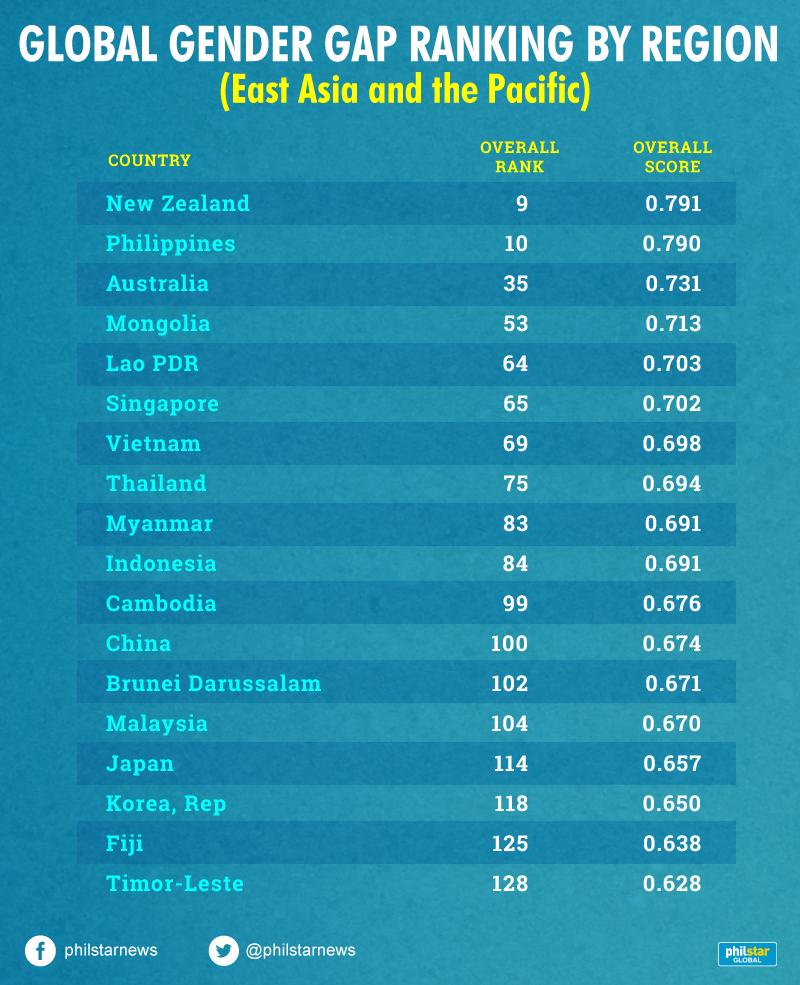 A total of 144 countries were ranked based on indicators such as educational attainment, health and survival, economic opportunity and political empowerment.
For the Philippines' scorecard this year, it ranked first globally in terms of educational attainment indicator.
The country also rose four places in the political empowerment indicator to 13th place (0.416) this year from 17th place in 2016.
However, it fell to 25th (0.764) from 21st place in terms of economic participation and opportunity indicator. The country also plummeted to 36th from first globally in terms of health and survival indicator.
European countries dominated the top three, with Iceland (0.878) still as the most gender neutral country worldwide.
Last year's third placer Norway snagged the second place with 0.830. Finland dropped to third place with 0.823.
Completing the list of top 10 countries in terms of gender equality are: Rwanda (0.822), Sweden (0.816), Nicaragua (0.814), Slovenia (0.805), Ireland (0.794), New Zealand and the Philippines.
Economic heavyweights in East Asia and the Pacific such as China, Japan and Korea ranked poorly at 100th, 114th and 118th, respectively.
READ: Philippines No. 1 in gender equality in Asia; 7th in world