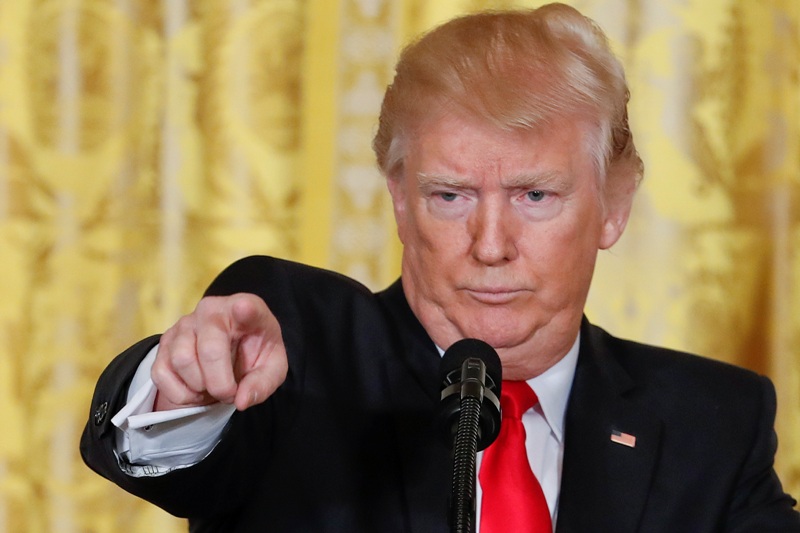 The uncertainty over the message that President Donald Trump will bring to Asia later this month is fueling questions and doubts in regional capitals. File
Trump's Southeast Asia strategy an 'enigma,' analyst says
MANILA, Philippines — US President Donald Trump's strategy for Southeast Asia remains a big enigma, according to an analyst, with his decision to skip a key regional summit fueling further questions on Washington's view of the role of the Association of Southeast Asian Nations.
According to Michael Green, a nonresident fellow at the Lowy Institute, the US president's decision to skip the East Asia Summit in Manila on November 14 is raising questions in Southeast Asia on how Washigton really views the role of the ASEAN.
Many nations in the region are also worried that the White House is preparing a speech trashing multilateralism, the idea that countries could make progress in any given goal, in the region.
READ: Trump to hold bilateral meeting with Duterte in Manila
Although many of these analyses could be wrong, uncertainty over the American commitment to the region are fueling Chinese clout and Southeast Asian doubts, according to Green.
"The Trump strategy for Southeast Asia presents an even bigger enigma, though the President does deserve credit for traveling to Vietnam and the Philippines and for successfully hosting a series of Southeast Asian leaders in Washington," Green wrote, adding Trump deserves criticism for appearing to accede to the anti-democratic moves of some leaders of Southeast Asia.
The message that Trump will bring to Asia when he travels to five countries in the region from November 3 to 14 remains uncertain and this has made governments from Tokyo to Manila anxious, noted Green.
READ: Philippines welcomes Trump's November visit
Trump's national security team hopes that the US president reinforces the broad strategic framework previewed by US Secretary of State Rex Tillerson when he talked about a "free and open Indo-Pacific," Green said.
Green stated that Tillerson expressed clear emphasis on Japan, Australia and Japan and open skepticism about China's trustworthiness during his speech outlining the American strategic framework.
"The concept builds on Japanese Prime Minister Shinzo Abe's 'strategic diamond' connecting the four major maritime democracies in the region," Green said.
However, this framework will raise questions for Trump as regional capitals would quiz him on how a free and open region could be advanced if the US rejected the Trans-Pacific Partnership and appears poised to torpedo the US-Korea free trade agreement any moment, Green said.
"If Prime Ministers Turnbull and Abe are clever, they will judo the free and open Indo-Pacific concept into a discussion on the need for rule-making and eventually something like TPP, but Mr Trump will smell this coming and the conversation could be difficult," he said.
Although Trump should be credited for introducing sweeping financial sanctions against North Korea and for demonstrating readiness for a military option, the US president is undermining these efforts by attacking the US-Korea free trade and hyped-up rhetoric against Pyongyang.
"The President is undermining those efforts and longer-term US strategic interests by aggravating US-ROK relations," Green said.
Green also predicts that a Trump meeting with Chinese President Xi Jinping would be tense, at least behind the scenes.
"The White House has rejected Chinese pressure to issue a joint communique and senior officials in Tokyo and other allied capitals are somewhat less nervous about a Sino-US condominium emerging, as seemed more likely when the President's senior advisor and son-in-law Jared Kushner was playing a prominent role in the relationship," he said.
"We will soon see how well the free and open Indo-Pacific framework survives first contact with the region, and with the President's Twitter account," he added.