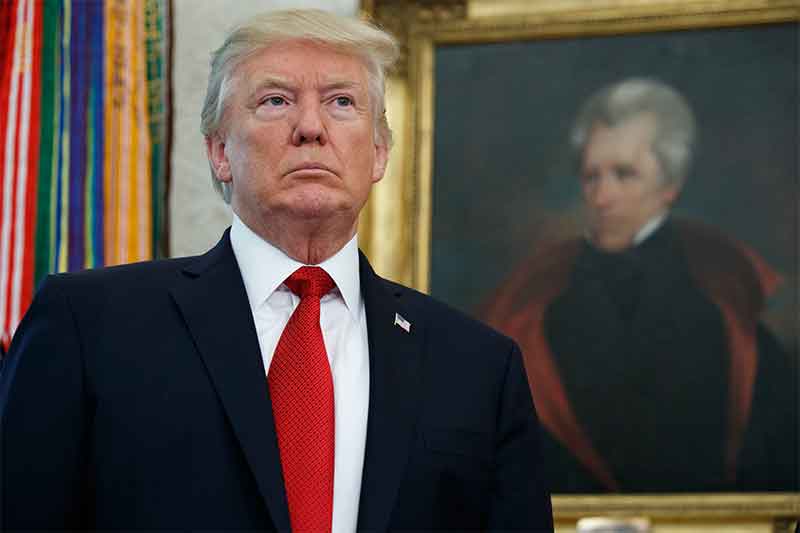 President Donald Trump listens as he is introduced to speak with winners from the National Minority Enterprise Development Week Awards Program, in the Oval Office of the White House, Tuesday, Oct. 24, 2017, in Washington. AP/Evan Vucci
Trump to skip East Asia Summit in Angeles — report
MANILA, Philippines (UPDATED 11:01 a.m.) — US President Donald Trump will be visiting Manila on November 12 and 13 but will go home before the East Asia Summit, according to a report.
The White House earlier announced that Trump will visit Manila as part of his Asian tour of China, Japan, South Korea, Vietnam and the US state of Hawaii.
The Washington Post reported that Trump will still meet with President Rodrigo Duterte and other heads of state.
Attending the East Asia Summit Nov. 14? You won't see Trump. He's going home the night before. https://t.co/7PWoChCM9k

— Josh Rogin (@joshrogin) October 24, 2017
The American leader, however, will not travel to Angeles City on November 14 for the East Asia Summit, according to the report.
READ: Trump accepts Duterte's invitation to ASEAN in Manila | Philippines welcomes Trump's November visit
The Washington Post's Josh Rogin said that a spokesperson told him that Trump will be returning to the US on the evening of November 13.
"You should not read anything into his being absent on the 14th," the spokesman told Rogin.
The Department of Foreign Affairs (DFA), meanwhile, noted that based on the schedule the White House has given, Trump will be in Manila for the special gala celebration of the 50th anniversary of ASEAN November 12 and the ASEAN-US Summit on November 13. Both events will be held in Manila.
"The Philippine and US sides are also working out a bilateral meeting between the two Presidents," DFA spokesperson Rob Bolivar said.
Trump's absence at the key annual conference of Asian and world leaders comes at time when the United States' partners and allies are seeking signs of the new administration's commitment to the region. The Post noted that the move may undermine the overall goal of Trump's Asia tour.
The Obama administration's pivot to Asia involved a deepening of ties with regional actors, including the Philippines which saw the signing of a major executive agreement allowing rotating presence of American troops in the country.