Philippines, Japan sign $6B worth of business deals
October 30, 2017 | 11:00am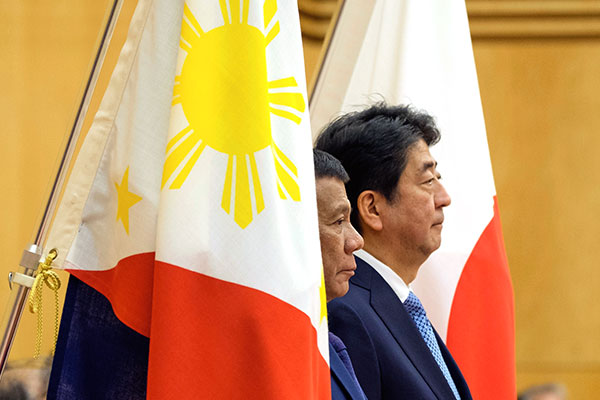 TOKYO — At least 18 business deals that will yield $6 billion worth of new investments were signed here Monday by Philippine and Japanese firms in a development that officials said affirmed investor confidence in the Philippines.
President Rodrigo Duterte witnessed the signing of the agreements, which are expected to pour in Japanese investments in manufacturing, shipbuilding, iron and steel, agribusiness, power, renewable energy, transportation, infrastructure, mineral processing, retailing, information and communication technology, and business process management.
"President Rodrigo Roa Duterte met several Japanese companies and witnessed several B-B MOUs (business-to-business memoranda of understanding) and letters of intent on Investment plans, joint ventures and expansion of operations in the Philippines," Trade Secretary Ramon Lopez said in a statement.
"Total new investments (are expected to reach) $6 billion," he added.
A list of companies that signed the agreement was not available as of Monday but incoming presidential spokesman Harry Roque said the deals would be undertaken by "big multinational" and "Filipino giant" corporations.
"If I'm not mistaken, there were at least 25 agreements that were witnessed by the president today," Roque said in a chance interview here.
"I think it's because there is number one, commercial predictability, number two there is peace and order in the Philippines and there is conducive business environment where businesses are safe from unjust taking," he added.
Roque said the signing of business deals also highlighted the "very strong" relations between the Philippines and Japan.
"It also proves that Japan continues to be one of our most active trading partners," the incoming presidential spokesman said.
Among the companies that signed business deals are the Steel Asia Manufacturing Corp. and Metro Pacific Investments, which forged agreements with Hitachi and Itochu. The group of businessman Manuel V. Pangilinan was also scheduled to meet with Japanese firms NTT, Rakuten, Itochu, Mitsui, Marubeni, Densan and Hitachi.
Lopez said he also met with his Japanese counterpart Hiroshige Seko to discuss ways to improve market access and lowering tariff of Philippine agricultural products like banana, pineapple and mango.
Asked about the Japanese trade minister's reaction to his request to lower the tariff for Philippine agricultural exports, Lopez replied: "They took note of that and to be discussed in detail in the technical working groups under JPEPA (Japan-Philippines Economic Partnership Agreement)."
JPEPA is the bilateral trade agreement between the Philippines and Japan.
It was signed by former President Gloria Macapagal-Arroyo and then Japanese Prime Minister Junichiro Koizumi in Helsinki, Finland, in September 2006.
The agreement assures zero duties for more than 90 percent of Philippine exports to Japan and is expected to enhance the access of Filipino service workers to the Japanese market. It also requires the removal of tariffs by both Japan and the Philippines on almost all industrial goods within 10 years from the date of its implementation.
Lopez said he and Seko also discussed Japan's support to reach a substantial conclusion of the Regional Comprehensive Economic Partnership.
The two trade chiefs also tackled the Industrial Cooperation Dialogue and ways to improve the supply chain for Japanese companies to benefit Philippine small and medium enterprises.