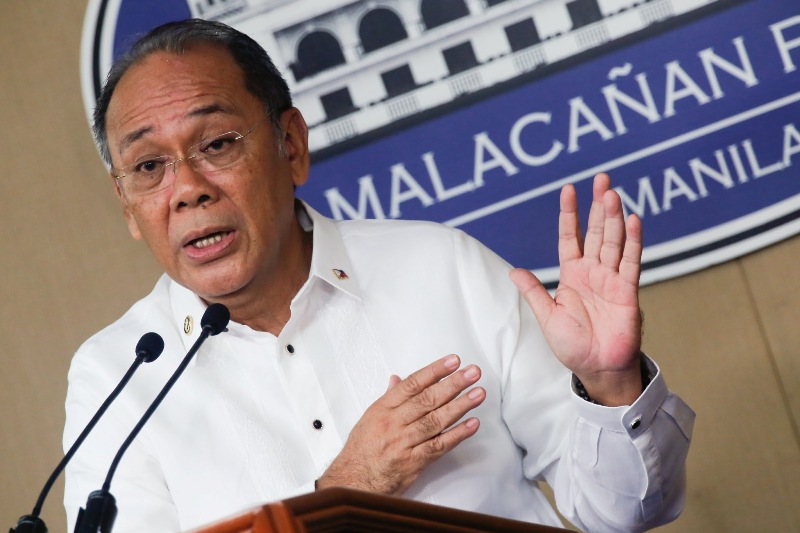 "While enemy force has greatly diminished, we will continue to be alert and assure the residents of the city that we will not compromise its security with the presence of some units of the Armed Forces." PPD/Toto Lozano
Marawi pullout doesn't signal end to clashes, says Palace
(philstar.com) - October 21, 2017 - 7:26am
MANILA, Philippines — The beginning of military pullout in the battle-scarred Marawi City does not signal the end of fighting between state forces and remaining ISIS-linked terrorists, Malacañang said on Saturday.
"While enemy force has greatly diminished, we will continue to be alert and assure the residents of the city that we will not compromise its security with the presence of some units of the Armed Forces," presidential spokesperson Ernesto Abella said in a statement.
"We cannot afford to drop our guard for possible threats coming from the remaining network of Daesh-inspired terrorist group still operating as we begin the challenging task of rebuilding, reconstruction, and rehabilitation of Marawi," Abella added.
READ: Duterte: Martial law to stay until last terrorist is 'taken out'
Amid sporadic gunfire, the military began withdrawing forces from Marawi City on Friday, giving a battalion of troops a joyful sendoff following the successful mission to defeat Islamic State-linked Maute extremists.
The Army's 1st Infantry Battalion was the first to pull out from war-torn Marawi after nearly five months of standoff that often involved close quarters combat, vastly different from the jungle warfare for which they were trained.
They were among the first batch of government troops who fought the Maute terrorists in the early stage of the siege in late May. Sporadic fighting continued in the city even as the 1IB troops looked forward to a respite from the desolate war scene of smoldering buildings and houses.
The troops led by Lt. Col. Christopher Tampus said the war in Marawi was their most difficult mission. Even as Tampus and his men were preparing to pull out, other military units pressed their assault against the militants.
Officers used loudspeakers to urge the militants, many of them positioned in a bullet-pocked two-story building, to surrender.
The building stands on a pier by the lake near a large gunfire-scarred welcome sign that says "I (love) Marawi."
The military said there were about 20 civilian hostages among an estimated 20 fighters still holding out with 39 of their family members.
President Rodrigo Duterte visited the Islamic city on Tuesday and announced its liberation, sparking hopes that hundreds of thousands of residents could begin returning home.
READ: Duterte declares Marawi freed from terrorists
The speed of their return, however, will depend on how quickly the city is declared safe and free of militants.
The president made the visit a day after the key leaders of the siege, Abu Sayyaf leader Isnilon Hapilon and Omarkhayam Maute, were killed in a gunbattle. Their deaths were the turning point that partly convinced Duterte that he could declare Marawi liberated from the Maute, officials said.
RELATED: How Maute, Hapilon died in one of the last Marawi gunfights