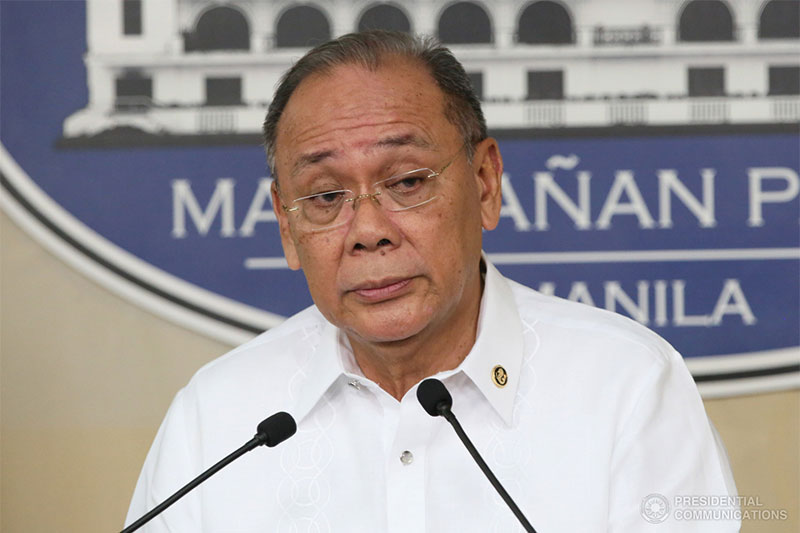 Presidential Spokesperson Ernesto Abella said President Rodrigo Duterte's declaration of Marawi City's liberation was a "strategic message." Presidential Photo
Marawi liberation announcement premature? Palace says remaining terrorists 'non-significant'
(philstar.com) - October 19, 2017 - 8:51am
MANILA, Philippines — Did President Rodrigo Duterte make a premature announcement after he declared Marawi City freed from terrorists? Malacañang does not think so.
In a press conference on Thursday, Presidential spokesperson Ernesto Abella sought to defend Duterte's announcement, arguing that the police force is enough to deal with the remaining ISIS-linked terrorists in the war-torn city.
The Palace spokesman also said the declaration was a "strategic message."
"The leadership has been neutralized and that whatever forces that are left are non-significant and as it has been referred to should be a matter of police enforcement," Abella said.
"So, from the perspective of the government... everything is aligned and on the road to recovery," he added.
On Tuesday, Duterte, in a rousing address to soldiers, declared Lanao del Sur's capital liberated from pro-ISIS extremists a day after terrorist leaders Isnilon Hapilon and Omar Maute were killed in a targeted pre-dawn military operation.
READ: Duterte declares Marawi freed from terrorists
But hours before Duterte's announcement, journalists on the ground reported hearing sporadic gunfire and explosions as advancing troops clashed with the leaderless jihadist fighters in a bid to retake the last militant-controlled pocket of the city.
According to Maj. Gen. Restituto Padilla, Jr. — spokesman for the Armed Forces of the Philippines — there are still a few terrorists left in the battle area backed by six to eight foreign fighters.
Padilla added that Malaysian financier Mahmud Ahmad—who helped put together a militant alliance that attacked Marawi on May 23—is still in the area.
But he dismissed the speculations that Mahmud is a threat.
"Dr. Mahmud is an academic; he's not a fighter. His experience in fighting is not as extensive as Hapilon or the Maute brothers and his ability to lead the fight is not there. Hence, we don't see this as a problem," Padilla said.
READ: AFP: Pockets of fighting despite announced liberation of Marawi
Also on Thursday, AFP said it believes that the Malaysian terrorist is one of the 13 militants killed in Marawi on Wednesday. But AFP chief Gen. Eduardo Año said the military is yet to confirm Mahmud's death.
"AFP is increasingly becoming confident that he was among those who have been killed during [Wednesday's] operations. The process to confirm this with finality, however, is still ongoing," Año said.