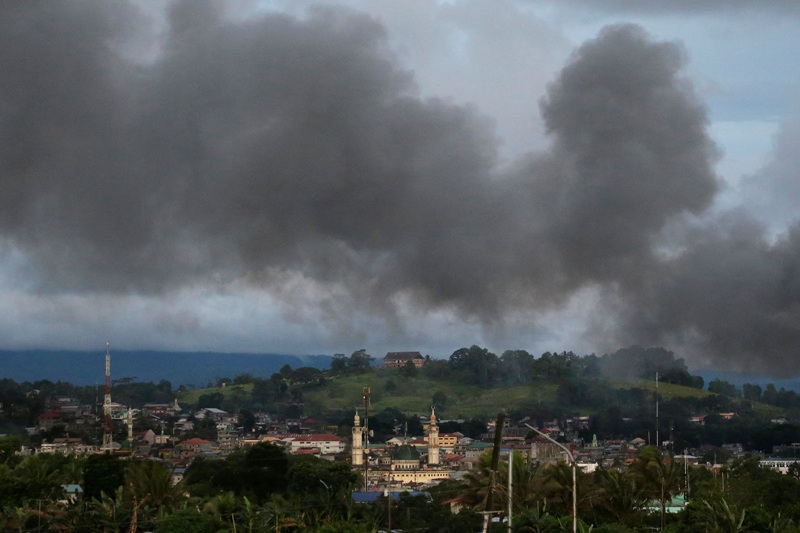 Armed Forces of the Philippines Spokesperson Restituto Padilla said the battle in the besieged city of Marawi will still continue until the last element is dealt with. President Rodrigo Duterte declared the liberation of Marawi from terrorists on Tuesday afternoon, marking the start of the city's rehabilitation. AP/Aaron Favila
AFP: Pockets of fighting despite announced liberation of Marawi
(Philstar.com) - October 17, 2017 - 8:00am
MANILA, Philippines — Despite President Rodrigo Duterte's declaration of the liberation of Marawi City from terrorists, fighting will continue against remaining militants, Brig. Gen. Restituto Padilla , military spokesman, said.
"In the small pockets where battle is ongoing, it will continue until the last element is dealt with. But the terrorists no longer have the complete control that they used to have in this particular area," Padilla said in an interview on ANC's "News Now."
In a speech before troops on the 148th day since the crisis began, Duterte announced the liberation of Marawi City. He said the declaration marks the beginning of rehabilitation of Lanao del Sur's capital.
The president's announcement came after terrorist leaders Isnilon Hapilon and Omar Maute were killed in a military operation at dawn on Monday.
READ: Duterte declares Marawi freed from terrorists
"The declaration of the president hopefully gives way to the entry and the start of the rehabilitation and reconstruction of Marawi from the ashes," Padilla noted.
The AFP spokesperson said that there are still a few terrorists and hostages left in the battle area.
Padilla added that there are still six to eight foreign fighters in the area "whose spirits are very much down and whose willingness to fight is not as high as it was previously."
He said the Malaysian financier Mahmud Ahmad—who helped put together a coalition of fighters who attacked Marawi in May—is still in the area.
'Mahmud is an academic, not a fighter'
Padilla, however, dismissed the speculations that Mahmud is a threat.
"Dr. Mahmud is an academic; he's not a fighter. His experience in fighting is not as extensive as Hapilon or the Maute brothers and his ability to lead the fight is not there. Hence, we don't see this as a problem," Padilla said.
He added: "The greater part of Marawi is freed or liberated as what was mentioned and hence the remaining number of armed elements as well as the areas they holed up in will not impact the overall effort that we wish to do to bring back Marawi up from the ashes."
Marawi Mayor Usman Gandamra welcomed Duterte's declaration, saying he is confident that the war will be over soon.
"The resistance from the remaining enemies will not be an hindrance. In a few days from now, one to two days, the war in Marawi City might end," Gandamra said on ANC's "News Now."
Despite the liberation of Marawi City, martial law will take effect until December 2017.
AFP reported that as of October 16, a total of 824 terrorists had been killed, 827 firearms recovered and 1,771 hostages rescued. On the part of the government, 162 soldiers were killed and 1,000 others were wounded in action.