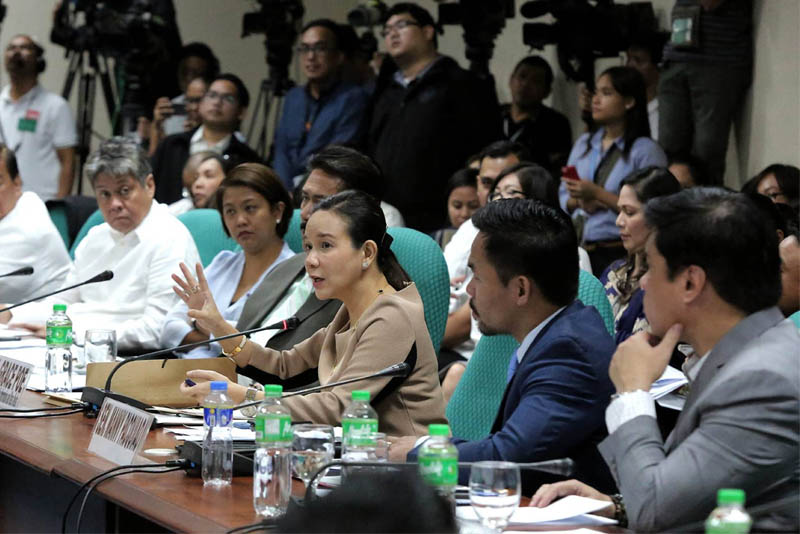 Senators participate at a hearing looking into the proliferation of fake news led by Sen. Grace Poe (center) on Wednesday, Oct. 4, 2017. The hearing also looked into the supposed identity of a blogger critical of the Duterte administration.Senate PRIB
Duterte supporter readies libel case vs Pinoy Ako Blog writer
(Philstar.com) - October 16, 2017 - 7:37am
MANILA, Philippines — Newspaper columnist Sass Rogando Sasot has gathered donations for a libel case she plans to file against Jover Laurio, the government critic and blogger behind Pinoy Ako Blog.
As of this port, Sasot, who is based in the Netherlands, has received EUR12,860.55 (around P776,153.04) through donations.
"I have just recently finished my master's (graduating this month). And my current bread-and-butter is my job as an opinion columnist in the Manila Times. I'd be needing help to cover the legal expenses of this legal battle against Jover Laurio who seems to be being backed by the machinery of the Liberal Party of the Philippines," she said on her Facebook page.
She said she plans to file the case in November.
Over the weekend, supporters of President Rodrigo Duterte — PAB has been critical of Duterte, his policies and his political allies — have been sharing photos of Laurio with politicians identified with the former administration party that has seen its numbers reduced through defections since the 2016 elections.
Although opposition figures have voiced support for Laurio and her blog, a direct link between her and the party has yet to be established.
Sasot, in another Facebook post, said the costs of flying to the Philippines will be shouldered by a donor and that excess money from the fundraising will go towards paying for a forum in Europe "with Europeans as audience." She said the forum is meant "clarify the situation in the Philippines" and what she said is black propaganda against Duterte.
"I will also donate some of the excess fund for the summit that United DDS Europe will organize in Madrid,Spain in April," she said.
De Lima urges public to support Laurio
Sen. Leila de Lima, detained on drug charges that she has denied and claims were politically motivated, meanwhile urged the public to support Laurio, who has been the subject of bashing online by supporters of the president, including an assistant secretary of the Department of Social Welfare and Development.
De Lima, in a statement released Sunday, said that the public should defend Pinoy Ako Blog both as a social media entity and a citizen "under attack for exercising her constitutional rights."
Laurio on Friday revealed herself as the person behind Pinoy Ako Blog, which has been critical of President Rodrigo Duterte's administration.
She admitted that she has been a target of Duterte supporters, particularly Sasot and RJ Nieto of the Thinking Pinoy blog.
The detained senator praised Pinoy Ako Blog for bringing information, raising questions and inviting critical thinking and constructive discussion that are vital to democracy.
"While we hold accountable those who peddle fake news, and use their public office for the propagation of propaganda, we must defend anyone and everyone—and I mean anyone and everyone—who is in the rightful, responsible and accountable exercise of their rights," De Lima said.
Laurio's critics and bashers, however, claim that her posts are libelous and are propaganda.
READ: Blogger behind Pinoy Ako Blog to take online bashers to court
'Defending Laurio is like defending heroes'
De Lima said that supporting Pinoy Ako Blog is similar to defending the rights that would have protected the revolutionary newspaper La Solidaridad.
La Solidaridad was the newspaper of the Propaganda Movement composed of Jose Rizal, Marcelo del Pilar, Graciano Lopez Jaena, among others.
"By defending Ms. Laurio's rights in using the name "Pinoy Ako Blog" and writing what she writes, we uphold the same rights that could have protected Jose Rizal, Marcelo H. Del Pilar, Graciano Lopez-Jaena, and Antonio Luna (to name a few, every time they wrote under the pen names 'Dimasalang,' or 'Laong-Laan,' 'Plaridel,' 'Diego Laura' and 'Taga-Ilog,'" De Lima said.
Nieto, while still writing anonymously on the Thinking Pinoy blog, made the same claim to protect his anonymity.
On September 29, Nieto first claimed that the person behind the Pinoy Ako Blog as Cocoy Dayao. He later said at a Senate hearing that Dayao owns the Google Ads publisher ID associated with the blog and with other websites critical of President Rodrigo Duterte and his administration.
Nieto published a post digging into the "content creators" of the Pinoy Ako Blog where he identified a certain "Jover" among the writers of the blog.
He then proceeded to post links of Laurio's old Facebook and Twitter posts and her Pinterest account.
The blogger also revealed where Laurio, a law student, goes to school.
De Lima noted that "doxxing"—a common practice online of obtaining and posting private documents about an individual, usually a rival or enemy—is a reprehensible act of bullying and repression.
Laurio said she will file civil cases against her bashers.
"As Jover Laurio, I was crying everyday. As PAB, I tried to be brave and continue blogging. But I think it is time for me to fight back," Laurio said.
Former Solicitor General Florin Hilbay said on his Facebook page that he and the members of the Alyansa ng mga Abogado Para sa Bayan are "extending legal services to Ms. Laurio so she can defend herself and pursue her harassers."