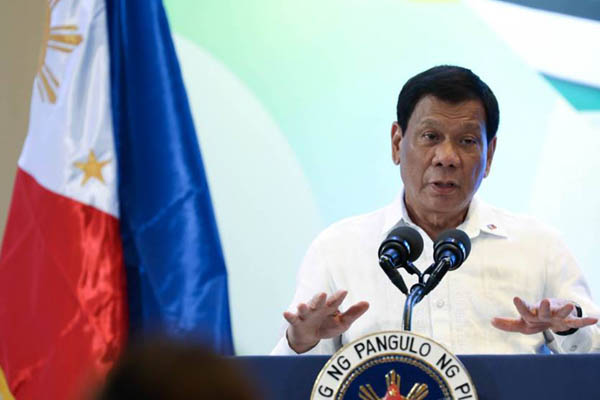 Human Rights Watch noted that President Rodrigo Duterte's decision showed that he buckled to the public dismay over his controversial campaign. Presidential Communications Operations Office
Duterte 'finally feeling the heat' — Human Rights Watch
(philstar.com) - October 13, 2017 - 8:24am
MANILA, Philippines — Human Rights Watch on Friday said that President Rodrigo Duterte is "finally feeling the heat" for ordering the suspension of the Philippine National Police's anti-drugs operations.
Duterte on Wednesday designated the Philippine Drug Enforcement Agency as the "sole agency" in charge of the war on drugs.
READ: Duterte: PDEA now 'sole agency' in charge of drug war
He said he is hoping this move will satisfy the "bleeding hearts" and the media.
HRW noted that Duterte's decision showed that he buckled to the public dismay over his controversial campaign.
"Duterte's decision appears to be a response to growing domestic outrage over the deliberate targeting of children by police on anti-drug operations. That public dismay has helped fuel a sharp slide in Duterte's popularity ratings, which had previously shown strong public support," HRW said.
READ: Child killings spark calls for UN probe — Human Rights Watch
The group also noted that Duterte might have given in to rising international pressures.
Last month, 39 countries issued a joint declaration demanding the Philippine government to put an end to killings.
Another possible reason for the suspension of the drug war was the warning of group of parliamentarians and civil society workers that Manila might lose its preferential trade deal if it would fail to stop drug-related killings and the political persecution of critics, HRW said.
This move prompted a furious response from the tough-talking president.
READ: Duterte warns EU ambassadors: 'You leave my country in 24 hours' l Duterte dares groups, countries to remove Philippines from UN
HRW, however, said that the suspension of illegal drug operations will not allay the fear of the public and stop the investigations.
"But if Duterte believes that declaring another suspension in police killing operations will ease pressure for a UN-led international investigation into the drug war, he should think again," the group said.
It added: "His war won't end until there is justice and accountability for its thousands of victims."
In January, Duterte was forced to suspend Oplan Tokhang—a portmanteau of two words meaning to "knock" and "plead"—following the kidnapping and killing of South Korean businessman Jee Ick-joo in the hands of some policemen.
Citing lack of manpower in the anti-narcotics operations, Duterte later decided to tap the police again in the war against illegal drugs as he stressed that only the qualified ones would be allowed to join the crackdown.
Duterte's war on drugs has been heavily criticized by domestic and international organizations.
According to the latest statistics released by the PNP, there have been 6,225 drug-related deaths since July 2016.
The PNP said 3,850 have "died in police operations," suggesting these are drug suspects who engaged arresting officers in shootouts.
However, human rights groups estimate a higher death toll, with some approximations going as high as 13,000 individuals killed in the course of the administration's anti-narcotics campaign.
READ: PNP: 6,225 drug-related deaths, no extrajudicial killings