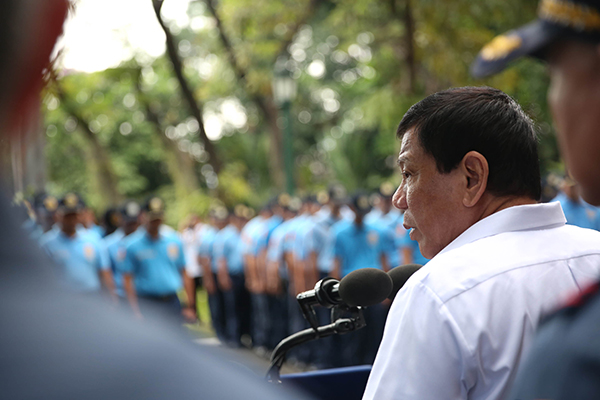 President Rodrigo Duterte orders the police officers facing various charges to be detailed in Basilan for two years during their presentation to the President in Malacañang on February 7, 2017. The President gave the errant police officers 15 days to decide whether to resign or accept their re-assignment in Basilan. Marcelino Pascua/Presidential Photo
Duterte: PDEA now 'sole agency' in charge of drug war
(Philstar.com) - October 11, 2017 - 6:25am
MANILA, Philippines — President Rodrigo Duterte has designated the Philippine Drug Enforcement Agency as the "sole agency" in charge of the war on drugs amid simmering public outrage over alleged police abuse in the continuing crackdown.
Duterte issued the order a few days after his latest net satisfaction score suffered from its biggest fall since he became president. Among the events in the news when the survey was conducted was the death of a minor in the hands of Caloocan City cops that triggered rare street protests.
The memorandum also comes on the heels of Philippine National Police Director General Ronald Dela Rosa calling out critics of the drug war for being ingrates. He has since apologized for the remarks.
READ: Duterte sees 18-point drop in satisfaction rating
In a memorandum dated Oct. 10, Duterte ordered the Philippine National Police, the National Bureau of Investigation, the Armed Forces of the Philippines, the Bureau of Customs, the Philippine Postal Office and other "ad hoc anti-drug task force" to leave the implementation of the drug war to the PDEA.
Duterte cited Republic Act No. 9165, or the Comprehensive Dangerous Drugs Act of 2002, in his new memorandum.
In the document, Duterte said all information obtained in the course of the enforcement of the anti-narcotics campaign must be "relayed, delivered, or brought to the attention of the PDEA for its appropriate action."
Despite sidelining the police from the drug war, Duterte, nonetheless, directed the PNP to maintain its visibility "at all times" as a "deterrent to illegal drug activities."
Duterte, who easily won the race to Malacañang last year on a brutal law-and-order platform, has stoked international alarm for activating his fierce anti-drug campaign.
Early this year, Duterte was forced to suspend Oplan Tokhang—a portmanteau of two words meaning to "knock" and "plead"—following the kidnapping and killing of South Korean businessman Jee Ick-joo in the hands of some policemen.
At that time, Duterte stripped the PNP and the NBI of the authority to conduct anti-illegal drug operations and designated the PDEA—backed by the Army— to continue the campaign. He also abolished the anti-drug units of PNP and vowed to cleanse the police force of scalawags.
Citing lack of manpower in the anti-narcotics operations, the firebrand leader later decided to tap the police again in the war against illegal drugs as he stressed that only the qualified ones would be allowed to join the crackdown.