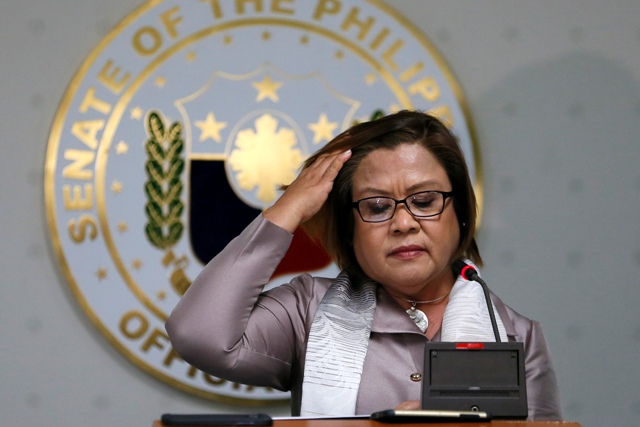 Associate Justice Presbitero Velasco Jr. "vehemently denies" detained Sen. Leila De Lima's claims that his participation in her SC case will "taint" the high court's ruling. AP/Bulilit Marquez File
Justice Velasco denies his participation in case will "taint" SC ruling on De Lma
(philstar.com) - October 6, 2017 - 8:28am
MANILA, Philippines—Supreme Court Associate Justice Presbitero Velasco Jr. has denied detained Sen. Leila de Lima's claim his participation in petition for arrest nullification will "taint" the decision of the high court.
In a statement released by the SC Public Information Office, Velasco "vehemently" denies that he pushed for the acquittal of convicted drug lord German Agojo when the Supreme Court division deliberated on the case in 2009."
De Lima, in her 10-page Motion for Inhibition filed on Thursday, said that Velasco should not participate in the deliberation of her petition seeking the nullification of her arrest due to "conflict of interest."
READ: De Lima asks Justice Velasco to inhibit from her case
The senator pointed out that Velasco was the lone voter for the acquittal of Agojo, one of the witnesses in the drug raps against her.
The SC upheld the conviction of Agojo.
But Velasco on Friday said he "did not file any dissent to the ponencia of now retired Justice Dante O. Tinga nor verbally move for Agojo's acquittal."
"Moreover, the claim of Senator De Lima is anchored on a news report written by Marites Vitug, who was charged before the Regional Trial Court of Manila by Justice Velasco for libel for her false and libelous remarks against the latter," the statement further reads.
It was also noted that Velasco "out of compassion" dropped the charges against Vitug.
"The attempt of Senator De Lima to inhibit Justice Velasco could simply be an attempt on her part to gain an advantage in connection with her pending case before the Supreme Court involving illegal drug trade and/or conspiracy to commit illegal drug trade," the statement further reads.
De Lima sought the high court for the nullification of her arrest warrant issued by the Muntinlupa Regional Trial Court Branch 204. She has also asked the SC to issue a halt order on the proceedings against her.
The senator insisted that the Sandiganbayan, not the Department of Justice, holds jurisdiction over the drug raps against her.
The DOJ indicted De Lima and several others for alleged committing drug trade.t
READ: Court issues warrant of arrest for De Lima
The detained senator is the staunchest critic of President Rodrigo Duterte. She has earlier accused the government using its resources to pin her down.
The SC heard the petition of De Lima's team, led by former Solicitor General Florin Hilbay, through oral arguments last March.
De Lima is currently detained at the police headquarters at Camp Crame.