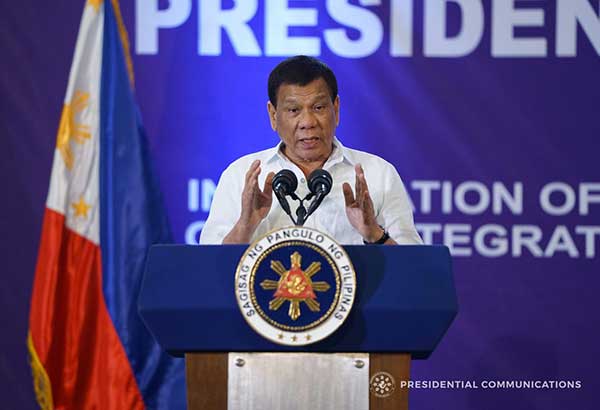 The President's threat came days after the Office of the Ombudsman announced that it would investigate Duterte's bank accounts, which allegedly contain millions of pesos that he did not declare in his statement of assets, liabilities and net worth (SALN). PCOO/Released
'Yellow conspiracy' out to oust me – Rody
Raps eyed vs Morales, Carandang, Trillanes
MANILA, Philippines — President Duterte yesterday accused the Liberal Party (LP) of conspiring with the Communist Party of the Philippines (CPP) to oust him from office, and vowed to pursue the impeachment of Chief Justice Maria Lourdes Sereno and Ombudsman Conchita Carpio-Morales.
The President's threat came days after the Office of the Ombudsman announced that it would investigate Duterte's bank accounts, which allegedly contain millions of pesos that he did not declare in his statement of assets, liabilities and net worth (SALN).
Supporting the conspiracy angle, the Office of the Solicitor General (OSG) yesterday vowed to exhaust all legal remedies to put Sen. Antonio Trillanes IV, Morales, Overall Deputy Ombudsman Melchor Carandang and other Duterte critics behind bars.
Solicitor General Jose Calida yesterday said the OSG is gathering all information and evidence that would support the charges to be filed against Carandang, Trillanes and other critics of the President.
"We are now carefully studying and getting information from other sources because the conspiracy did not stop with these people," Calida said in a press conference in Makati.
"Before, it was the Yellows. Then they changed the color to white, and now there are also reds coming in, and members of the clergy are also joining the fray."
"But I warn them, they will not succeed. Why? Because they are doing subversive activities; we can send them to jail," he said. Duterte said at the start of his administration, he had tried to negotiate for peace with the communists but he later scrapped it because the New People's Army, armed wing of the CPP, continued to attack government forces despite the ceasefire.
"But what is really very clear is 'yung Left, pati ang kaalyado ng Left… 'yung mga dilaw. Gusto nila ako paalisin dito sa Malacañang (even the Left, the ally of the Left is the yellows. They want me out of Malacañang)," the President said, referring to LP's color.
But Duterte shrugged off the possibility that the US State Department and the Central Intelligence Agency might be conniving to oust him.
"I know for one (that) no one controls the State Department. They will find ways to do what they want. Yayariin ka nila (they will nail you)," he said.
Duterte reiterated that he would accept his destiny if it is really his fate to be ousted from the presidency.
"I always believe in destiny. My presidency, if I'm destined to survive five years left of my term, but if God – I'm not into supernatural – if swerte (luck), if your time comes, it will come. I won without nothing," he said.
But Duterte stressed that he cannot be removed from office except through the impeachment process.
He also said he has reasons to believe that Morales and Sereno have allowed themselves to be used in the supposed efforts to destabilize the administration.
"We will file an impeachment case against her (Morales) and I would tend to believe that she was part of the conspiracy, on the fabricated papers," Duterte said, referring to the bank documents purportedly used by Trillanes in his graft complaint against him.
"I challenged them. Why don't we go to Congress? The three of us – Sereno, her (Morales) and me and we will bring the passbook or the statement of the Central Bank.
"I will ask for it myself. Then let us show them. But we sign because what perceives to be a problem for the Republic is the Chief Justice also did not properly file the SALN, the huge attorney's fees she got in the Piatco case," Duterte added.
The House of Representatives, dominated by Duterte's allies, is deciding if the impeachment complaint against Sereno is sufficient in form and substance.
Duterte: Bank records illegally obtained
Duterte again slammed Trillanes, one of his critics, saying he illegally obtained the details of his bank accounts, hence these records cannot be used as evidence in any court of law or any impeachment proceedings.
"Pag i-impeach niya ako, hindi niya magamit (When I face impeachment, he cannot use it). Why? Because illegally obtained. Ang problema niyan, maski na maglabas na ang totoo ang Central Bank, sabihin ko (The problem here, even if the Central Bank released the truth, I will say) those are the fruits of a poisonous tree," he added.
The President also bared that during his command conference with the Armed Forces of the Philippines (AFP) and the Philippine National Police (PNP) last Tuesday night, he asked military and police generals to get the facts straight from their own intelligence sources to find out if he is really telling the truth about his bank accounts
"I said last night during the AFP-PNP Command Conference, if you think that I'm lying – anyway you are generals, you have friends – just go to the office of the Anti-Money Laundering Council and look at the computers there. And if you see billions in my account, kindly, most kindly please, oust me tomorrow," Duterte said.
Duterte reiterated that he is ready to resign if proven that he has over P200 million hidden in his bank accounts.
"That is the commitment I gave to the lawyers and now I'm giving it to the people of the Republic of the Philippines. Maaasahan ninyo 'yan (you can rely on it)," he said.
But Duterte still refused to issue a bank waiver, saying he will not give in to Trillanes' challenge.
"I am not a fool," he said.
OSG to jail Trillanes, ombudsman
Calida claimed that Carandang can be held liable for violating Section 15 of the Ombudsman Act and Section 14 of the Republic Act 9160, or the Anti-Money Laundering Act, for maliciously disclosing details of the President's bank account.
Calida claimed that Morales committed an impeachable offense when she allegedly condoned Carandang's move to publish Duterte's alleged bank accounts even if she inhibited from the case because the son-in-law of the President is her nephew.
"You cannot shirk away from accountability by feigning inhibition while condoning your deputy's fraudulent actuations. As head of the agency, she cannot wash her hands like Pontius Pilate," he added.
For Trillanes, he can be held liable "for perjury under Article 183 of the Revised Penal Code and others, too numerous to name for this time," Calida said.
Calida said that the OSG found out that Carandang is being helped by two lawyers: a former ombudsman official and an official during the Arroyo administration.
Calida also claimed that Trillanes and Carandang are trying to oust the President because some quarters cannot accept the fact that they lost to Dutere and want to regain power. – With Robertzon Ramirez