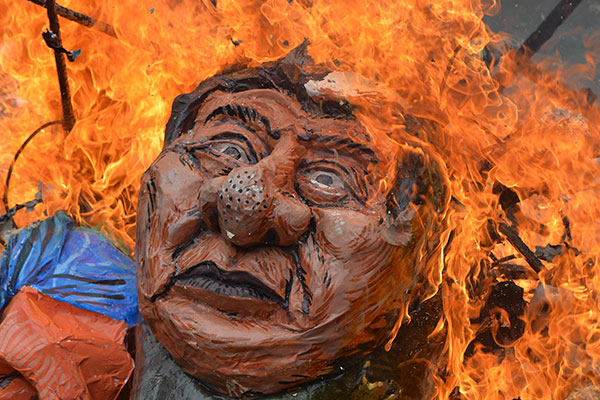 Anti-US protesters burn an effigy of Philippine President Rodrigo Duterte during a rally near the US embassy in Manila on September 15, 2017. The protesters marched to the US embassy to commemorate the Philippine Senate's voting on September 21, 1991 to end the continued stay of US military bases in the country, and accused the US of continued intervention in Mindanao island. Ted Aljibe/AFP
Protesters vow 'peaceful' rally against EJKs, attack on institutions
MANILA, Philippine — Progressive groups vowed that demonstrations on Thursday commemorating the 4th anniversary of the declaration of martial law would be "peaceful" as they would not give the Duterte administration any excuse for a possible dictatorial rule.
"The rallies will be peaceful as it is not in the interest of protesters to engage in violence and be used by Duterte as scapegoat for his Martial Law fantasy," Bagong Alyansang Makabayan (Bayan) Secretary General Renato Reyes said in a statement.
Reyes said that among the issues that various progressive groups would be protesting are the continuous rise of cases of extrajudicial killings (EJKs) in connection with the administration's war on drugs, the militarization of the countrysides, the burial of the late dictator Ferdinand Marcos Sr. at the Libingan ng mga Bayani and Duterte and his allies' aggressive attacks against independent bodies such as the Commission on Human Rights, the Office of the Ombudsman and the Supreme Court.
Reyes said they will also be protesting any plan to declare martial law nationwide.
Early this month, Duterte said he will not hesitate to declare a nationwide martial law if communist rebels create "destruction and trouble" on the streets
"Over the past few days... there has been snowballing support for the rally in Luneta coming from various sectors. The issues are well-defined: extrajudicial killings, Martial Law, militarization, the war in Marawi, attacks on institutions, Marcos restoration, and the steady march towards dictatorship of the Duterte regime," Reyes said.
Human rights advocate group Karapatan likewise vowed for a peaceful rally, adding that the public must remain vigilant of Duterte's dictatorial tendencies.
"Tomorrow, activists, students, concerned citizens, and several other progressive organizations and individuals will march to Luneta and to different protest centers within and outside the Philippines for the Filipino People's Day of Protest to condemn the deteriorating human rights situation in the country," Kapatan secretary general Cristina Palabay said.
"As September 21 reminds us of the atrocities committed during the Marcos martial law era, we stand in vigilance against Duterte's national declaration of martial rule," she added.
Palabay said that aside from protesting the summary killings especially those supposedly involving the policemen, the progressive groups will also demand from the Duterte administration "to end harassment and intimidation attempts against members and leaders of progressive organizations and dissenters"
"Resistance to fascist regimes comes in many forms. Karapatan calls on the Filipino people to see through and act against the threats, lies and deception of the Duterte regime and its minions by marching in the streets tomorrow," Palabay said.