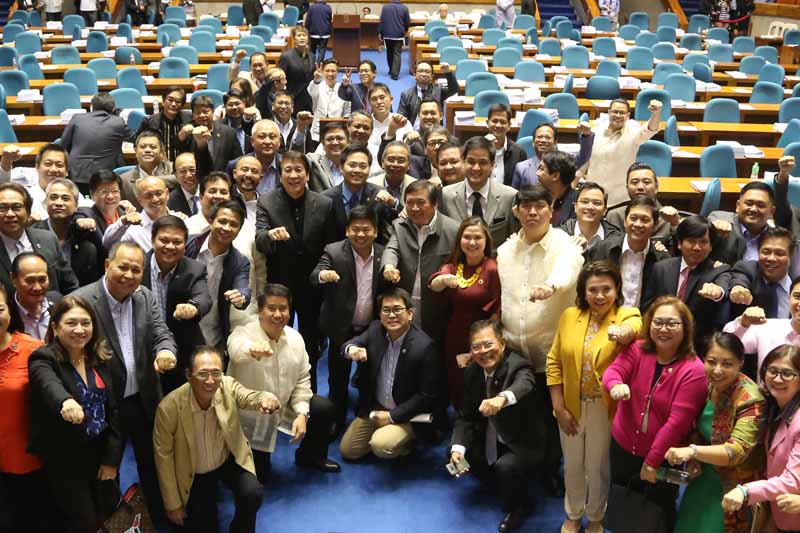 A Commission on Human Rights commissioner fears there might be a conspiracy to undermine independent institutions mandated to check the excesses of the executive. House of Representatives PRIB, release
Conspiracy to weaken constitutional institutions? CHR commissioner fears so
(philstar.com) - September 14, 2017 - 10:24am
MANILA, Philippines — There might be a conspiracy to undermine institutions mandated to check the excesses of the government as the lower house voted to give a measly budget to the Commission on Human Rights and approved an impeachment complaint against the chief justice.
CHR Commissioner Roberto Eugenio Cadiz stressed this point on Thursday, saying "there is every reason to fear that such conspiracy is ongoing."
"Personally, I fear that there is a movement towards that direction. My message is to be vigilant, to be aware of such possibility that this is happening," he said.
Cadiz added: "By the way, it's not only against the CHR, against the Supreme Court. It's also against the ombudsman and some other institutions that were created to guarantee a stable democratic society governed under a regime of rule of law."
On Monday, 119 lawmakers voted in favor of the scant funding for the commission mandated to protect the rights of the people from government abuse.
READ: What Duterte gets wrong about the CHR
House Speaker Pantaleon Alvarez argued that the measly budget is appropriate considering that CHR had been useless and interested only in protecting criminals, a common argument used against the agency by the allies of President Rodrigo Duterte.
As a constitutional body, CHR enjoys fiscal autonomy and cannot be defunded or be given a budget of only a peso, a way for some lawmakers to undermine its operations.
Meanwhile, voting 30-4, the House justice committee on Wednesday found the first impeachment complaint filed against CJ Maria Lourdes Sereno "sufficient in form and substance."
Former CHR Chair Etta Rosales also believes the drastic budget cut is a "way to neutralize and to reduce the Commission on Human Rights to be an inutile institution."
READ: Alvarez warns: House can't just follow what Senate wants
Rosales said that Duterte does not want to be scrutinized by the institutions mandated to check and balance.
She also noted that the budget cut is an insult to the Filipino people.
"Insulto ito sa mga mamamayang Pilipino sapagkat ang CHR ay isang constitutional office para ipagtanggol ang mga karapatang pantao ninyo tao," the human rights advocate said. "Pag inalis ito, inalis na rin ang proteksyon ng mamamayan sa kanilang karapatang pantao."
In a joint statement, The Former Senior Government Officials and the International Center for Innovation, Transformation and Excellence in Governance said the impeachment cases filed against Sereno are "insidious attempt to immobilize and weaken" institutions that check on the excesses of the executive.
"We see this as part of a bigger strategy to compromise the Commission on Human Rights, the Office of the Ombudsman and the Commission on Elections—all constitutional bodies designed to serve as checks and balances of governance," they said.
Senators, meanwhile, vowed to restore, if not augment, the agency's budget.