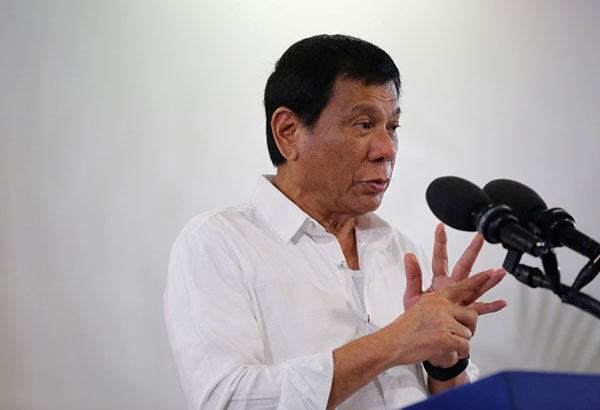 President Rodrigo Duterte had said "there will be no talks for the next five years" as Jose Maria Sison, founding chair of the Communist Party of the Philippines (CPP), was reportedly hesitant to return to the peace negotiating table. PPD/Toto Lozano, File
Duterte open to resuming talks with Reds
Alexis Romero
(The Philippine Star) - September 17, 2017 - 4:00pm
MANILA, Philippines — For the nth time, President Duterte has changed his tune and expressed readiness to resume peace negotiations with the communist rebels following the release of a policeman who was kidnapped by the guerrillas three months ago.
Duterte had said "there will be no talks for the next five years" as Jose Maria Sison, founding chair of the Communist Party of the Philippines (CPP), was reportedly hesitant to return to the peace negotiating table.
But on Saturday, Duterte said there is a need to have serious talks with the rebels, who have been waging an armed struggle against the government for 50 years.
"If you (communists) want to resume the talks, I am not averse to the idea, but let me sort out first the other branches of government," the President said during his meeting with Senior Police Officer 2 George Rupinta, who was freed by the rebels in Compostela Valley on Saturday.
Rupinta was seized by the New People's Army (NPA), the armed wing of the communist rebels, in Davao Oriental last June to probe his supposed involvement in "anti-people activities."
Despite his issues with the communists, Duterte thanked the rebels for releasing Rupinta, whom he said is suffering from a heart condition.
"I should share that I see to it that all prisoners of war have been treated well in accordance with the conventions of Geneva. And for that, I also would like to acknowledge their respect for the law," the President said.
"It's good that you released him. If he dies in your hands, my friends, we would have a problem, at least with the police," he added.
Duterte said he could not immediately grant some demands of the rebels because they require the approval of other branches of government.
"I share power with Congress and the Supreme Court. So do not ask for something in a hurry and for those which are not really acceptable to the other branches of government. Mahirap 'yan (It will be difficult)," Duterte said.
"Pag-usapan natin 'yan ng masinsinan (Let's talk about it seriously). Do not be in a hurry because we have been fighting for the last 50 years. And you just cannot ignore that period of violence and killing on both sides. You have to consider also the position of the military… and the police, who invested lives there," he added.
Duterte said he has to consider the sentiments and concerns of all sides as President.
"The fact alone that I cannot operate by myself would indicate that there is something more to be done… there is more than what meets the eye," Duterte said.
"There are things to be done. We have to clear with the Speaker periodically and the Senate President. So that is how it operates here," he added.
Duterte scrapped the peace talks last July after the communist leadership ordered the NPA to launch offensives against government troops to resist Duterte's imposition of martial law in Mindanao.
The President declared martial law in the island after Islamic State-inspired terrorists laid siege to Marawi City and held dozens of people hostage.
Presidential spokesman Ernesto Abella said Duterte would consult with members of the security cluster before returning to the negotiating table with the communists.
"The President likewise has to confer with the other branches of government regarding matters that require their consent and approval," Abella said in a statement yesterday.
"In spite of (the President's) firm position to protect the nation from violence and terrorism, his fundamental goal is sustainable and lasting peace; which in this case begins with addressing the social injustice as the historical root of conflict," he added.
Duterte took exception to claims that he "torpedoed" his alliance with the political left.
"It's not right I torpedoed (the alliance). If I really torpedoed it, why would I go into a rigmarole of appointing you every time they are rejected or bypassed by Congress?" the President said.
He was referring to former social welfare and development secretary Judy Taguiwalo and former agrarian reform secretary Rafael Mariano whom he appointed upon the recommendation of the National Democratic Front but were rejected by the Commission on Appointments.
"I want to place them there because I have to hear both sides. The problem is, while we are talking, there's full of threats about countryside positioning, deployment of New People's Army soldiers, and that, and that," Duterte said.
He reminded the rebels that harsh words would not bring the peace process forward.
"With regard to your message to me for the resumption of the talks, let me say this very carefully. Sa inyo 'yan eh. Sa inyo 'yan (it's up to you). Because when I became mayor, there were so many demands, and I conceded, and even appointing people from the left to join the government," the President said.
"And every time that I break bread with you, I am so courteous… tapos, hirit kaagad. Hindi ito madadala ng hirit, ng init ng ulo (and then you immediately criticize. This cannot be solved by hotheads). It cannot be solved by harsh language," Duterte added.
"P***. Eh ano kung ayaw mo? Pasupladuhan 'to eh. So, huwag kayong pumatol ng kasupladuhan ng - o 'yung sa akin, kung palakihin ninyo, talagang walang mangyari (B****. So what if you don't want it? It's a contest of tough talk. Do not make a big deal of it. If you do, nothing will happen). Might as well forget about the talks," he further said.
Duterte also lamented the rebels have not apologized to him for attacking a convoy of the Presidential Security Group in Cotabato last July. A militiaman and five presidential guards were hurt during the ambush.
"Eh ako, kung matapakan ko 'yung sapatos niyo, nagso-sorry ako eh. In-ambush ninyo 'yung presidential convoy na kung saan ako mag-landing sana… hindi man lang kayo nag-sorry (Whenever I step on your toes, I apologize to you. You ambushed the presidential convoy in an area where I was supposed to land but you did not say sorry)," the President said.