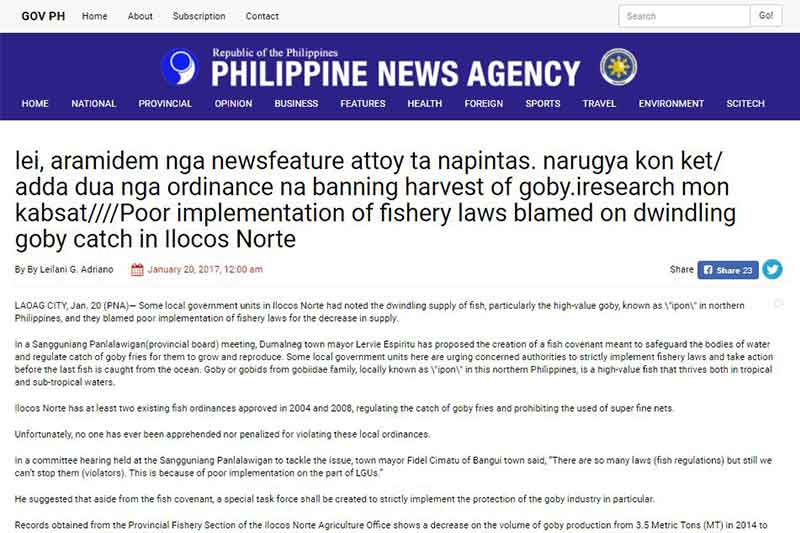 Some old articles of state-run Philippine News Agency were published with editor's notes as headlines on Friday afternoon. Screengrab/PNA
PNA 'improving protocols' after supposed cyberattack
(philstar.com) - September 15, 2017 - 3:00am
MANILA, Philppines — State-run Philippine News Agency (PNA) is now beefing up its system following a supposed cyberattack on its website that caused the beleaguered news wire service further embarrassment.
In a text message to Philstar.com on Friday, Palace Communications Undersecretary Joel Sy Egco, who now supervises the operations of PNA, said the press agency is "improving" its protocols after initial investigations pointed out "so many weaknesses" on the website's system.
Last week, screenshots of the news agency's old articles with editor's notes in the headlines went viral on social media, earning the PNA more criticism after a series of blunders earlier this year.
Palace Communications Operations Office Secretary Martin Andanar said the gaffe was caused by a supposed cyberattack despite security protocols in place. The incident is now under investigation of the National Bureau of Investigation (NBI) Cybercrime Division, he said.
READ: Andanar: NBI to probe 'sabotage' of Philippine News Agency
According to Egco, NBI's probe on the alleged hacking of PNA started on Thursday. Authorities are already looking into a "person of interest," he added.
"NBI was called in after internal probe showed there was an attempt to break into our new system last Friday. We turned over [documents] to NBI for further digging," Egco said.
As of press time, the site is still under maintenance.
In an interview on radio DZRH this week, Andanar said he believes the latest PNA error was a result of either an editor's negligence or an intent to humiliate the news agency.
"Siyempre, under ng PCOO itong PNA, so ang dami nating ginagawang reporma tapos gustong pilit gibain iyong PNA. So, meron talagang gustong gibain ako," he said.
Officials of the Duterte administration, Andanar included, have often hinted at destabilization plots and attempts to discredit government agencies. Sometimes, these plots are bared without proof.
In August, Andanar formed an editorial board for the PNA in response to controversies involving the state-run news service.
Andanar said he would lead the PNA Editorial Board, which includes Egco, PNA chief Virginia Arcilla-Agtay, PCOO Assistant Secretary Joseph Lawrence Garcia, Manila Times journalist and consultant Albert Gamboa, and PNA acting executive editor Louie Morente.
PNA was also in hot water earlier this year for using an erroneous photo of food firm DOLE Philippines logo on a story about the Department of Labor and Employment and for posting a commentary from Chinese state-run Xinhua that criticized the ruling of an international tribunal on the maritime dispute in the South China Sea.