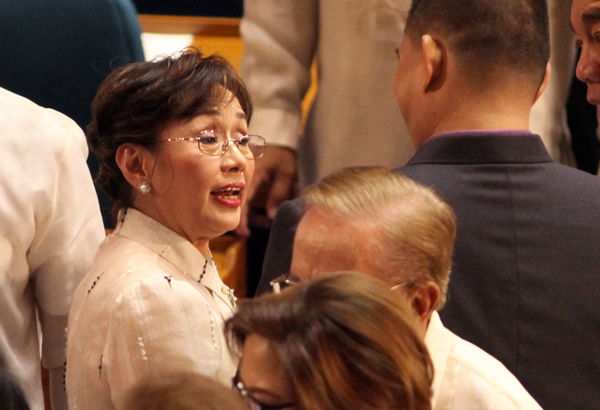 In this file photo, Batangas 6th District Rep. Vilma Santos attends the 2016 State of the Nation Address. Philstar.com/AJ Bolando, File
Some absent solons say they would've voted vs P1K CHR budget, others mum
MANILA, Philippines — A number of absent lawmakers on Wednesday claimed they would have voted against the P1,000 proposed budget for the Commission on Human Rights.
Representatives Teddy Baguilat Jr. (Ifugao), Ruffy Biazon (Muntinlupa) and Miro Quimbo (Marikina City, 2nd District) all said they were absent during the hearing of the proposed budget but if they were there they would have voted "no."
On Tuesday, the House of Representatives deliberated on the proposed P678 million budget of CHR. Lawmakers were asked to shout "aye" if they were in favor of the P1,000 budget for CHR and "nay" for those who oppose the motion. The solons were also later asked to stand up.
Baguilat said he was disappointed in the outcome where 119 voted in favor of the measly budget for CHR and only 32 voted against it.
"Disappointed we gave CHR a 1K budget. Disappointed in myself I was not around to vote against d cut. I apologize 2 d Filipinos," Baguilat wrote on his Twitter account.
"Should have anticipated this would happen. Should have not stepped out of the plenary and meet constituents. Unforgivable," he added.
Prior to the voting, Baguilat said he hopes Congress would pass the budget of CHR and "not give it a big fat zero like some threaten."
Quimbo said he was not present during the entire afternoon and the deliberation because he was preoccupied checking the flood situation in Marikina.
"I don't support the reduction. It's tantamount to an abolition of a constitutional office which only the people can do in a plebiscite," Quimbo replied to a netizen.
"Had I voted, it would have a NO," he said.
Like Quimbo, Biazon said he also left in the afternoon because he had to leave for an engagement outside Congress. He said he was only present during the plenary session from morning until afternoon.
Despite his absence, Biazon said he would have voted against the P1,000 budget.
"The budget of the CHR was taken up after I had left. Normally during plenary budget debates, there is no voting after each agency presentation. There are only questions and the sponsors give explanations. But in the case of the CHR, a member of Congress moved to reduce the budget to which other members objected, thus compelling the House to divide and vote on the matter," Biazon explained.
"Therefore, consistent with my personal conviction on the matter of human rights, I would have voted against reducing the CHR's budget if I was present in plenary at that time," he added.
Biazon hoped that this explanation sets the record straight for his constituents "who deserve to know the position of their representative."
Meanwhile, in a text message screenshot posted by Luis Manzano, the son of Batangas 6th District Rep. Vilma Santos, the actress turned solon said she was not able to attend the session on Wednesday because she had an ulcer attack. However, had she voted, Santos said she would also vote against the stripping off of CHR's budget.
"I am against cutting the budget of the CHR. The Commission has a duty to perform its Constitutional mandate," Santos said.
"With so many crimes/EJK-it needs more resources for these investigations. Ito ang Ahensya na tumutulong sa karapatang pang tao!" she added in the text message.
My mom's clarificatory message regarding the CHR issue :) and yes, she always makes lambing with extra "s" pic.twitter.com/qM0gspyLTN

— Luis Manzano (@luckymanzano) September 13, 2017
Other lawmakers who were not seen during the deliberation remain silent on their votes. These are Reps. Geraldine Roman, Pia Cayetano and Christopher De Venecia, among others.