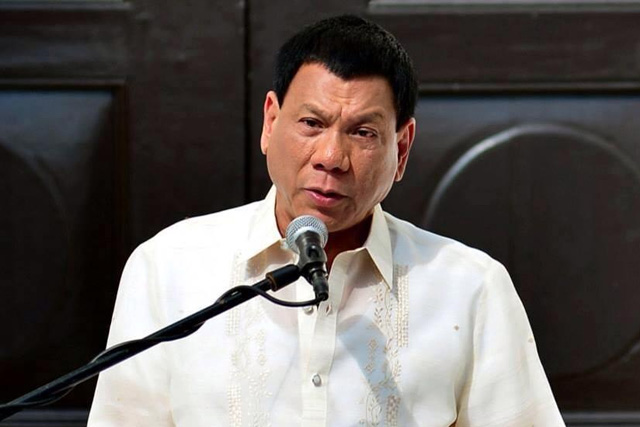 President Rodrigo Duterte on Wednesday challenged the claim that his war on drugs has already killed 10,000 victims. Philstar.com, File
Duterte challenges claim there are 10K drug war victims
(Philstar.com) - August 30, 2017 - 2:00pm
MANILA, Philippines — President Rodrigo Duterte on Wednesday challenged the claim that the government's war on drugs has already killed 10,000 victims.
"Pinatay ko raw 10,000. (They said I killed 10,000 people.) Who was the 10,000th victim? 'Yung 9,999th [victim], saan namatay? Sino? Paano namatay? (Where did the 9,999th victim die? Who? How did the victim die?) They think it is easy," Duterte said during the oath-taking of 55 Philippine National Police star-rank officers.
In May, the government launched its "#RealNumbersPH" campaign that it said would correct perceptions that thousands have died of summary executions. The updates, which were released weekly, have petered out to monthly updates, with the latest set of infographics released on August 1.
Data of the anti-drug campaign as of July 26, 2017 from PNP, PDEA, NBI and BOC #RealNumbersPH pic.twitter.com/qyBSRmmMzU

— DangerousDrugsBoard (@DDBgov) August 1, 2017
The latest data did not include information on Deaths Under Investigation, or homicides that police have yet to determine the motive for.
According to a June 30 release, with data updated until June 19, there were 8,200 under investigation out of 12,833 homicides recorded since July 1, 2016. The Presidential Communications Operations Office said 2,098 were drug-related.
As of the August 1 release, there have been 3,451 drug suspects killed in police operations since July 1, 2016.
The release of the data is through infographics and do not contain breakdowns of who had died or where and how they died.
Here is the #RealNumbersPH monthly update, covering numbers from July, 2016 to June 20, 2017. (1st update of 2) pic.twitter.com/0L7jNK1QAW

— Presidential Comm (@PresidentialCom) June 30, 2017
READ: Record set: 21 alleged drug offenders killed in one day
Human right groups and critics of the Duterte administration estimate a higher death toll, with around 12,000 casualties since the start of the administration's anti-narcotics campaign.
From August 15 to 17, around 80 people were killed by cops in what they dubbed as "One Time Big Time" operations in Metro Manila and neighboring province of Bulacan.
READ: CHR investigates 'One Time, Big Time' bloodshed
The president praised the upsurge of killings in mid-August, saying the authorities should kill more drug pushers to eradicate the country's problem on narcotics.
"'Yung namatay daw sa Bulacan kanina, 32 (Thirty two people died in Bulacan) in a massive raid. Maganda yun (That's good)," Duterte said during the 19th anniversary of the Volunteers Against Crime and Corruption in Malacañang.
"Pumatay tayo (Let's kill) another 32 everyday, maybe we can reduce what ails this country," he added.
Duterte's comments on Wednesday came as another response to United Nations special rapporteur on summary executions Agnes Callamard's tweet that urged the government to make the death of 17-year old student Kian delos Santos the last casualty of the brutal crackdown on illegal drugs.