Duterte 'learned' from 1980s Indonesia killings, says Jokowi's minister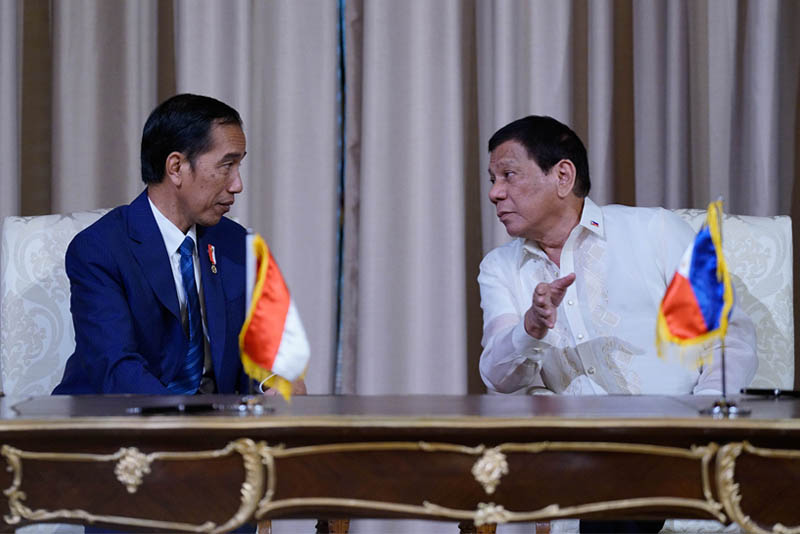 MANILA, Philippines — A senior member of Indonesian President Joko Widodo's government recently revealed a surprising detail in the leader's conversation with President Rodrigo Duterte.
Wiranto, a political, legal and security affairs minister of Widodo, quoted Duterte as saying in jest that the policy of shooting dead drug dealers was inspired by killings in Indonesia under late dictator Suharto in the 1980s.
Wiranto said the conversation between the two leaders occurred on the sidelines of the Association of Southeast Asian Nations summit in Manila in April.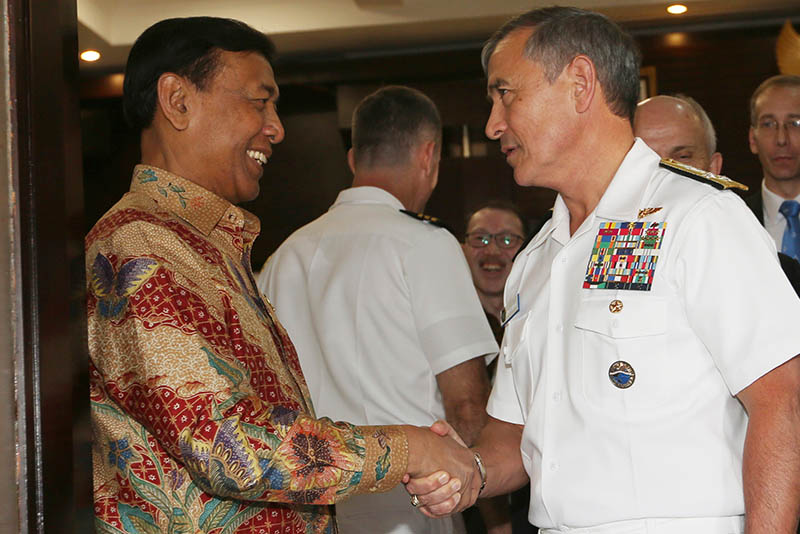 Indonesian Coordinating Minister for Politics, Security and Law Wiranto (left) shakes hands with commander, U.S. Pacific Command Adm. Harry B. Harris Jr. after a meeting in Jakarta, Indonesia, Monday, Aug. 7, 2017. AP/Tatan Syuflana
"Duterte joked, 'I learned from Indonesia.' President Jokowi was confused [and asked] when President Duterte came to learn about Indonesia," Wiranto told Indonesian news outlet Kompas, subsequently translated and reported by The Jakarta Post late last week.
"President Duterte answered, 'No, I learned from Petrus [during the administration] of Suharto," Wiranto added.
Petrus, a shortened term for "Penembakan Misterius," which translates to mysterious killings, was an extensive paramilitary campaign concentrated in Jakarta and larger cities, resulting in the killing of thousands of suspected criminals between 1982 and 1985.
While Wiranto, a retired army general, described Duterte's remark as a "joke," he added an observation:
"Apparently, Petrus, which in Indonesia is thought of as an unresolved case of past human rights abuse, has become an example in [the Philippines]."
The Petrus extrajudicial killings were executed "with tacit support from the law-abiding section of urban communities" while the military "denied all responsibility" for the killings, according to Southeast Asia scholar Michael Leifer.
Apparently in attempt to clear himself, Suharto later revealed in a memoir that it was the armed forces that were behind the killings.
Duterte's war on drugs in the Philippines has similarly resulted in the death of at least 3,200 suspected offenders in gunbattles with law enforcers. Human rights organizations estimate thousands more drug-related homicides by masked gunmen outside police operations.
RELATED: Record set: 21 alleged drug offenders killed in single day
Widodo adopted a similarly brutal anti-narcotics policy. In July, he ordered police to shoot drug traffickers who resist arrest. — Camille Diola