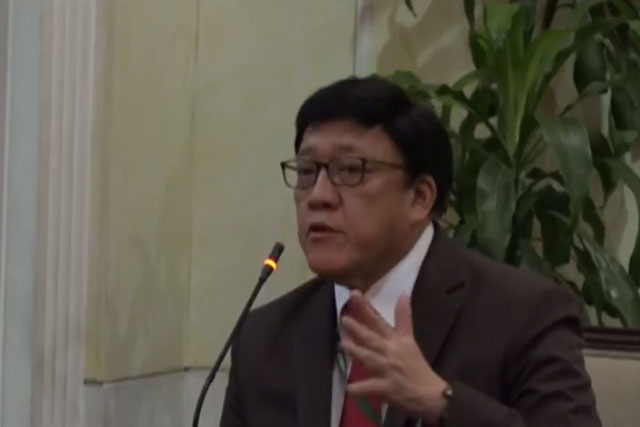 President Rodrigo Duterte on Thursday appointed Court of Appeals Presiding Justice Andres Reyes Jr. to be the Supreme Court's 177th magistrate. Screenshot from JBC interview
CA chief Andres Reyes named new SC justice
MANILA, Philippines — President Rodrigo Duterte on Thursday appointed Court of Appeals Presiding Justice Andres Reyes Jr. to be the Supreme Court's 177th magistrate.
Andres will take the place of former Associate Justice Bienvenido Reyes who retired last July 6.
The 67-year-old magistrate is the third SC justice appointee of Duterte. The president has so far appointed Bedan law graduates Noel Tijam and Samuel Martires.
Prior to his appointment, Andres was also shortlisted by the Judicial and Bar Council of the Philippines to replace retired Justice Jose Perez's post last year.
NEW APPOINTMENT: The CA Presiding Justice, Hon. Andres B. Reyes, Jr., is the SC'S 177th Associate Justice (vice AJ BL Reyes).

— Supreme Court PIO (@SCPh_PIO) July 13, 2017
Andres, the first Atenean law graduate appointed by Duterte, previously served the Metropolitan Trial Court of Makati City, Regional Trial Court of San Mateo Rizal and started working as the Associate Justice of the appellate court in 1999.
The new appointee recently made it to the headlines after issuing a joint statement with Chief Justice Maria Lourdes Sereno regarding the detainment of the controversial six provincial government employees of Ilocos Norte, known as "Ilocos Six."
Andres and Sereno urged the House Committee on Good Government and Public Accountability, which voted to issue a show cause order against CA justices Stephen Cruz, Edwin Sorongon and Nina Antonio Valenzuela, to review its order. He stood by his colleagues saying they only fulfilled their duty.
RELATED: Summary: SC justice applicants' stance on issues, rulings