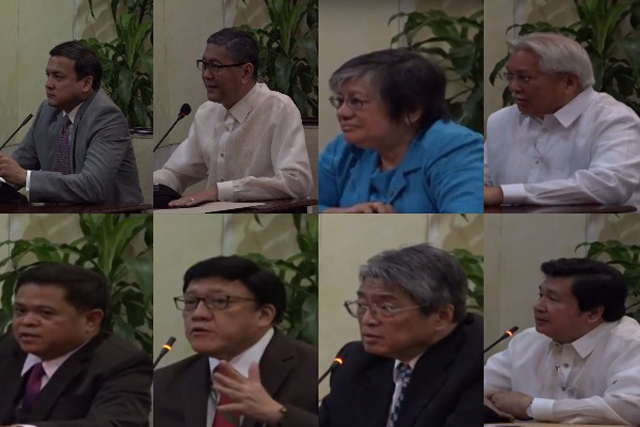 potential magistrates were interviewed by the Judicial Bar Council. Screengrabbed from Supreme Court
Summary: SC justice applicants' stance on issues, rulings
MANILA, Philippines — Eight potential high court magistrates were interviewed by the Judicial Bar Council on Monday.
The eight candidates were among the twelve aspirants vying to replace the outgoing Supreme Court Associates Justice Bienvenido Reyes who will retire on July 6.
The SC candidates interviewed were:
Jose Midas Marquez
Apolinario Bruselas Jr.
Rosmari Carandang
Stephen Cruz
Ramon Bato Jr.
Andres Reyes Jr.
Jose Reyes Jr.
Ramon Paul Hernando
The applicants faced JBC executive committee chair Angelina Sandoval-Gutierrez, regular members Jose Mejia and Toribio Ilao. Regular member Maria Milagros Fernan-Cayosa was not present during the interview.
The candidates were asked about their backgrounds and mastery of laws, rules and jurisprudence. They were likewise pressed on their stance on various issues and previous rulings.
Meanwhile, other candidates who are applying for the position of Bienvenido, whose interviews remain valid will no longer face the JBC. These are Rowena Apao-Adlawan, Japar Dimaampao, Amy Lazaro Javier, and Rita Linda Ventura-Jimeno, whose stances on issues appear here: Summary: Where SC justice applicants stand on issues
Here is the summary of the answers of the eight SC magistrate hopefuls during the JBC's public interview:
Jose Midas Marquez
Marquez, an incumbent Supreme Court administrator, said his edge over other candidates vying for the associate justice's post is his varied background.
He said he previously participated in initiatives of the high court, became its administrator, defended it as spokesman for five years, represented it in congressional investigations and contributed in rule-making power.
On court's action against erring judges: The court's role is purely recommendatory.
On federalism: Marquez said it is an option. He said that in a federal form of government, state courts and federal courts are smaller in scale which will make it better managed. He added that appointing authority will have more chances of knowing judges.
"We've had the constitutional democracy for the longest time."
On martial law declaration in Mindanao: Marquez said he is in favor. "The Constitution is very clear, Section 18 Article 7, I think. It's very clear when can the president declare martial law, that the Supreme Court can look into reasons for declaration," Marquez said.
"We've heard arguments last week, I think it is a fair issue for the court to consider," he added.
On Enrile's bail decision: Marquez said it is a sound decision by the Supreme Court because it considered several factors such as his advanced age as well as his medical condition at the time. He added that he does not believe former Senate President Juan Ponce Enrile is a flight risk.
"The court has already spoken, the former Senate president was granted bail for humanitarian considerations."
On the burial of Marcos at the Heroes' Cemetery: Marquez said he is in favor of the SC's ruling that favored the burial, saying the issue should already rest. "Marcos burial was a hot issue debated not only in the court but also general public. I've read the arguments and the reasons justifications, rationale and I think it's a sound decision."
On disbarment of Court of Appeals justices over Ilocos Norte employees and abolishment of CA: "The provision Section 2 Article 8 of the Constitution provides that no law shall be passed reorganizing the judiciary." He added that justices' security of tenure must be followed and that they are not impeachable.
On legality of Ilocos Norte employees' detention: "I will have studied [the case] carefully… Congress has its own rules as co-equal branch of government."
On Congress convening for martial law: For Marquez, there is no need to conduct a joint session for martial law unless the Congress intends to revoke the declaration. "It should be studied very carefully... They need not (convene) after receiving the report of the president," He said, however, that if it will revoke the declaration, then it should push through with the deliberation.
Apolinario Bruselas Jr.
Bruselas, a Court of Appeals justice for 12 years is not new to the JBC interview. Last year, he was shortlisted to replace SC Associate Justice Jose Perez. He considers significant rulings as his most difficult task in the judiciary citing the Subic rape case of US serviceman Daniel Smith, as one of the cases he has handled.
On parents' permission for a minor to access contraceptives: "I am on the conservative side your honor. I am on the view that minors should obtain parents' permission on such matter of contraceptive not only because of the matter of being conservative but I recall a constitutional provision which highlights the right to life…
"And contraception, of course we have several views on it, contraception interdicts the possible life," he added.
On martial law declaration over Mindanao: "To me the executive has all the powers to do that. If as the Constitution says, if there is invasion, rebellion, when the public safety requires it, the executive has the duty in fact to make that declaration," Marquez said. He added, however, that the declaration must follow the perception required and respect the check and balance on its factual basis.
On Enrile's bail decision: "To me as I refute the jurisprudence, that is an exception... I will not have concurred." He said the humanitarian ground for bail was not acceptable.
On the burial of Marcos at the Heroes' Cemetery: "It is an exercise of the executive's prerogative… I'm more on the restraint side of the issue." Bruselas said it has already been settled but the ones to decide are the more political side of government elected in office.
On China's claims over South China Sea: "I don't think that's very accurate... There is no deep historical basis for the claim of the [People's Republic of China]."
On the ICC's jurisdiction over Duterte's alleged extrajudicial killings: For Bruselas, individuals may be subject to ICC affairs, which is when a United Nations member state that signed the ICC should "go out of hand."
On government's actions against extrajudicial killings: Bruselas said the Senate investigation into the drug-related killings and impeachment complaint against the president is "an indication that something is being done." He said he does not think that the government is unwilling nor is it unable to address extrajudicial killings or forced disappearances.
Rosemari Carandang
Carandang, a Court of Appeals justice, was last interviewed by the JBC in January 2016. She has been in appellate court for 14 years and has worked for a Manila trial court for nine years. At age 65, she remains single.
On the Court of Appeals' poor reputation: "I don't think there is a poor reputation. I don't think it is directed as a constitution... It's very unfair that the institution of the Court of Affairs is blackened as a whole."
On martial law declaration in Mindanao: For Carandang, it is the subjudice power of the president to declare martial law when there rebellion and invasion for 60 days. She said the president was able to submit the report on declaration within the constitutionally set deadline.
On Congress convening for martial law: Carandang is for it. She said the Congress has the power to revoke it and the joint session is for the revocation and not the approval. She also said Congress should review its factual basis.
On Enrile's bail decision: "I am not for that because the grant of bail to Enrile is not among the grounds under the rules of court and under the Constitution. Maybe the good reason is his old age and flight risk. She cited that the former Senate president never sought permission to leave the country.
On Alvarez's suggestion to abolish the Court of Appeals: "I think it is an expression of dissatisfaction with what the Court of Appeals did. He was emotional on that manner. It is not very easy to dissolve our court against the Constitution," Carandang said, citing a Congress prohibition to reorganize the judicial body.
SC rulings she thinks are erroneous: She cited the decisions allowing former senator Enrile to grant bail and the midnight appointment of former Chief Justice Renato Corona, as well as the resolution favoring a gender discrimination case against the Philippine Airlines.
On the burial of Marcos at the Heroes' Cemetery: Carandang is not for it. The Court of Appeals justice said Marcos was dishonorably discharged by the People Power Revolution. He also cannot be buried at the national heroes' cemetery because his crimes are widely and internationally known. "He looted our treasure and brazenly disregarded rights of the people."
Stephen Cruz
Court of Appeals Associate Justice Cruz was admitted to the New York bar in 1982. He has been serving in the appellate court for 17 years. Cruz is one of the three Court of Appeals magistrates of the 4th Division slammed by Speaker Pantaleon Alvarez for ordering the release of six Ilocos Norte employees.
On Enrile's bail decision: "It is discretional to the court [that] granted here. Facts are not stagnant."
On Mindanao martial law declaration: "The question is: Was there sufficiency of material facts at the time of the declaration? I would view it that the facts should be limited to the time of declaration and the subsequent facts would validate that declaration." Cruz said if does not validate the declaration then there is no factual basis.
On the burial of Marcos at the Heroes' Cemetery: "It's really how you look at it. How Libingan ng mga Bayani is, how it exists, is it really for the heroes? Would the end justify the means? Next question was whether Marcos was a hero. There should be a hearing for that purpose."
On legality of Ilocos Norte employee's detainment: "We want the bodies to be presented to the court and the person who is detaining them, and determine whether it is legal. Because if it is legal, we will dismiss the petition."
On Alvarez's threat to disbar him and colleagues: "If we falter because of some threats that would show our weakness as a magistrate… What we did, your honor, was only our duty."
On Enrile bail's decision: Cruz agrees, citing the former senator's old age.
Ramon Bato Jr.
Bato, a Court of Appeals associate justice, said he applied for the promotion to become a Supreme Court justice since there is no other way but up, citing his current post as chairperson at the lower court.
On extrajudicial killings: "Extrajudicial killing is now considered criminal offense under RA 10533."
On same-sex marriage's constitutionality: "The constitutionality of the law would be a subject of very long discussion. There is no provision prohibiting gay or lesbian marriage."
On divorce's constitutionality: "Marriage is a basic institution. It's an invaluable social institution protected by the state so unless that is removed in the Constitution, I don't think we can have divorce now."
SC rulings he thinks are erroneous: Imelda Marcos's graft and corruption case, since she was convicted by the Sandiganbayan. He said the Supreme Court affirmed the decision of the anti-graft court, the case was reopened and was referred to the en banc where it was reversed and the former first lady was acquitted. Another ruling he thinks was erroneous was the designation of Dinagat as a province.
Andres Reyes Jr.
Andres, a Court of Appeals justice, was also last shortlisted to take the place of Perez's post last year. He said his father asked him to take up law instead of taking a master's degree in economics. Andres, however, earned a master's degree in public administration besides obtaining a law degree.
Andres said his grandfather was a former Supreme Court justice.
On Alvarez's suggestion to abolish the Court of Appeals: Andres said Congress created the Court of Appeals in 1935. He said it can legislate to abolish the Court of Appeals but he said "there is a clause that you should not violate the security of tenure of justices."
On impeachment or disbarment of Court of Appeals magistrates over Ilocos Norte employees: "Impeachment only covers members of the Supreme Court." Disbarment, he said, is a remedy available to any lawyer. "The case is under MR (a motion for reconsideration) right now; it's really premature. I do not want to venture."
On Mindanao martial law declaration: "I think there is factual basis for the declaration of martial law." He said Congress can revoke the declaration of martial law and any citizen can question it. He added that the Constitution's wording "does not state that there must be a joint session to ratify or ascend calling the declaration of martial law."
Jose Reyes Jr.
Jose, another Court of Appeals chairperson, said he has been nominated by the JBC for a Supreme Court position for four times prior to his nomination in December 2016.
On Mindanao martial law declaration: "The president must have been in possession of sufficient factual basis because facts that ordinary individuals like us may not be in possession. For now I think we have to rely on what the president has done," Jose said. "If it is true that the present Marawi situation is led by ISIS, then it is something that we have to be worried. Internationally they are feared, they are known to create disorder and killings."
On charter change: "These are just proposals." For now, Jose said more and more people (academics) are trying to formulate amendments along that line.
On marriage annulment: Jose said he encountered several family disputes and declaration of nullity of marriage and legal separation. "I just rely on the facts of the case."
Ramon Paul Hernando
Hernando, 50, is a junior member of the Court of Appeals who studied law at the University of Santo Tomas before he transferred to San Beda College's law school for a "change of environment." He said he also took a pre-law degree at the UST.
On inhibiting in cases: Hernando previously inhibited in former Makati Junjun Binay's case due to his spouse. "I only inhibit when my spouse has direct participation in the proceeding." He said inhibition has a case-to-case basis.
On release of SALN to the public: "It is now public… I have no problem with it at all.
On Enrile's bail decision: The Supreme Court "might have not erred but may not have been completely accurate" in its ruling to allow the former senator to post bail. Hernando said he has personal reservations, saying "humanitarian" considerations were not specified in the rules of court.
On legality of abortion: Hernando said abortion is not allowed by the Constitution. He added that even the use of drugs for abortion is unlawful.