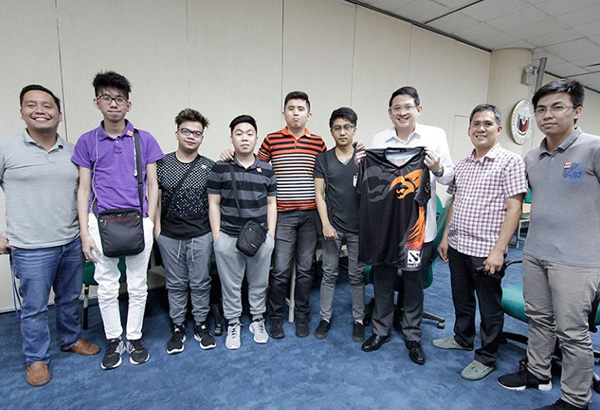 TNC Pro Team - DOTA 2 visits Sen. Bam Aquino at Senate in Pasay City. Facebook/Bam Aquino
Esports seen to usher in jobs, businesses into Philippines
AJ Bolando
(philstar.com) - June 30, 2017 - 10:03am
MANILA, Philippines — After two Filipino teams qualified anew to the world DOTA 2 tournament, esports backer Sen. Bam Aquino sees the potential of the online gaming industry to bring honor to the country while creating jobs and ushering in investments.
"There is so much potential in our gaming industry," Aquino said, reacting to the teams TNC and Execration's success in earning another ticket to the prestigious The International 2017 DOTA 2 Championship in Seattle.
Last year, TNC placed eighth out of 16 teams in the annual tournament which saw a record-breaking P1 billion prize pool, while in January they also topped the World Electronic Sports Games in China where they took home an approximately P40-million prize.
In the same event, another Filipino Euneil Staz Javiñas of team PH Alliance emerged champion in the Hearthstone World Finals receiving P7.5 million.
"We have very talented gamers that are winning big in the world stage. But we also have game developers and local studios that are hired to help create some of the most popular games," added Aquino who helped the two professional DOTA 2 teams to secure US visas last year.
Aside from gamers, the senator also acknowledged the excellence of Filipino developers and studios outside the country.
In Japan's video game convention the Tokyo Game Show, seven Filipino independent game developers brought home awards, including Keybol Games, Squeeky Wheel Studio, Monstronauts, Unibox, Popsicle Games, Moocho Brain Interactive Designs, and Nico Tuason's "Games by Nico".
He also mentioned the game Flippy Bottle Extreme by Derrick Alain Mapagu which became a global hit, beating out games like Temple Run 2 and even Pokemon Go for a time in the United States.
"This is big business. Gaming can actually bring in money, jobs and livelihood into the Philippines," Aquino said, who also helped in establishing Philippine esports Association.
READ: Thumbs-up for electronic sports at the 2022 Asian Games
It cannot be denied that computer games are becoming more serious as a school in the southern part of the country is offering esports in their curriculum.
In a report, University of the Visayas New School will integrate game strategy of DOTA 2 and will include game design, development animation, 2D and 3D animation and game creation under its senior high track for arts and design.
Come 2022, esports will be an official medal sport at the 2022 Asian Games in Hangzhou, China, but will already be introduced as a demonstration sport next year in Indonesia.