In the face of terror: 9 stories of heroism in Marawi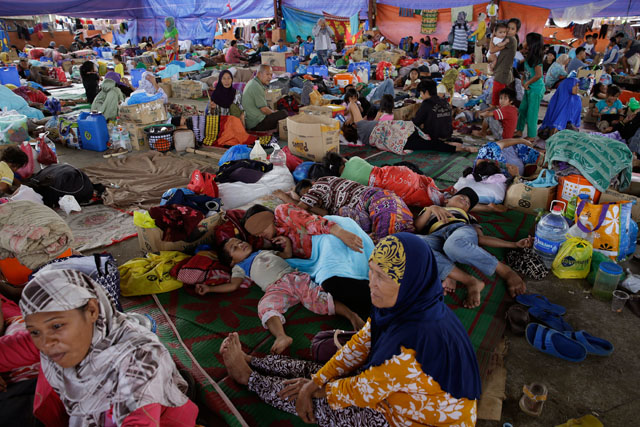 MANILA, Philippines — Days ahead of Ramadan, Lanao del Sur's capital, Marawi City, was besieged by the ISIS-inspired Maute group. But in the face of terror and death, it is the heroism exhibited even by those most vulnerable that tells most about the human spirit.
Reports say that Marawi residents were held captive, a number of establishments burned, Christians hunted down, and air strikes launched since May 23.
As of Wednesday, there have been 26 civilians and 58 security personnel killed. Thousands were evacuated and rescued as the urban combat continues to retake each part of the city from the Maute's clutches.
Unrecognized civilians, police officers, soldiers and volunteers serve as the face of good amid countless atrocities.
Here are some of the most moving accounts shared by survivors and witnesses in Marawi City.
Patriotism till death
Private First Class Dhan Ryan Bayot, who found himself in proximity to terrorists, asked his commanding officer to launch an air strike to where he was. He was among the 13 government forces who have died after recovering millions of cash and checks in a house in Marawi.
The 13 fatalities were given a noontime salute along with the 45 other cops and soldiers. Their names were flashed in a tribute video aired in local channels during on Philippine Independence Day.
Tireless
An account by journalist Ana Santos proved how soldiers could forget themselves in the conduct of their duties. In a Facebook post of a dispatch from Marawi, Santos shared her conversation with a soldier.
She said a soldier recognized how days-long stay in Marawi close to the battle may render her exhausted. But she told him, how could she be more tired than a soldier whose life was constantly on the line? His answer was not something she expected. "Ah, hindi po kami napapagod, ma'am. Para po ito sa bayan."
Suicide squad
Some residents of Mindanao are risking their lives and limbs to extract individuals from the area. They came to be known as "Suicide Squad."
Transcending faiths
Sharing similar threats, Christians and Muslims look to each other for survival. Civilian refugees testified that they were shouting "Allahu Akhbar" so that the terrorists would not touch them, according to a report by ABC. While some were still shot by terrorists, they succeeded in saving others by doing so.
ALSO READ: Muslims help Christians hide and head out of Marawi
A report from The Guardian, meanwhile, tells of devout Christians being saved by Islamic prayers. A local Muslim leader hid dozens of Christians in a rice mill. Catholic bishop Edwin dela Peña said the Muslim leader risked his life by giving Christians basic orientation.
"(He taught them how to respond to questions, to recite prayers, to wear their veils, how to say assalamu alaikum (peace be upon you)," the bishop said.
Journalist Jamela Alindogan, a correspondent for Al Jazeera, also shared on her Twitter account how Muslim cops chose to stay under Maute control to protect Christians before they got to escape the war zone on the 22nd day of the clash.
"We'd rather die together," the police officers were quoted as saying.
Brothers in arms
Members of the Moro Islamic Liberation Front, a rebel group turned government partner, have been helping bring some trapped residents to safety through a "peace corridor" and a humanitarian ceasefire.
The MILF has also been assisting in humanitarian efforts to help civilians who evacuated from the fighting.
Closing the distance
While there are heroes within Marawi City, there were also reports about displaced civilians who continue to help in the evacuation center. Marawi-based group Al-Mujadilah Development Foundation. composed of Muslim women, is among the local NGOs tapped by the Humanitarian Response Consortium, Oxfam's partner in the Marawi disaster response.
Despite the chaos, these women still lead the delivery of live-saving aid to an estimated 220,000 civilians affected by the clashes.
Actress Angel Locsin also traveled to Marawi unannounced. She was accompanied by volunteer group Rural Missionaries of the Philippines to visit evacuation centers and distribute relief goods. Several other volunteer groups are setting up efforts to collect donations for the displaced citizens of Marawi.