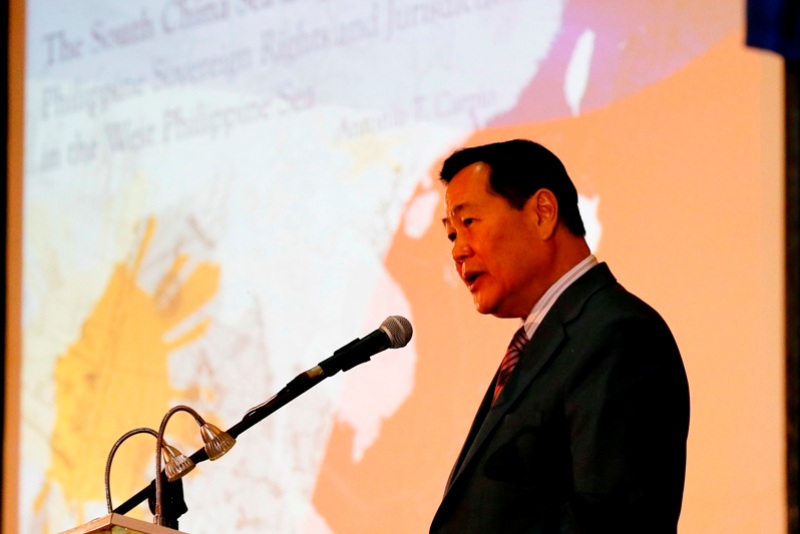 Philippine Supreme Court Senior Associate Justice Antonio Carpio addresses guests during the launching of his e-book titled "The South China Sea Dispute: Philippine Sovereign Rights and Jurisdiction in the West Philippine Sea" that questions China's historic claim to most of the South China Sea Thursday, May 4, 2017 in the financial district of Makati city east of Manila, Philippines. Carpio said he will distribute it online to try to overcome China's censorship and reach its people. AP/Bullit Marquez
Duterte hits Carpio for pushing claim in South China Sea
MANILA, Philippines — President Rodrigo Duterte on Wednesday criticized Supreme Court Senior Associate Justice Antonio Carpio over his remarks on the South China Sea or West Philippine Sea dispute.
"Si Carpio, daldal nang daldal [expletive] wala namang ginagawa noon, so gusto nito punta ako doon sa UN for the enforcement," Duterte said in a speech during the 119th anniversary celebration of the Philippine Navy.
Carpio, one of those who defended the Philippines against China's extensive claims on the South China Sea, had been urging the president to enforce the ruling of an international arbitral tribunal on the maritime dispute.
The senior associate justice gave lectures in the Philippines and abroad casting doubt on China's vast historic claim over a large part of the South China Sea, which includes a portion that is within the Philippines' exclusive ecnomic zone.
On July 12, 2016, the United Nations-backed tribunal ruled in favor of the Philippines, invalidating China's historic claims over the contested waters.
Duterte said that Carpio and President Benigno Aquino III should have acted upon receiving information that China has been building facilities in the Spratly Islands in the South China Sea.
Carpio, a justice, is not part of the executive branch.
"Ang problema nito, when it was being constructed seven years ago, the newspapers in the Philippines, Time magazine, were awash with pictures that there was something abrewing there... Nandyan yung ating navy bakit hindi sinabi ni Carpio pati ni Noynoy 'Sige, puntahan ninyo, pigilan ninyo,'" the president said.
The president has previously also blamed the US for allegedly not acting to stop China from militarizing and conducting reclamation work in the disputed waters. The US is not a claimant state in the South China Sea but is concerned about freedom of navigation through the vital sea lane.
The president also stressed pushing for the arbitral ruling would lead to a war against China.
"Sabi ko sa kanila, I will dig oil there. Sabi niya (Chinese President Xi Jinping) 'No, no, no, do not do that.' No sabi ko, 'It's ours.' Wala nang padaloy-daloy 'yang arbitral, diretso," Duterte said. "Sabi dialogue, peaceful resolution... When will it end? Hanggang kailan ako makikipag-usap?"
The Chinese president earlier warned that they would go to war when Duterte raised the ruling of the international tribunal during their meeting in Beijing a few weeks ago.
Following the threat from China, Carpio said that such warning is a gross violation of the United Nations Charter, UNCLOS and the Treaty of Amity and Cooperation in Southeast Asia.
The Duterte administration may bring China's threat of war to another UNCLOS arbitral tribunal as the 1987 Constitution renounces war as an instrument of national policy.