A look into Duterte's reasons for martial law in Mindanao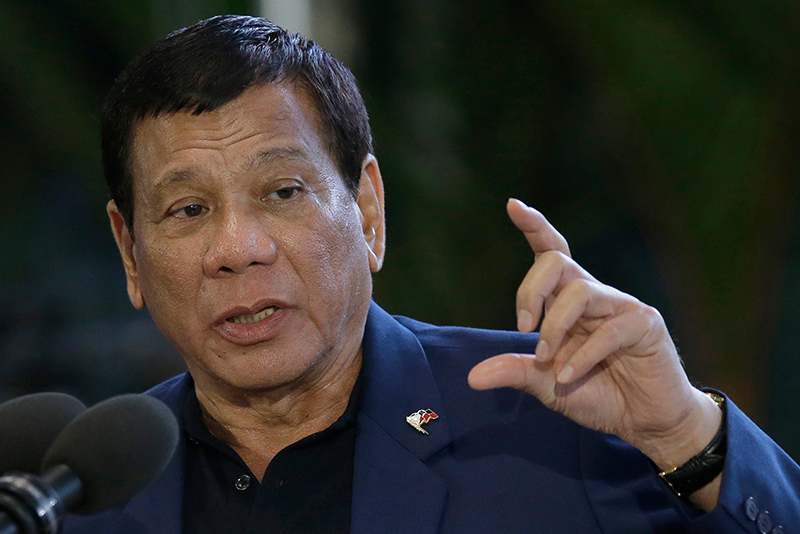 MANILA, Philippines (First published on May 25, 6:55 p.m.) — President Rodrigo Duterte cited rebellion as motive for declaring martial law and suspending the writ of habeas corpus in Mindanao through Proclamation 216.
This was after state forces attempted on Tuesday to arrest Abu Sayyaf leader Isnilon Hapilon in Marawi City in Lanao del Sur. Gunmen, belonging to allied Maute group inspired by the so-called Islamic State, then entered the city at Hapilon's beckoning.
The proclamation cited Article 7, Section 18 of the 1987 Constitution granting the president the power to declare martial law in cases of "invasion or rebellion, when the public safety requires it" for a maximum of 60 days.
It also cited a provision under the Revised Penal Code setting the conditions for the crime of rebellion, as:
Committed by rising and taking arms against the Government for the purpose of removing from the allegiance to said Government or its laws, the territory of the Republic of the Philippines or any part thereof, of any body or other armed forces, or depriving the Chief Executive or the Legislature, wholly or partially, of any of their powers or prerogatives.
Proclamation 216 further notes that the Maute militants started flying the flag of the Islamic State in several areas, "thereby openly attempting to remove from the allegiance to the Philippine Government this part of Mindanao."
Experts, however, aired concerns on the government's rationale for what is perceived to be an extreme measure.
Security questions
The ISIS factor
Flying the black flag linked to ISIS is characteristic of extremist organizations around the world that have pledged allegiance to the terror group. It does not, however, indicate that ISIS channels resources to the local militants.
Upon arriving from Russia on Wednesday, Duterte also announced that he is considering military rule throughout the country, declaring that the Islamic State is here and may gain footholds in Luzon and Visayas.
While the spread of Islamic extremists in Southeast Asia is a major security concern due to ISIS propaganda, Duterte's remarks contradict the military's stance that the ISIS has no known presence in the Philippines
"When we call them (the Maute group) ISIS, we are making them famous. We don't have ISIS in the Philippines," military spokesperson Col. Edgard Arevalo said on Wednesday.
Maute as a force
For Zachary Abuza, expert on Southeast Asian security and a professor at the National War College in Washington, the Maute is not a terrible force for the military to reckon with despite belonging to a terrorist network in the region.
"Maute group is a small group. It is manageable. They feed off of or recruit from disaffected (Moro Islamic Liberation Front) combatants," Abuza told Philstar.com.
"Though they have pledged their allegiance to IS, there is no evidence to date that IS has given them any resources. This is a manageable threat, but it has been repeatedly mismanaged," he added.
Marawi is a heartland of the MILF rebel group that has became a government partner in a concluded peace process. Implementation of the agreement is yet to be seen, with Duterte vowing to include it in his ambitious plan to shift the country to a federal system.
Duterte, meanwhile, has reached out in friendship to Moro National Liberation Front founding chairman Nur Misuari, who has in the past rejected the peace agreement with the MILF. He has said that the new agreement sets aside a 1996 final peace agreement with his group. Other factions of the MNLF have agreed to work with the MILF on a common roadmap for peace.
"You can't have multiple peace processes for the same plot of land. The [agreements] were inclusive, there were ample opportunities for Misuari to engage... As long as the MILF have no hope at a peace process, they have no incentive to act as responsible stakeholders and police their territory," Abuza said.
"The Maute group has targeted Davao, Manila, launched brazen jail breaks. Without MILF giving the government security cooperation, the Maute group has ample sanctuary," he added.
As a 60-day recourse
Duterte vowed to solve "all the problems that ails Mindanao" during the length of martial law there. But doubts have also been raised on whether state actors can suppress Maute or the ISIS threat within 60 days.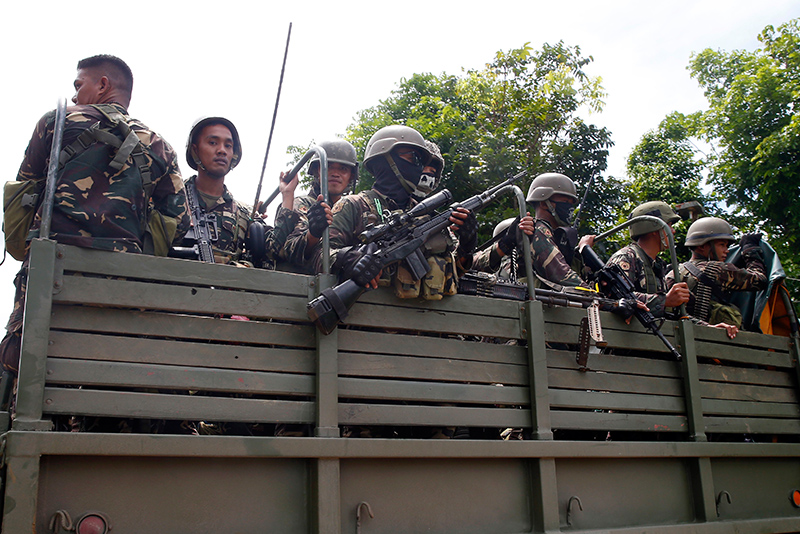 Government troops patrol the outskirts of Marawi city three days after Muslim militants lay siege in the city in southern Philippines Thursday, May 25, 2017. The exodus of thousands of residents has continued amid continuing gunbattle between Government forces and Muslim militants occupying several buildings and houses in the city where they hoisted IS style black flags. AP/Bullit Marquez
"I doubt if the 60-day martial law in Mindanao is enough time to fix the problem of extremism," Julkipli Wadi, professor at the Institute of Islamic Studies, said on Wednesday.
Extremism and its product, terrorism, are complex problems dealt by nations around the world. It requires an interdisciplinary, holistic approach by government and the civil sectors outside military might.
The Maute group, whose members evolved from petty criminals to militants, has been blamed for several attacks in Lanao del Sur and Davao City in September and is suspected to be behind an explosive device found near the United States Embassy in Manila in November last year.
But Duterte has weighed the idea of martial law since August of last year, and has mentioned it publicly at least 35 times in his presidency. Reasons he cited included illegal drugs, crime and terrorism.
Legal questions
'Rebellion'
For a framer of the current constitution, terrorism, or even lawless violence, does not qualify as "rebellion," which is among the two conditions for the declaration of martial law, along with invasion.
Constitutional expert Christian Monsod said that terrorism, unlike rebellion, is a crime without "political purpose of taking out a part of the Philippines or a part of the armed forces from the jurisdiction of the Philippines."
An essential element of rebellion, according to penal law, is a public uprising or taking up of arms against the government. The action is to overthrow or supersede the government or deprive the president or Congress of exercising their powers.
Proclamation 216, however, calls the Maute both a "terror group" and among "rebel groups" that "sow terror, cause death and damage to property not only in Lanao del Sur but also in other parts of Mindanao."
Monsod said Duterte's proclamation seems similar to former President Gloria Macapagal-Arroyo's call in 2009 after a massacre in Maguindanao. Martial law was used to quell what was claimed to be rebellion in the murder of political opponents and journalists.
"If you look at the facts that she (Arroyo) was enumerating, it was as if there really was a rebellion. But, as it turned out, it was not a real rebellion that calls for martial law," he told Philstar.com.
"It's so very easy to make the facts (to point to rebellion), like Arroyo did," the lawyer said.
Scope
President Duterte could also opt to isolate the state of martial law instead of expanding it to cover all other areas in Mindanao, and, potentially, throughout the country.
"You can sow terror [when you have] a terrorist attack in Ilocos or if there is a terrorist attack in Leyte, and so on, does that mean that you will declare the entire country in a state of martial law?" Monsod said.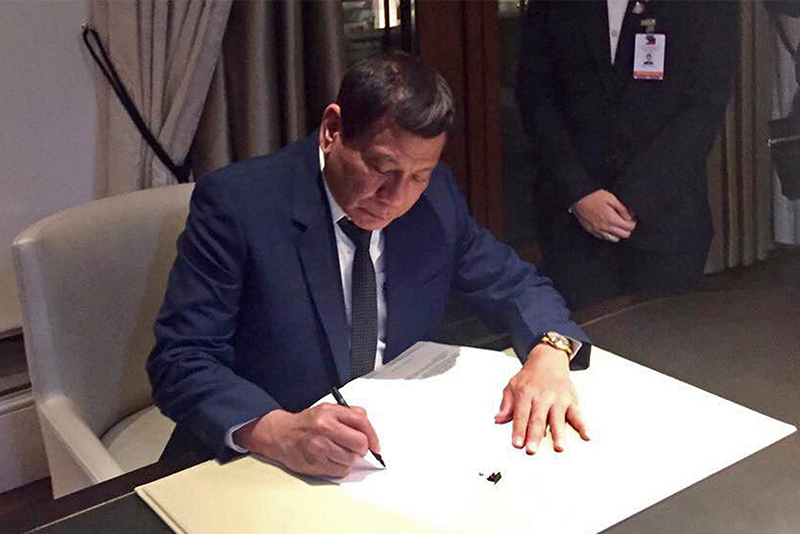 This May 23, 2017, handout photo provided by the Presidential Communications Operations Office, Philippine President Rodrigo Duterte signs Proclamation No. 216, declaring Martial Law and suspending the privilege of the Writ of Habeas Corpus in the whole of Mindanao during his visit to the Russia Federation. PCO via AP
Presidential powers under martial law, especially when coupled with a grant to authorities to arrest those suspected of rebellion without court warrant, are encompassing, arbitrary and—for the most part in recent history—unexplored. This was because martial law was crafted in the 1987 Constitution that upholds democratic checks and balances as a measure of "last resort," Monsod said.
Rep. Harry Roque, an international lawyer and Duterte ally, has a divergent view. On ANC on Friday, Roque said the Marawi attack meets the criteria for rebellion, and may even be "akin to invasion," citing the Maute group's reported links to international terror operations.
Ateneo de Manila University law professor Tony La Viña, for his part, is giving the president the benefit of the doubt in declaring military rule, but identifies dissonance in the government's take on the situation.
"I would want to know though why this was resorted to even after the military repeatedly assured the public that things were under control. I also would like to know why the whole of Mindanao was included given the limited area affected by the Maute rebellion," he said in a television interview.
If the majority of Congress, voting jointly, decides not to revoke martial law in Mindanao, it is up to the Supreme Court, if asked to by a petitioner, to assess the facts behind its declaration.