Marawi fighting leaves 21 dead, 31 wounded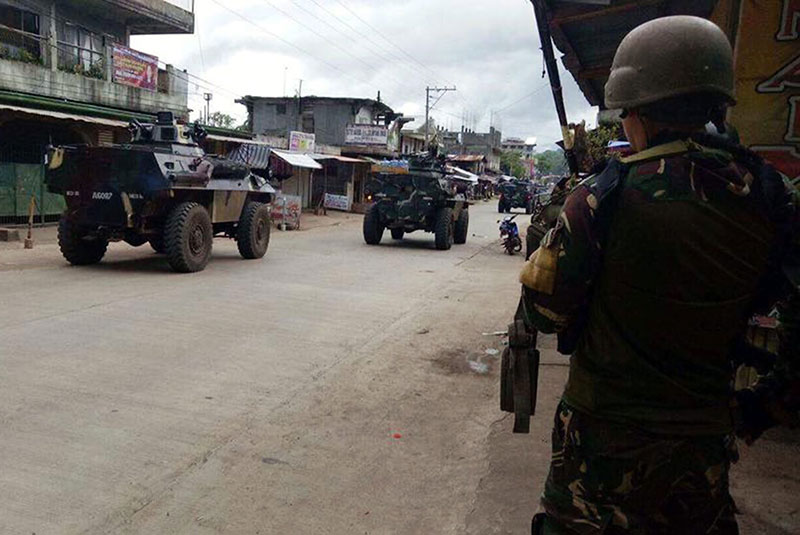 MANILA, Philippines - Government forces flushed out Maute group militants from their positions in Marawi City last night, leaving at least 21 people dead and 31 wounded, officials said.
Armed Forces of the Philippines (AFP) Public Affairs Office chief Col. Edgard Arevalo said 13 of the fatalities were gunmen of the Islamic State (IS)-inspired Maute group that had occupied the hospital and city hall in Marawi since Tuesday.
Five soldiers and two policemen also died while 31 soldiers were wounded in sporadic clashes with the militants, he said.
Western Mindanao Command chief Lt. Gen. Carlito Galvez Jr. added some 120 civilians snatched by the militants were rescued.
The civilians were used as human shields by the militants who holed out at the Amai Pakpak Medical Center.
The civilians included eight patients, 49 construction workers and 21 hospital staff.
Troops also cleared the Dansalan College and rescued 42 teachers who were trapped inside during the attack.
Five soldiers were killed and 31 were wounded in the attempt to rescue the hostages, Galvez said.
Galvez said the troops accounted for 13 Maute gunmen killed, with two bodies of the militants recovered at the scene of the firefight.
Alert
The rampage forced President Duterte to declare martial law in the entire region of Mindanao on Tuesday night.
Duterte had to cut short his trip to Russia after learning the Maute group attempted to occupy Marawi City in the same way the IS took over large areas of Syria and Iraq.
Police units nationwide were ordered to strengthen security measures to prevent possible diversionary attacks from the Maute.
The Philippine National Police (PNP) reminded its commanders that full alert status remains in effect all over the country.
"All unit commanders are directed to strengthen target hardening on vital installations, economic key points as well as places of convergences and ensure high state of operational readiness to thwart any hostile action that may be launched by terror groups," PNP spokesman Chief Supt. Dionardo Carlos said.
Carlos denied reports that the rebels seized government installations. He said no government buildings are under rebel control.
On reports that the militants took over Amai Pakpak, Carlos said the Maute gunmen only sought treatment for their wounded comrades.
"They were there to seek medical assistance," he said.
Carlos added they have not received reports that the militants beheaded several civilians.
He said the PNP is monitoring the actual situation in Marawi through the crisis management committees activated by the regional and national headquarters.
Officials reminded Marawi residents to remain calm and stay in their homes or evacuate to safer places as security forces pursue the rebels.
"We appeal to the public to be extra vigilant and responsive by providing information on enemy location and their movements so government forces can swiftly conclude this important security operation," Carlos said.
Reports identified one of the slain police officer as Senior Insp. Freddie Solar who was killed in the initial shootout.
Solar, chief of the regional Drug Enforcement Group in the Autonomous Region in Muslim Mindanao, was accompanying his wife at a hospital in Marawi when the militants killed him during the attack. – With Cecille Suerte Felipe, John Unson, Roel Pareño, Lino de la Cruz, Emmanuel Tupas, Ben Serrano, AFP