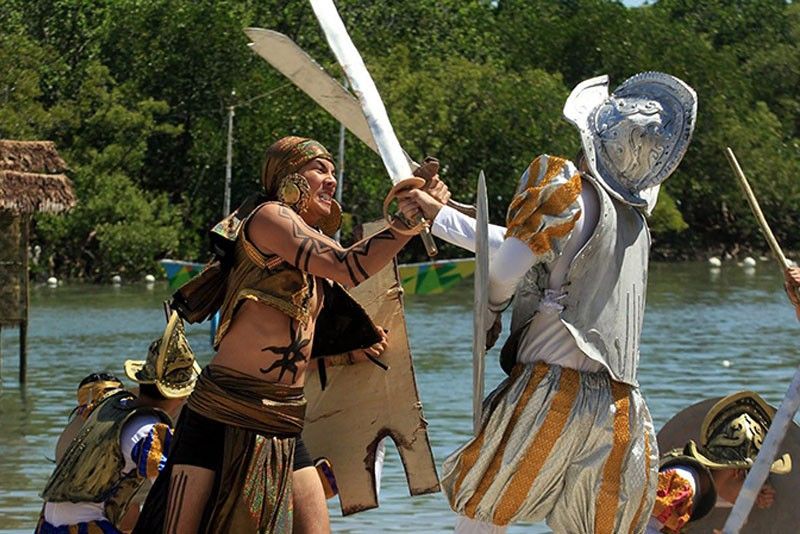 Actors portraying Lapu-Lapu and Ferdinand Magellan clash during the re-enactment of the Kadaugan sa Mactan (Victory in Mactan) at the Liberty Shrine in Lapu-Lapu City, Cebu yesterday to commemorate the battle between Spaniards and natives of Mactan Island 496 years ago.
FREEMAN
'Hero' Lapu-Lapu gets special day
MANILA, Philippines - President Duterte has declared April 27 as Lapu-Lapu Day in honor of the Cebuano who is recognized as the first hero who resisted foreign rule in the country.
Proclamation No. 200, signed by the President on April 26, states that it is but fitting and proper that Lapu-Lapu be "given the highest honor" and that "his legacy be remembered by all Filipinos through appropriate ceremonies."
"Lapu-Lapu left us a legacy of freedom through his leadership, extraordinary bravery, courage and love for his own land," Duterte said in the proclamation.
"Being among the first of our forefathers to have fought against foreign domination, Lapu-Lapu's heroism has been recognized as a representation of the Filipino people's love of freedom and capability to rise above adversity."
Lapu-Lapu and his men repulsed the Spanish forces led by Ferdinand Magellan on April 27, 1521 in what is now called the Battle of Mactan.
Duterte frequently mentions the arrival of Magellan in his speeches to discuss the roots of the Moro insurgency in the country.
According to him, imperialists tried to impose the Christian religion on Filipinos even if Islam flourished in southern Philippines.
In a press briefing, Duterte said his order seeks to give Lapu-Lapu the recognition he deserves.
He lamented that Lapu-Lapu has been associated with the grouper, a type of fish.
"I don't want to call Lapu-Lapu a fish. He is a national hero," he said.
Duterte has also created the Order of Lapu-Lapu to recognize individuals who have helped him in his advocacies.