Duterte reopens Mamasapano probe
January 24, 2017 | 7:06pm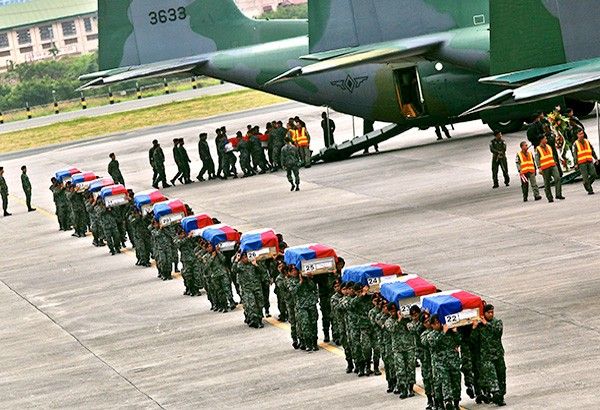 MANILA, Philippines — Seeking to fill the void left by previous findings, President Rodrigo Duterte reopened the investigation of the infamous Mamasapano incident that claimed lives of 44 Special Action Force (SAF) commandos.
Speaking to the families of the victims, Duterte said the government is bound to provide answers and justice to them.
"All of these investigations, unfortunately, left a void. Maraming issues na hanging unless we address the issues and find the reasons why then makaka-panghinga na ang mga pamilya ng SAF 44," the president said.
"Otherwise they will bring to their grave the hurt and agony that they had to endure losing a husband, father or brother," he added.
Duterte will form a commission that will be composed of justices and private lawyers with "integrity and honor."
"I will create a commission of seven. I will appoint men of integrity and honor. Kung tanggapin nila, I will choose mostly justices of the Supreme Court and few of the civilian sector, maybe a lawyer. Ayoko mag-recommend ng kilala ko," Duterte said.
"They will be independent in all aspects. They are free to summon… As the president, we will bestow to the commission the powers exactly given to the Agrava commission. Maybe I will just give them, ready naman lahat 'yan, nandiyan na iyong papel at the end of the year then we can have the truth," he added.
Duterte reopened the investigation two years since the bloody incident happened.
He also said that all of the SAF44 will be granted a Medal of Valor, the highest military honor.
The president also hit former President Benigno Aquino III for feeding the cops to a lion's den. He said the training of SAF is for urban combat.
Duterte said Aquino could have admitted that he was the one who ordered the operation to neutralize Malaysian terrorist Zulkifli Abdhir alias Marwan instead of depending too much on former Philippine National Police chief Alan Purisima.
The Senate committee report said Aquino was "ultimately responsible" for the incident.