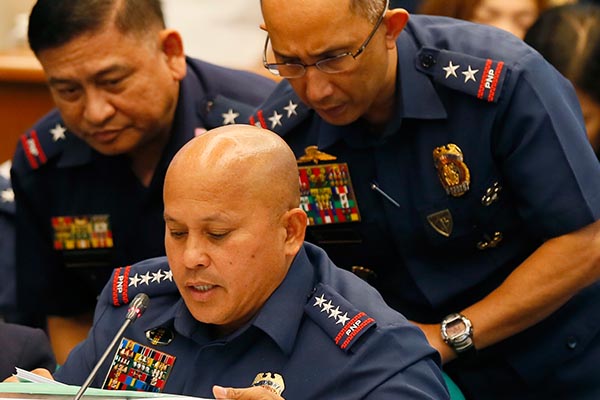 Philippine National Police (PNP) chief Director General Ronald dela Rosa will be asked to name his "kumpare" – said to be a high official at the Palace – who called him to reinstate Supt. Marvin Marcos, the relieved Criminal Investigation and Detection Group (CIDG) Region 8 chief accused of receiving drug money from Kerwin Espinosa. AP Photo/Bullit Marquez
Palace to Bato: Name 'kumpare'
MANILA, Philippines - Philippine National Police (PNP) chief Director General Ronald dela Rosa will be asked to name his "kumpare" – said to be a high official at the Palace – who called him to reinstate Supt. Marvin Marcos, the relieved Criminal Investigation and Detection Group (CIDG) Region 8 chief accused of receiving drug money from Kerwin Espinosa.
"Yes, we will ask him to reveal the identity of his kumpare," Assistant Communications Secretary Marie Banaag told Malacañang reporters yesterday.
Banaag did not discount the possibility that Sen. Leila de Lima was merely employing squid tactics when she pointed to Presidential Management Staff head Christopher "Bong" Go as the official who ordered the reinstatement of Marcos.
"There are many possibilities. General Bato said it was not Special Assistant to the President (Bong) Go, so there's no need to clarify that point," Banaag said, refering to the PNP chief by his nickname.
She said De Lima could have issued the misinformation to divert the public's attention from the ongoing House inquiry into the alleged illegal drug trade at the New Bilibid Prison.
"The issue does not matter anymore since Marcos is in restrictive custody," Banaag said.
When asked if Duterte would fire Dela Rosa's kumpare, Banaag said the President would not hesitate to sack anyone involved in influence peddling at Malacañang.
De Lima earlier claimed that Go called Dela Rosa to have Marcos reinstated as CIDG Region 8 chief.
Go had denied De Lima's accusation, which he described as "pure hearsay and unsubstantiated."
Rody absolves Go
President Duterte has absolved Go of any liability in the accusations hurled by De Lima.
"It's not true that Bong Go called (the PNP chief)," Duterte said.
The President also threw his full support anew for Dela Rosa.
As PNP chief, Duerte said Dela Rosa has the prerogative to remove his men or retain them in their posts whether or not they were being investigated or not.
Bato to De Lima: Identify source
The PNP chief dared yesterday De Lima to identify her source before he names his kumpare who called him to reinstate Marcos and his group to their CIDG posts.
"If she identifies her source I will name my kumpare who made the request to me," Dela Rosa said.
Marcos and his subordinates were relieved by Dela Rosa following the killing of Albuera, Leyte mayor Rolando Espinosa in an alleged shootout with CIDG officers inside his detention cell at the Baybay City sub-provincial jail last month.
Dela Rosa earlier justified the relief and transfer of Marcos to the PNP holding center at Camp Crame in Quezon City after Espinosa tagged him in the illegal drug trade.
But upon the intercession of a "higher authority" in Malacañang, Dela Rosa reinstated Marcos to his post.
The PNP chief stood by his decision to reinstate Marcos, who had been accused by Kerwin of receiving drug money from him amounting to P3 million in exchange for protection.
The CIDG raid on the Leyte provincial jail was led by Chief Insp. Leo Laraga, who allegedly received P120,000 in monthly payola from Kerwin.
Kerwin had expressed belief that his father was killed to prevent him from spilling the beans on police officers getting protection money from him.
Leila won't identify source
De Lima, for her part, declined to reveal her source.
"I will not and will never disclose my source. I cannot breach the confidence accorded to me by my source," she said.
De Lima instead issued a challenge to Dela Rosa to identify the higher official who gave the order to reinstate Marcos.
"The duty to disclose belongs to him and not to me, since he was the one who revealed that he was given the order to reinstate Marcos," De Lima said.
Squid tactics
Sen. Alan Peter Cayetano accused De Lima of engaging in squid tactics by coming out with baseless allegations against Go in order to divert the public's attention from her alleged links to illegal drugs.
Cayetano vouched for the integrity of Go.
He described De Lima's move as an attempt to mislead the public.
"Senator De Lima seems to be resorting to squid tactics as a strategy to get the attention away from the accusations in which she herself is involved," Cayetano said.
"Instead of facing the drug allegations against her, she found it more fitting to file a case against the President. Now, she is targeting the special assistant to the President with baseless accusations," he added.
Cayetano said it was improper for De Lima to dish out such accusations based on hearsay against Go, whom he said has an untarnished reputation.
"Secretary Go is a professional, he doesn't put his own agenda in his professional duties. He is a soldier who follows his commander-in-chief's directives. He should not be dragged into controversy, especially when there is no clear proof," Cayetano said.
"These intrigues are merely part of Senator De Lima's and her allies' plan to replace the President with their own," he added.
Cayetano has vowed to help the President in ridding the government of "narco-politicians and other drug protectors."
The Senate committee on public order and dangerous drugs will continue its probe on the killing of Espinosa.
Sen. Panfilo Lacson, who heads the panel, said he would look into the circumstances behind Marcos' reinstatement as CIDG Region 8 chief.
Lacson said the issue was relevant to the inquiry because it was Marcos and his team who were behind the killing of Espinosa.
"If there was prior information that he was on Kerwin's payola and that he was tainted with drug money as per General Dela Rosa's own admission, then it's a no-brainer that he (Marcos) be transferred to the holding group and investigated," Lacson said.
"When we joined the force, we understood that we will be separated from our families, so citing family as humanitarian grounds for reinstatement is not a valid reason," he added.
Vice President Leni Robredo also urged Dela Rosa to reveal the identity of the Palace official who asked him to reinstate Marcos amid his involvement in the alleged rubout of Espinosa.
Robredo expressed concern that "someone from Malacanang lobbied for Marcosreinstatement."
"First of all, the subject police officer is involved in a murder case. If he was reinstated because of protection from somebody up there, it is alarming, especially that we want to relay to the people that we are serious in the war on drugs," she said.
Robredo said Marcos' reinstatement ran counter to Dela Rosa s previous pronouncement that he would transfer him to another post.
"What's the basis for such order (to reinstate)?"the Vice President said. – With Jaime Laude, Christina Mendez, Edith Regalado, Marvin Sy, Helen Flores