Pulse: Fewer Filipinos see crime as major national concern
October 17, 2016 | 3:19pm
MANILA, Philippines — The number of Filipinos who identify criminality as an urgent national concern significantly dropped from 52 percent in July to 31 percent in September, according to a Pulse Asia survey released on Monday.
"Between July and September 2016, levels of public concern for various issues remain essentially constant. The only significant movement during this period is the drop in the percentage of Filipino who identify criminality as an urgent national concern (-21 percentage points)," Pulse Asia said.
Fighting criminality and putting an end to the drug menace are among the top priorities of President Rodrigo Duterte. During his campaign for the presidential race, he promised that will end drugs and curb crime in the first six months of his presidency.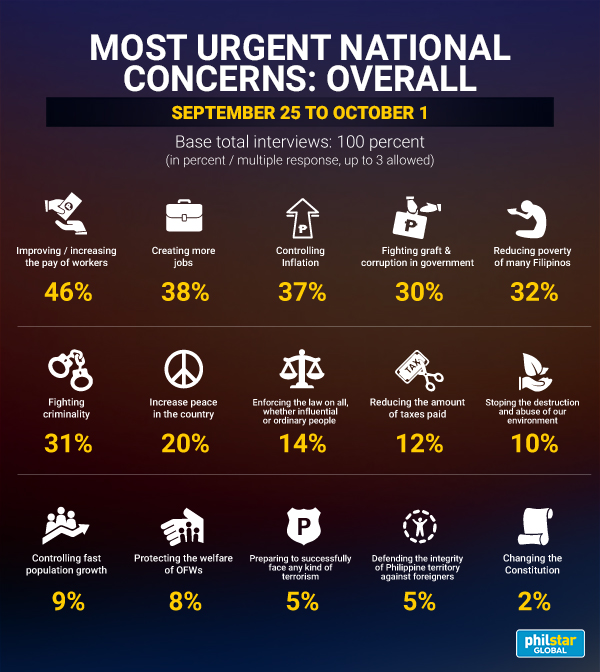 However, the president asked for six more months for the war against drugs and criminality, citing the extent of the drug problem in the country.
Meanwhile, nearly half of Filipinos consider improving the pay of workers as the top national issue that the Duterte administration should immediately address, according to the latest Pulse Asia survey released on Monday.
The survey showed that 46 percent of Filipinos said that the new administration should focus on increasing workers' pay.
On the other hand, 38 percent said that the government should focus on creating more jobs while 37 percent consider controlling inflation as the most urgent national concern.
Fighting graft and corruption in the government and reducing poverty placed fourth among the most urgent national concerns with both 32 percent.
Meanwhile, 31 percent of Filipinos cited fighting criminality as the most urgent issue that should be addressed.
The other most often mentioned urgent national concerns are increasing peace in the country (20 percent), enforcing rule of law (14 percent), reducing the amount of taxes paid (12 percent) and protecting the environment (9 percent).
Filipinos are least concerned about controlling rapid population growth (9 percent), protecting the welfare of overseas Filipino workers (8 percent), terrorism (5 percent), national territorial integrity (5 percent) and charter change (2 percent).
The survey was conducted from September 25 to October. The respondents were allowed to have up to three responses.