Cops executing drug assets – witnesses
Paolo Romero
(The Philippine Star) - August 23, 2016 - 12:00am
MANILA, Philippines - The witnesses' narratives had a common thread: the victims were low-level drug pushers silenced by corrupt law enforcers who were either their protectors or suppliers in the illegal drug trade.
This emerged at the first Senate hearing on extrajudicial killings led by the committee on justice and human rights, chaired by Sen. Leila de Lima, and the committee on public order and illegal drugs chaired by Sen. Panfilo Lacson.
Philippine National Police chief Director General Ronald dela Rosa told the joint hearing that as of yesterday, the PNP had tallied 712 suspects killed in legitimate operations, of whom 269 were reported in Metro Manila, since the Duterte administration launched its war on drugs on July 1.
However, the PNP also recorded 1,067 killed "outside police operations" or apparently by vigilantes, he said.
"Frankly, I have never seen anything on the scale of the current anti-illegal drug campaign under this administration," said Lacson, a former PNP chief.
"The momentum that the police have gained over a short period through life-risking work of fighting illegal drugs must not be deterred by legislative inquiries like what we are conducting right now," he said.
The inquiry pushed through despite what De Lima claimed were attempts by no less than President Duterte to pressure her not to conduct it, including linking her and her former driver-bodyguard to illegal drugs.
De Lima surmised the Duterte administration's war against drugs, including calling for the death of drug pushers, was encouraging extrajudicial killings.
To prove her point, she presented witnesses, including 26-year-old Harra Kazuo, whose common-law husband JP Bertes and his father Renato Bertes were allegedly taken from their house in Pasay City on the night of July 6 by local policemen, and fatally shot in a police station the following day.
Kazuo said three policemen barged into their house that night looking for drugs and beat up the two men.
The same group of policemen arrested her husband for illegal gambling several months ago and freed him on a P20,000 bribe. JP was arrested a few months later by the same group for possession of "shabu (methamphetamine hydrochloride)" but again let him off after they were bribed by Kazuo.
She also disclosed that one of the police officers stripped her two-year-old daughter and searched her private parts. He also wanted to strip search her but she begged not to be touched as she was pregnant.
"They (Bertezes) were kind and my husband wanted to follow Papa (Renato) and surrender the following morning. We talked about it," a teary-eyed Kazuo said in Filipino. "Not all drug addicts are bad. They can change for the better."
The second witness, 23-year-old Mary Rose Campos, testified that her mother and father –Rodelio and Rosalie – were killed by Antipolo City policemen, who had been supplying her parents with shabu to sell.
Campos disclosed that her father was also an "asset" of anti-narcotics policemen of Antipolo City, while selling drugs. Her mother was forced to accompany him in his dealings, fearing her husband would be killed.
She said on the day her parents disappeared, they ignored calls coming from a certain Rabe, who is a police officer. She said her parents wanted out of the drug trade.
Her father finally answered the phone, putting it on speaker for his children to hear. The caller was so angry and asked her father to see him to "remit" sales for the shabu.
Campos disclosed drugs confiscated by the policemen were repacked in their house in Antipolo City to be sold later.
She said sometimes the same policemen would hold pot sessions in their house. She said about 30 to 40 policemen from Antipolo City are involved in illegal drugs, based on their visits to their house.
She learned of her parents' death two days later when one of the policemen – a certain Gammad – informed her that he saw her parents in the morgue.
There were 12 witnesses but only two were able to testify due to lack of time. Affidavits seen by The STAR, however, included another case from Antipolo City and one from Cagayan province involving agents from the Philippine Drug Enforcement Agency.
The other affidavits were from minors.
A Senate staff said the minors would testify today but they would be withheld from view.
'Relieved'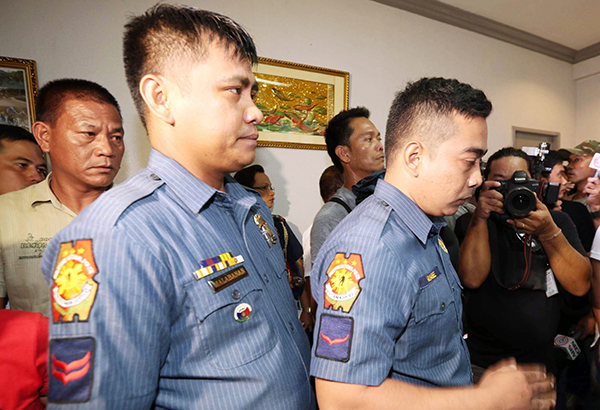 Police Officer 2 Dennis Malabanan and PO1 Reynald Rabe are surrounded by members of media during a visit by PNP chief Director General Ronald dela Rosa at the Rizal Provincial Police headquarters in Antipolo yesterday. A witness linked the two lawmen to the illegal drug trade. BOY SANTOS
Pasay City police chief Supt. Nolasco Bathan said following an investigation, two of his men accused in the Bertes deaths were charged with murder.
The Commission on Human Rights conducted an investigation into the case and found out there was "arbitrary deprivation of human life."
Dela Rosa expressed alarm over Campos' testimony and ordered the relief of the Antipolo City policemen identified by the witness.
He said the war against drugs is extremely difficult and deadly but they will not tolerate abuses.
"The PNP's stand against extrajudicial killings is uncompromising. On the speculation of vigilante killings, the PNP does not and will never condone vigilante killings," he said at the start of the hearing.
Dela Rosa said he had already emphasized the vigilante killings are "perpetuated by various syndicate groups involved in illegal drugs."
Any police officer found to have killed a suspect, except out of self-defense, would be "investigated, prosecuted and accordingly punished," he said.
Sen. Alan Peter Cayetano, who was opposing the conduct of the inquiry on the grounds that it was premature, said De Lima was not being totally honest in the inquiry and was in effect derailing the anti-drug campaign.
He said critics of the Duterte administration are wrongfully branding all drug-related casualties as "extrajudicial killings."
To prove his point, he cited Administrative Order No. 35 under the Aquino administration, which presented a more specific definition of extrajudicial killings.
Under the order, killings involving common criminals were not classified as extrajudicial.
The senator said before the Duterte administration, most murders involving common crimes were merely classified as "riding-in-tandem" cases. In fact, of the 1,400 people killed during the Aquino administration, only 394 were categorized as extrajudicial killings.
De Lima, who signed the guidelines of the AO, knows the victims of extrajudicial killings are members of groups with advocacies like political, labor, agrarian and similar causes, and members of media.
"The people support the anti-drug war, criminals don't. Criminals and drug pushers are spending money now, anything to discredit this administration to continue their multibillion-peso business," he said.
Meanwhile, a total of 130 of over 99,000 policemen who underwent drug tests nationwide were found positive for shabu use, said PNP Crime Laboratory head Chief Supt. Emmanuel Aranas.
Aranas said the ranks of the 130 police officers were from chief inspector down to police officer 1, the lowest rank in the PNP. – Cecille Suerte Felipe