Palace: Duterte's remarks on US envoy not for public consumption
(Philstar.com) - August 11, 2016 - 5:10pm
MANILA, Philippines — It was not for public consumption after all.
President Rodrigo Duterte's remarks about United States Ambassador Philip Goldberg—which prompted the US State Department to summon the Philippines' charge d'affaires in Washington—was only directed to a specific audience, Malacañang said on Thursday.
Duterte described Goldberg as "bakla" (gay) and "bwisit" (pest) in a speech before soldiers in Cebu City last on August 5 that was aired live by the media including state run PTV-4 and dzRB.
The US State Department has called the president's remarks "inappropriate" and has asked Philippines' Charge D'affaires Patrick Chuasoto to clarify them.
"First and foremost, it was not meant to be a public statement. It was addressed to a certain audience and the comments were confined to a certain audience," presidential spokesperson Ernesto Abella said at a press conference.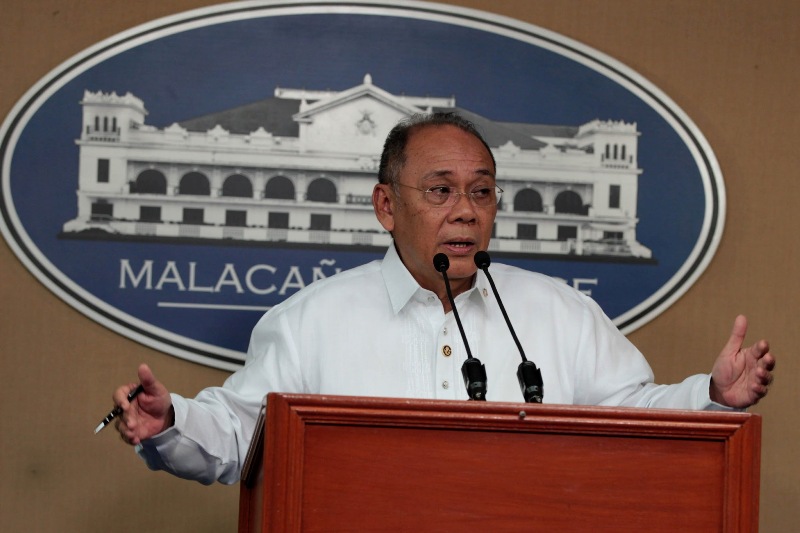 Presidential spokesperson Ernesto Abella answers questions from reporters at a press briefing at Malacañan on Thursday, Aug. 11, 2016. PPD/Robinson Niñal
"The charge d'affaires has already made the proper explanation to the State department," he added without elaborating.
Asked if Duterte would apologize for or retract his statement on Goldberg, Abella replied: "As I said earlier, the charge d'affaires went and made representation for the president and explained the situation."
Pressed if everything is okay after Chuasoto's meeting with US State department officials, Abella replied: "I assume."
On Wednesday, Duterte said the alliance between the Philippines and the US remains strong despite his remarks on Goldberg.
He, however, insisted that the US envoy should not have issued comments during the campaign period.
Duterte, who won by a landslide during the May 9 polls with 16.6 million votes, was known for his iron fist governance and tough talk.
During one of his campaign sorties, Duterte joked about the rape and murder of Australian missionary Jacqueline Hamill in Davao City in 1989. He said the murdered missionary was beautiful and as mayor "he should have been first."
Duterte's statement drew flak from women's groups and envoys including Goldberg, who said any statement that trivializes murder or rape should not be condoned. While Goldberg did not mention anyone in his statement, Duterte accused the US envoy of "meddling in Philippine politics."
Meanwhile, the US Embassy in Manila on Thursday said previous reports incorrectly quoted the ambassador as having told a newspaper that "continuity is better than change." It was believed to be referring to Duterte's campaign slogan, "Change is coming."
Carolyn Glassman, the embassy's counselor for public affairs, said Goldberg was referring to continuity of relations with the Philippines and not a quality of any presidential candidate.
"Continuity is greater than change in these circumstances" were Goldberg's exact words, as seen in the transcript provided by the embassy. Glassman said Goldberg meant the continuity of bilateral relationship is "more common and significant" than the change of leadership in either of the two countries.
"The quotation has been reprinted erroneously several times to support a false premise, and we want to set the record straight... Ambassador Goldberg was not hinting about preference for any candidate. He was emphasizing that regardless of the candidate who wins, the relationship will remain continuous more than it will change," Glassman said in an e-mail to Philstar.com. — with a report by Camille Diola