SAF commandos take over Bilibid security
MANILA, Philippines – A Special Action Force (SAF) battalion yesterday took over the New Bilibid Prison (NBP) in Muntinlupa City to crack down on drug lords believed to be directing the trade while serving their sentence in the national penitentiary.
This was part of President Duterte's order to the Philippine National Police (PNP) to intensify the war against illegal drugs.
On their first day of duty, the 300 heavily armed police commandos conducted a raid on Building 14 where 33 high-profile inmates, including drug lords named by Duterte, are confined.
The SAF confiscated cash, electronic gadgets and signal boosters discreetly set up by the inmates.
During the search, all the inmates were rounded up and placed in a PNP bus while Scene of the Crime operatives inspected every cell of the building to gather evidence of illegal activities inside prison.
Justice Secretary Vitaliano Aguirre II and PNP chief Director General Ronald dela Rosa led SAF members in taking over the nine-hectare prison community.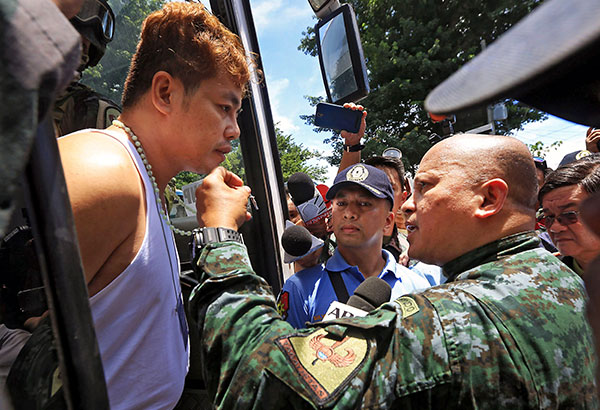 Pray, PNP chief Ronald dela Rosa advised bank robbery convict Herbert Colangco at the NBP yesterday. Colangco said he was just a singer and not into drugs. EDD GUMBAN
Dela Rosa also took the opportunity to confront Herbert Colangco, one of the drug lords named by Duterte, and asked him if he was directing the drug trade from inside his cell.
Speaking in the Visayan dialect, Colangco said his crime was robbery and his activity was limited to singing and dancing.
Dela Rosa told Colangco: "Starting today you must be religious. You pray."
Colangco also pointed to Peter Co as the one involved in the illegal drug trade in the country.
The SAF underwent special training for the takeover of NBP. They will have a two-month tour of duty with a contingent of Philippine Marines that will also be deployed at NBP.
Aguirre said every guard and almost all employees of the Bureau of Corrections would also undergo training and re-education.
The SAF commandos began arriving on Tuesday evening and occupied a juvenile center facility near Building 14.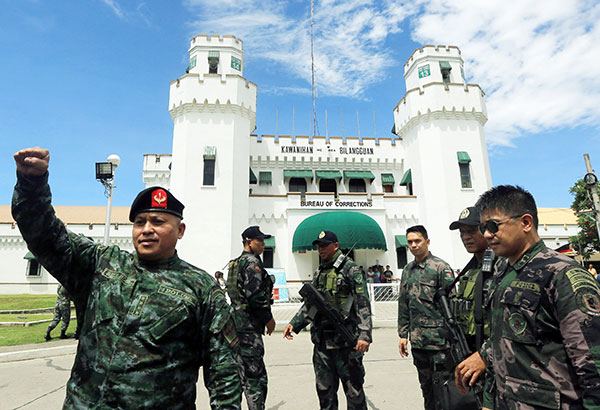 PNP chief Director General Ronald dela Rosa gestures during a turnover ceremony at the NBP compound in Muntinlupa City yesterday. EDD GUMBAN
Fr. Roberto Olaguer, spokesman for the NBP, welcomed the arrival of the SAF, saying they would boost security to prevent the entry of contraband and illegal items inside the prison compound.
The NBP is housing 22,000 inmates. About 14,000 prisoners are housed in 13 dormitories. They are from various gangs from all over the country.
An NBP insider said at least 11 gangs are operating inside the prison.
Among the gangs are the Batang City Jail, Batang Samar Leyte, Oxo, Commando, Sputnik, Bahala Na, Happy Go Lucky, Batang Cebu, Genuine Ilocano, Bicol Romblon Masbate and Batman or "Batang Mandarambong."