Pentagon chief: US military units to stay for South China Sea patrols
MANILA, Philippines — In a rare move, United States Defense Secretary Ash Carter revealed on Thursday that at least 200 American servicemen will stay behind after the US-Philippines military exercises Balikatan for joint air and maritime patrols in the South China Sea.
Speaking at a press conference with his Philippine counterpart Voltaire Gazmin, Carter bared that the US and the Philippine militaries started joint maritime patrols in the South China Sea—a move decided at a ministerial meeting with Gazmin, US State Secretary John Kerry and former Philippine Foreign Affairs Secretary Albert del Rosario in Washington in January.
To compliment the maritime patrols, a contingent of US aircraft including their crews and pilots will remain at Clark Air Base in Pampanga for air missions, Carter said. He also admitted that this will be the first among many contingents that will regularly maintain presence in the country.
This initial unit will include five A-10 Thunderbolt attack aircraft, three HH-60G Pave Hawk search and rescue helicopters and one MC-130H Combat Talon or special operations plane.
"These patrols will continue to help build our interoperability and improve the Philippine Navy. Even as these patrols contribute to the safety and security of the region's waters," he said.
Another group of American personnel will also remain in the Philippines to boost command-and-control capabilities.
"With these steps, we'll make a strong alliance, even stronger," Carter said.
The planned joint activities of the longtime allies came following a Supreme Court decision allowing the implementation of the Enhanced Cooperation Defense Agreement providing for the rotational presence of American troops in selected Philippine military bases.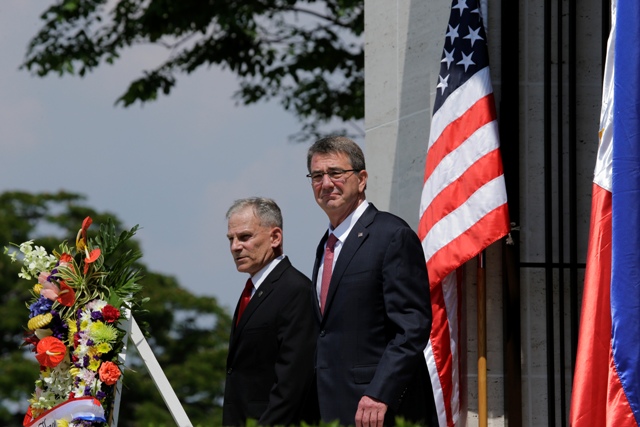 U.S. Defense Secretary Ash Carter, right, and Hubert Caloud, Manila American Cemetery Deputy Superintendent, walks out of a chapel during his visit at the American Cemetery and Memorial in suburban Taguig, Philippines on Thursday, April 14, 2016. Carter is in the country as U.S. and Philippine forces participate in a joint military exercise called shoulder-to-shoulder or "Balikatan." AP/Aaron Favila
The US recently announced that under the agreement, it will build facilities in five Philippine bases, spreading American military hardware in strategic parts of the country. The chosen bases include the Antonio Bautista Air Base in Puerto Princesa, Palawan near the South China Sea. The other facilities are Mactan-Benito Ebuen Air Base in the Visayas, Lumbia Air Base in Mindanao, Subic Bay and Clark Air Base.
The Pentagon chief is scheduled to observe and speak to Filipino and American troops participating in Balikatan on Friday.