10 experts, 4 months needed to craft Miss U crown
(The Philippine Star) - January 29, 2016 - 9:00am
MANILA, Philippines – It took four months for 10 Czech craftsmen, employing a traditional technique used by royal jewelers, to finish the diamond-encrusted crown worth $300,000 that Pia Alonzo Wurtzbach wears wherever she goes as the reigning Miss Universe.
Renowned Czech company DIC, or Diamonds International Corp., patterned the crown of the 64th Miss Universe after the Manhattan skyline. The crown is encrusted with 311 diamonds, five pieces of blue topaz, 198 blue sapphires, 33 pieces of crystal and gold.
When Filipinos welcomed Wurtzbach with a homecoming parade on Jan. 25, she stood on a float designed to look like her crown.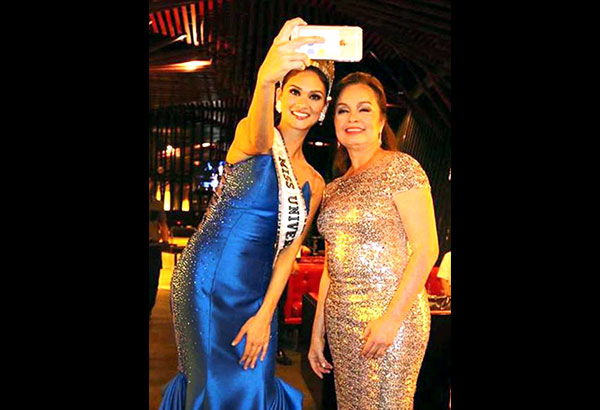 Miss Universe Pia Alonzo Wurtzbach captures in a selfie her onstage meeting with 1973 Miss Universe Margie Moran-Floirendo during a homecoming tribute show last Thursday.
CELSO DE GUZMAN CAPARAS
DIC executives said its 10 experts handcrafted the crown using the traditional techniques of Bohemian glassmakers and the best jewelers, cutters and polishers from the Czech Republic.
The company began its partnership with the Miss Universe Organization in 2014 with an exclusive 10-year contract to produce crowns for the Miss Universe, Miss USA and Miss Teen USA pageants, earning $150 million a year.
According to the Czech embassy, DIC president Luboš ?íha founded the company with just $1,000 in his pocket on Oct. 31, 2005. The company sold its first diamonds in mid-2006. It has since gone international, expanding its business activities to Slovakia, Hungary, Bulgaria, Poland, Serbia, Russia and United Arab Emirates. It is currently preparing to operate in Vietnam.
The company sells investment diamonds on global markets and manufactures its own luxury crafted jewelry. In just 10 years, DIC clients have risen to 25,000, with its annual turnover exceeding $50 million.
In 2016, DIC began construction of a $120-million luxury hotel complex called DIC Resort near Dubai.