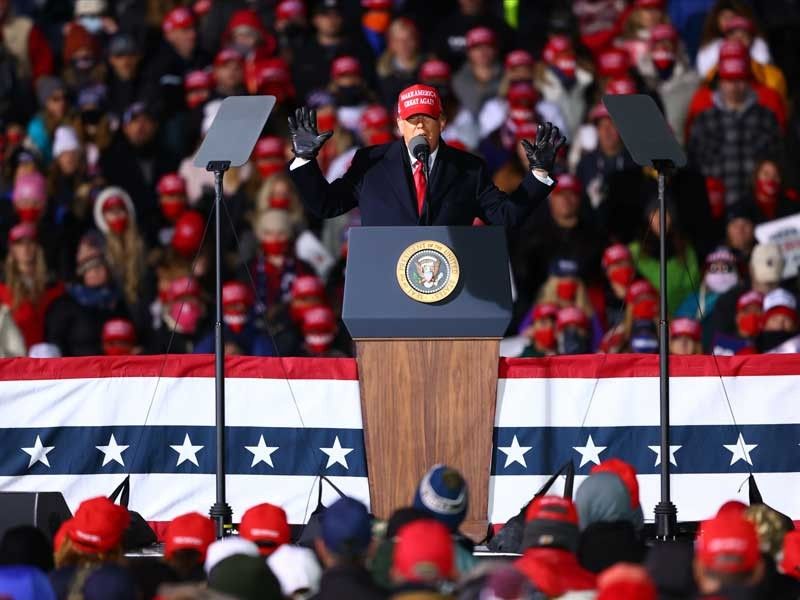 LATEST UPDATE: November 25, 2020 - 8:19am
LOCATION:
+ Follow Story
1 day ago
President-elect Joe Biden on Tuesday introduced a slate of veteran diplomats and policy-makers who will make up his national security and foreign policy team, saying: "America is back, ready to lead the world."
Biden, 78, at an event in his hometown of Wilmington, Delaware, presented his picks for secretary of state, national security advisor, homeland security secretary, intelligence chief, UN ambassador and climate change envoy.
"These public servants will restore America's global leadership and moral leadership," Biden said as the six men and women stood behind him wearing face-masks on the stage of the Queen theater.
Biden said that after he is inaugurated on January 20, 2021 and Donald Trump leaves the White House, the United States will "once again sit at the head of the table, ready to confront our adversaries and not reject our allies." — AFP
2 days ago
US President-elect Joe Biden's team on Monday welcome the long-delayed release of government aid for his transition team, a step he says is crucial to "a smooth and peaceful transfer of power."
"The GSA administrator has ascertained President-elect Joe Biden and Vice President-elect Kamala Harris as the apparent winners of the election, providing the incoming administration with the resources and support necessary to carry out a smooth and peaceful transfer of power," Biden says in a statement.
General Services Administration head Emily Murphy, who denies acting under political pressure, has refused since the November 3 election to release the standard package of aid that her agency manages to Biden's incoming team. — AFP
3 days ago
US President Donald Trump's campaign announces it is no longer working with a member of the president's legal team who was widely mocked for alleging baseless conspiracy theories related to the November 3 election.
"Sidney Powell is practicing law on her own. She is not a member of the Trump legal team," the president's personal lawyer Rudy Giuliani says in a statement.
"She is also not a lawyer for the president in his personal capacity."
Trump had tweeted on November 14 that Powell would be a member of his legal team, alongside Giuliani and campaign legal adviser Jenna Ellis. — AFP
November 22, 2020
Saudi Arabia expects no major change in its relationship with the US under Joe Biden, a senior official told CNN, despite the president-elect pledging to turn the kingdom into a "pariah".
OPEC kingpin Saudi Arabia, a close ally of President Donald Trump, has appeared wary of Biden after he promised a stern stance against the kingdom for its human rights failings.
But Adel al-Jubeir, the Saudi minister of state for foreign affairs, dismissed the notion.
"We deal with the president of the United States as a friend, whether he's Republican or Democrat," Jubeir told CNN, in an interview released over the weekend. — AFP
November 22, 2020
A US Republican senator contesting a closely watched runoff election in Georgia was quarantining on Saturday after possibly being infected with COVID-19, her campaign says.
Kelly Loeffler had campaigned with Vice President Mike Pence on Friday as well as David Perdue, another Republican Georgia senator up for re-election in the January 5 runoff vote.
The election will decide whether Republicans or Democrats control the Senate, with both facing Democratic challengers. — AFP
November 18, 2020
Donald Trump fires the government's top election security official, who had rejected the president's unsubstantiated claims of "massive" fraud in the vote he lost to Joe Biden.
Trump announces on Twitter the termination "effective immediately" of Chris Krebs, who leads the agency that jointly declared "the November 3rd election was the most secure in American history."
Trump, who refuses to acknowledge that he lost his bid for reelection to Democrat Biden, has repeatedly claimed without evidence that the voting and count were replete with fraud. — AFP
November 16, 2020
France's Emmanuel Macron will be forced to walk a diplomatic tightrope on Monday when he hosts US Secretary of State Mike Pompeo, a staunch defender of US President Donald Trump, for talks while at the same time seeking to build relations with President-elect Joe Biden.
Pompeo arrived in Paris Saturday at the start of a seven-nation trip to US allies.
America's top diplomat has been criticized for backing the president as he digs in over his unsubstantiated claims of election fraud.
"There will be a smooth transition to a second Trump administration," a defiant Pompeo told reporters moments after announcing his trip last week.
World leaders however have shown no doubt about whom they see as the victor, with Macron one of the first to congratulate Biden and speak with him by telephone. — AFP
November 16, 2020
US President Donald Trump has yet to admit defeat in the US election. But with a word here, a slip there, he is raising the prospect ever more plainly.
In a tweet Sunday morning, Trump appeared accidentally to acknowledge Joe Biden's victory — before quickly reversing course to claim he won, and again push unsubstantiated claims of mass electoral fraud.
"He won because the Election was Rigged," Trump tweeted.
The first two words — coming days after a verbal slip in which Trump said "time will tell" if he remains president — were immediately seized upon as one more step towards a concession. — AFP
November 13, 2020
Senior US federal and state election officials say Thursday that there was "no evidence" that votes were lost or changed, or voting systems corrupted, in the US presidential election.
"The November 3rd election was the most secure in American history," national and local officials responsible for securing the election say in a statement, contradicting Republican and White House claims.
"There is no evidence that any voting system deleted or lost votes, changed votes, or was in any way compromised," they say. — AFP
November 11, 2020
President-elect Joe Biden on Tuesday called US President Donald Trump's refusal to concede his election loss an "embarrassment" but dismissed the standoff as unimportant.
"I just think it's an embarrassment, quite frankly," Biden said when asked what he thinks about Trump's refusal to acknowledge defeat in the November 3 election.
"How can I say this tactfully? I think it will not help the president's legacy," Biden told reporters in his home town of Wilmington, Delaware.
A week after the US election, Trump remained shut up in the White House, pushing an alternate reality that he is about to win and filing lawsuits alleging voter fraud that so far have been backed up by only the flimsiest evidence. — AFP
November 9, 2020
US President-elect Joe Biden took the first steps Sunday towards moving into the White House 73 days from now, as Donald Trump again refused to admit defeat and tried to sow doubt about the election results.
With congratulations pouring in from world leaders and supporters nursing hangovers after a day of celebrations, Biden and Vice President-elect Kamala Harris launched a transition website, BuildBackBetter.com, and a Twitter feed, @Transition46.
Meanwhile, Trump played golf at his course near Washington, the same place where he was Saturday when the US television networks delivered the news that Biden had secured enough Electoral College votes for victory.
"Since when does the Lamestream Media call who our next president will be?" Trump complained in a tweet on Sunday. — AFP
November 8, 2020
Canada's Prime Minister Justin Trudeau congratulates Joe Biden on winning the White House, shortly after US media called the race for the Democrat over Donald Trump.
"I look forward to working with President-elect Biden, Vice President-elect (Kamala) Harris, their administration, and the United States Congress as we tackle the world's greatest challenges together," Trudeau says in a statement. — AFP
November 7, 2020
Joe Biden says as he closes in on winning the US presidency he would he waste no time in addressing the Covid pandemic upon taking office.
"I want everyone, everyone to know on day one we're going to put our plan to control this virus into action," Biden says in a late night address from his hometown Wilmington, in Delaware.
Biden expressed confidence that he would defeat President Donald Trump as vote counting dragged on from Tuesday's election but stopped short of declaring himself the winner. — AFP
November 7, 2020
President Donald Trump tells challenger Joe Biden not to "wrongfully claim" the White House as incomplete returns from the presidential election showed the Democrat close to an insurmountable lead.
"Joe Biden should not wrongfully claim the office of the President. I could make that claim also. Legal proceedings are just now beginning!" Trump tweets.
Trump himself has repeatedly claimed that he won Tuesday's election, despite vote counts pointing strongly to him being made a one-term president. — AFP
November 6, 2020
US media say Democrat Joe Biden pulled ahead in the crucial battleground state of Georgia, with votes still left to count.
The former vice president ate away at President Donald Trump's initial lead in the southern state and is now ahead by 917 votes, CNN and Fox News report.
Trump won Georgia by five percentage points in 2016. — AFP
November 6, 2020
Two Senate allies of Donald Trump warn that Republicans may reject the legitimacy of vote results if they turn against the embattled president.
As a few Republicans distanced themselves from Trump's unsubstantiated allegations of fraud in Tuesday's election, Senators Lindsey Graham and Ted Cruz enthusiastically backed him in back-to-back appearances on Fox News. — AFP
November 6, 2020
US President Donald Trump claims without evidence Thursday that Democrats are trying to "steal" the US election with illegal votes, saying he would "easily win" the race against Joe Biden without the alleged interference.
"If you count the legal votes, I easily win. If you count the illegal votes, they can try to steal the election from us," says the president as his reelection hopes hang by a thread.
Trump says his team has launched a "tremendous amount of litigation" to counter what he called the "corruption" of Democrats, even as several officials in battleground states where the vote remains undecided have defended the integrity of the vote. — AFP
November 5, 2020
Hundreds of state police and left-wing protesters were locked in a tense standoff in downtown Portland late Wednesday after rampaging anti-Trump groups smashed shop windows a day after the election, prompting the state governor to activate the National Guard.
The Multnomah County Sheriff's office declared a riot and made at least nine arrests, citing "widespread violence" in the city's downtown area and repeatedly warning it could deploy munitions and tear gas.
Armed police advanced on demonstrators in unison but there were no clashes, according to an AFP reporter at the scene.
The protesters had earlier attended a peaceful rally in a downtown park hosted by a coalition of far-left, anti-capitalist groups featuring lectures and music. — AFP

November 5, 2020
Thousands of Joe Biden supporters marched Wednesday evening in New York to demand every vote in the tight presidential election be counted, as some Donald Trump supporters protested in Detroit demanding a halt to ballot counting in the key state of Michigan.
New York demonstrators were peaceful and spanned generations, with marchers heading from Fifth Avenue towards Washington Square Park in the heart of Manhattan's Greenwich Village.
In New York's Democratic stronghold demonstrators were hopeful but wary of calling it for their candidate Biden just yet.
"We need to count every vote in this election," said Sarah Boyagian, part of the Protect The Results Coalition behind the demonstration organized under tight police supervision.
"Donald Trump has claimed the election before every vote is counted and we are sending the message that that is not acceptable," the 29-year-old tells AFP. — AFP
November 5, 2020
Democrats and Republicans girded Wednesday for a legal showdown to decide the winner of the tight presidential race between Republican Donald Trump and Democratic challenger Joe Biden.
After Trump declared overnight he was ready to go to the US Supreme Court to dispute the counting of votes, his campaign announced a demand for a recount in Wisconsin and lawsuits in Michigan and Pennsylvania, three states which each side needs to win the presidency.
Trump's behavior raised the specter of the election ultimately being decided, as in 2000, by a high court ruling on how states can tally votes or conduct recounts. — AFP
November 4, 2020
Joe Biden's White House campaign slams President Donald Trump's threat to try to stop the election vote count as "outrageous" on Wednesday, saying its legal team was ready to prevent such an "unprecedented" act.
"The president's statement tonight about trying to shut down the counting of duly cast ballots was outrageous, unprecedented, and incorrect," Biden campaign manager Jen O'Malley Dillon says in a statement as the election remained undecided.
"We have legal teams standing by ready to deploy to resist... and they will prevail," Dillon says, after Trump branded slow ballot tabulations in battleground states a "fraud" and threatened to go to the Supreme Court to dispute the counting of votes. — AFP
November 4, 2020
US President Donald Trump on Wednesday claims he has won the US election, despite the final results not yet being given, and says he would go the Supreme Court to dispute the counting of votes.
"We did win this election," Trump says in an extraordinary speech from the ceremonial East Room of the White House. "This is a fraud on the American public."
The Republican, who according to initial results is in a neck-and-neck race with Democrat Joe Biden, says he would go to court and "we want all voting to stop."
He appears to mean stopping the counting of mail-in ballots which can be legally accepted by state election boards after Tuesday's election, provided they were sent in time. — AFP
November 4, 2020
US President Donald Trump and Democratic challenger Joe Biden are battling it out for the White House, with polls gradually closing across the United States Tuesday and a long night of waiting for results ahead.
The first results are trickling in, with US media projecting wins for the Republican incumbent so far in Indiana, Kentucky, Oklahoma, Tennessee and West Virginia — all states he won in 2016.
Biden has captured his home state of Delaware, Maryland, Massachusetts, Vermont, Virginia and New Jersey, as well as the three electoral votes given to the US capital Washington (District of Columbia).
So far, that gives Biden 57 electoral votes and Trump 42. The magic number is 270. Observers expect the hotly contested race for the White House to come down to a handful of key battleground states. — AFP
November 4, 2020
US President Donald Trump has won in the traditionally Republican-leaning states of Indiana and Kentucky, while Democratic challenger Joe Biden has won the state of Vermont, US media projected Tuesday as the first election results trickled in.
So far, that gives Trump 19 electoral votes to three for Biden. The magic number is 270. Observers expect the hotly contested race for the White House to come down to a handful of key battleground states. — AFP
November 3, 2020
Normally, Republicans don't win Michigan — but Donald Trump took the US state in a shocking upset four years ago. On Monday evening he will return to the city of Grand Rapids — exactly like in 2016 — for the last rally of his reelection campaign, and possibly his political career.
Is it because he's superstitious?
"I heard he might be a little of that," said Melanie Thorwall, 63, who has been waiting since the morning so as not to miss the grand finale of the Trump 2020 campaign.
Along with her son, who is an engineer like her, Thorwall had been unable to enter the rally four years ago. Both nostalgically recall the emotion that night, the sense of watching a phenomenon.
Trump was the first GOP presidential candidate to take Michigan — historically one of the sturdiest bricks in the Democrats' "blue wall" — since 1988. — AFP
Democrat Joe Biden leads in the national polls and most of the battleground states going into Election Day but President Donald Trump is insisting they're wrong and he'll repeat his upset victory of 2016.
Biden, the 77-year-old former vice president, has enjoyed a solid lead over Trump, 74, in the national polls for months, at times reaching double digits.
But US presidential elections are not decided by the popular vote.
They are won in the 538-member Electoral College, where each state has a number of electoral votes equivalent to its representation in the House and Senate.
US President Donald Trump Donald speaks during a campaign rally on November 2, 2020 in Traverse City, Michigan.
REY DEL RIO / GETTY IMAGES NORTH AMERICA / GETTY IMAGES VIA AFP