Julia Barretto plans to pursue college studies before turning 30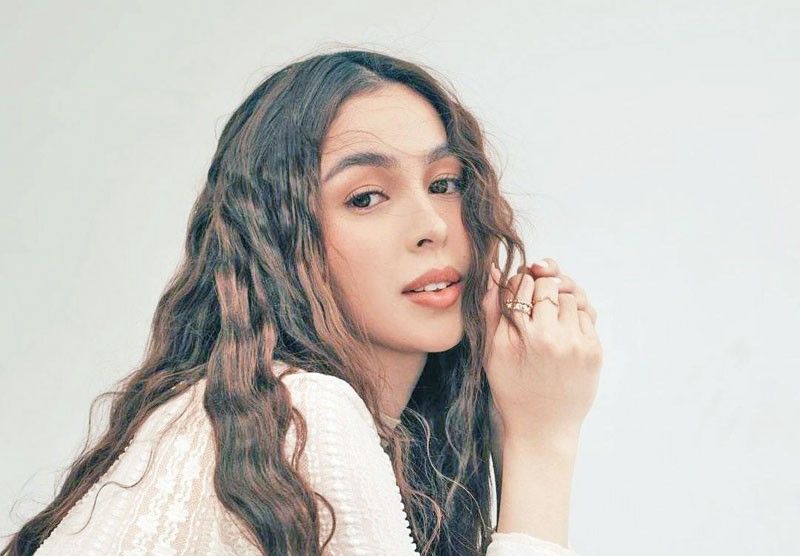 Julia Barretto is "loving the life" that she has now. At 26, she is able to maintain a work-life balance. She also plans to pursue higher education before she reaches 30.
The actress acknowledged living a not-so-ordinary life that's why she "loves traveling to new and faraway places" because she gets her personal space. "You get your privacy. Your personal space is respected, (it) is given to you. The time for yourself is unlimited when you're on vacation," she pointed out during a press conference for her upcoming film Will You Be My Ex? opposite Diego Loyzaga. She just came back from a trip to Venice, Italy.
"But, you know, I love my life. I don't mind na hindi ordinary yung life ko," she declared. She is "grateful for the life that I live."
"If I need space, if I need privacy and quiet, madali lang namang umalis and find that elsewhere but I like this life. I like that I get to talk to you, guys. I like that I get to do this. I like that I get to sing my recorded songs in mall shows (laughs).
"I like that in my younger years, I was able to dance as if I'm a dancer, alam mo yun parang I feel so blessed. It's like no complaints. I'm grateful somebody still wants a photo with me. I'm grateful that you still wanna ask me questions.
"I love this life. If I just need quiet, I just go to my room, happy na ako. Ang recharge ko naman 'pag eight hours nakuha ko na, I'm happy. That's it. And my coffee, happy na ako."
One of the themes in the movie Will You Be My Ex? is reconnecting with "the past." So when asked if there's something from her past that she wants to revisit and change, she told The STAR, "None much really. I think grateful ako sa mga pangyayari sa past because it brought me to where I am today. So nothing much really. I don't want to change anything and wala naman akong gustong balikan. Just moving forward."
She was proud to say that she has work-life balance amid her hectic schedule. She gets to spend time with her loved ones and with herself, and at the same time, manages her business and continues to do acting.
"Honestly, I'm grateful also to Viva because when I asked for time to rest or to go out of the country like they really give it to me and they adjust my work schedule to it. So, it's not a challenge for me now but I really love to work so feeling ko, whenever I'm on vacation and I need to come back home (after that), I immediately start working. But I think right now at 26, my work-life balance is OK."
Julia, likewise, expressed her earnest intention to go back to school and pursue either Psychology, drama or any business-related courses. "I really wanna go back to school. Gustong-gusto, gusto ko talaga mag-college. I really wanna study," she reiterated.
"I think that's what I really want to do right now. And if I can find a perfect way to do it at the same time, shooting and schooling, everything will be perfect, 'Thank you Lord!'" She vowed to make it her "goal" to achieve it.
She also hopes to study abroad and attend school physically where she can meet new college friends and professors. "Ang saya pakinggan ng mga stories nila ng mga kapatid ko… So naririnig ko yung college stories nila and I'm just dreaming of the day to also experience the same."
Her sister Claudia just finished college last year from Ateneo de Manila University, while her brother Leon is in third year college taking up a marketing course at University of Asia and the Pacific.
She aims to enroll at a university before she turns 30. "Kahit nga short course lang eh happy na ako. Even if it's just three months. So let's continue filming para habang lumalabas yun (film), I'm also studying (at the same time)," she said with a laugh.
The flick Will You Be My Ex? is "a romantic movie about ex-lovers who meet once again and have the chance to rekindle their past and choose to either be friends or give their love a second try." It is helmed by Real Florido, co-produced by Studio Viva and Firestarters production, and presented by Viva Films. It also stars Bea Binene and will be shown in cinemas starting tomorrow, June 21.
Will You Be My Ex? is sort of a "reunion project" of the lead stars Julia and Diego, who earlier worked together in Wansapanataym's episode Petrang Paminta in 2013 and Mirabella in 2014.
"The point is I've known him for quite a while (so) there was no awkwardness or anything like that," she said of Diego. "It was always a safe space on set. Masaya lang. It was such a fun set. Everybody was just working happily."
She was also "proud" of her co-star and she would always tell him that. "Nakaka-proud siya dito kasi iba yung binigay niya in this film but nakitaan ko siya ng maraming heart and vulnerability and he showed that to us all," she said.
"I'm so glad that we did this movie at such a good time in his life. Diego is such a wonderful person and he showed me so much kindness all throughout filming."
She said that she regards Diego as "now my friend." "And I'm excited na makausap niyo siya because he is in a really good place like ang refreshing niyang kausap and yeah soon, I hope you guys could also talk to him."
The actor recently posted on his social media accounts a photo of him cradling a baby with the caption: "The best birthday gift ever." The post sparked speculations of him becoming a first-time dad.
Meanwhile, Julia was queried if she indeed replaced Bea Alonzo as Alden Richards' leading lady in the Philippine adaptation of the South Korean hit film A Moment to Remember.
"I don't know if I can comment on that yet. But we can talk about it when we get there. When we get there, we can have a chat about it. We can have a discussion. We can chat (laughs)... when we get there," she reacted.