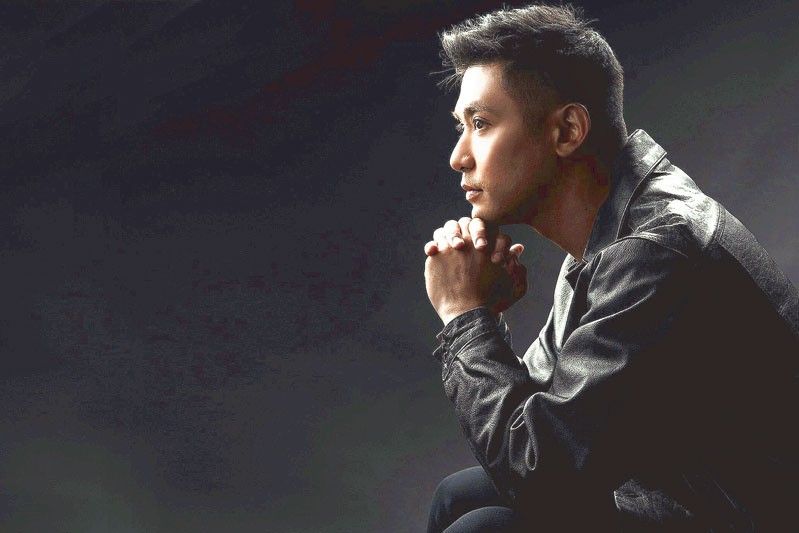 Rocco Nacino
Pilar T. Bonnin
CONVERSATIONS
-
Ricky Lo
(The Philippine Star) - December 1, 2019 - 12:00am
Was Rocco Nacino tempted to bid the (cruel) world farewell when somebody broke his heart?
"Not to that extent," assured Rocco. "But it hurt so bad that I landed in the hospital. That's all I can reveal."
That question is pertinent to the topic of Write About Love, TBA Studios' entry in the 2019 (45th) Metro Manila Film Festival (MMFF) that stars Rocco with Miles Ocampo, Joem Bascon and Yeng Constantino. It's the third TBA film at the MMFF, following Bonifacio: Ang Unang Pangulo (2014) and Sunday Beauty Queen (2016).
"It's a rom-com that lovers and exes can learn from," added Rocco who has bounced back and is now going steady with an athlete.
Written by Janyx Regalo with Crisanto Aquino who is debuting as director, Write About Love is the story of a young female writer (Miles) who is paired with a seasoned indie-film writer (Rocco), forced to collaborate on rewriting the script of an unfinished love story with Yeng and Joem as characters.
Cris explained, "Despite their clashing personalities and different perspectives on relationships, their writing process leads them towards a path of self-discovery, realizing in the end what it truly takes to write about love." As an afterthought, Cris denied that the characters were based on (but may have been inspired by) real-life lovers.
The movie's musical director is Jerrold Tarog (director of Heneral Luna and Goyo, two of TBA's big-budgetted movies). Cris wrote the lyrics of Ikaw Ang Akin, the movie's theme song sung by Yeng as part of the movie's soundtrack released by Star Music.
Before directing Write About Love, Cris was known as the country's most sought-after assistant director who has worked with the likes of Chito Roño, Olivia Lamasan, Rory Quintos, Laurice Guillen, Cathy Garcia-Molina and Tarog (for both the movies mentioned).
Commented Vincent "Ting" Nebrida, TBA president and executive producer, "TBA Studios is confident that Write About Love is going to be a success because aside from it being the only romantic, feel-good entry in the 2019 MMFF, it was made in honor of the 100 Years of Philippine Cinema. We are thankful to the MMFF Selection Committee."
Aside from Write About Love, Rocco was kept busy with the preparation for Descendants of the Sun, the forthcoming GMA action-adventure series (based on the hit Koreanovela), that included rigid military training.
"Dinerecho ko na," said Rocco who is now ranked Petty Officer Third Class of the Philippine Navy. (But he, along with the other Descendants actors, initially trained with the Philippine Army.) "Medyo nabuksan ang mga mata ko how it felt like to serve the country." (Rocco is a nurse by profession.)
Here's a Conversation with Rocco:
How was it working with a big-time company like TBA?
"It's a big honor, of course, working for a company that produces multi-million projects."
Describe your character.
"I play a seasoned scriptwriter who knows a lot of love stories, maraming alam na romantic formula…an old-school writer. Miles plays an NBSB (No Boyfriend Since Birth) scriptwriter tasked by a producer to write a love story. That's her challenge. As I help her, we embark on a journey together, discovering so many things along the way."
Do you identify with the character?
"Actually, I am the exact opposite. My character is kind of introvert and very reserved, while I easily mix with all sorts of people, kaya kong mapasabak at makipag-usap sa lahat ng klaseng tao. But I think direk Cris saw some similarities between me and the character during the auditions."
If you were to write about love based on your personal (colorful) experience, how would you go about it?
"Oh yes, you're right…very colorful! You can compare it to a roller-coaster ride, so many ups and downs but in the end, hmmmm, I had the thrill of my life. In general, the experience was very exciting."
Were you "ghosted" or did you "ghost" her? (Note: After he recovered from his break-up with Lovi Poe, Rocco picked up the pieces and found a new love in the person of a pretty athlete.)
(No comment)
Nakaka-high ba ang ma-in love?
"It depends on how people perceive it…how they experience it. Hahaha!!!"
What about falling out of love, does it plunge you into an all-time low? How low did you go?
(Silence before answering) "Oh, the lowest point. I guess the public knows what happened."
How did you deal with it, no drastic move (knock on wood)?
"Well, I must admit na maraming nangyari but luckily, I was able to contain them kaya minimal ang publicity. All I can tell you is that, yes, I was hospitalized."
Hospitalized? Was it that serious?
"Very serious but I'd rather not go into it. I recovered with the help of my family and good friends."
How long did it take you to spring back from depression?
"A while…as in several months din. Nakabangon ako through constant communication with, as I've said, my family and my friends (my old barkada)."
What have you learned from that failed relationship?
"To love myself first before I can love other people. Self-love, yes. You cannot love without pain."
They say that to mend a broken heart, you must find a new love.
"That's what they say. But before you find a new love, you must find yourself first."
(E-mail reactions at rickylophilstar@gmail.com. For more updates, photos and videos, visit www.philstar.com/funfare or follow me on Instagram @therealrickylo.)