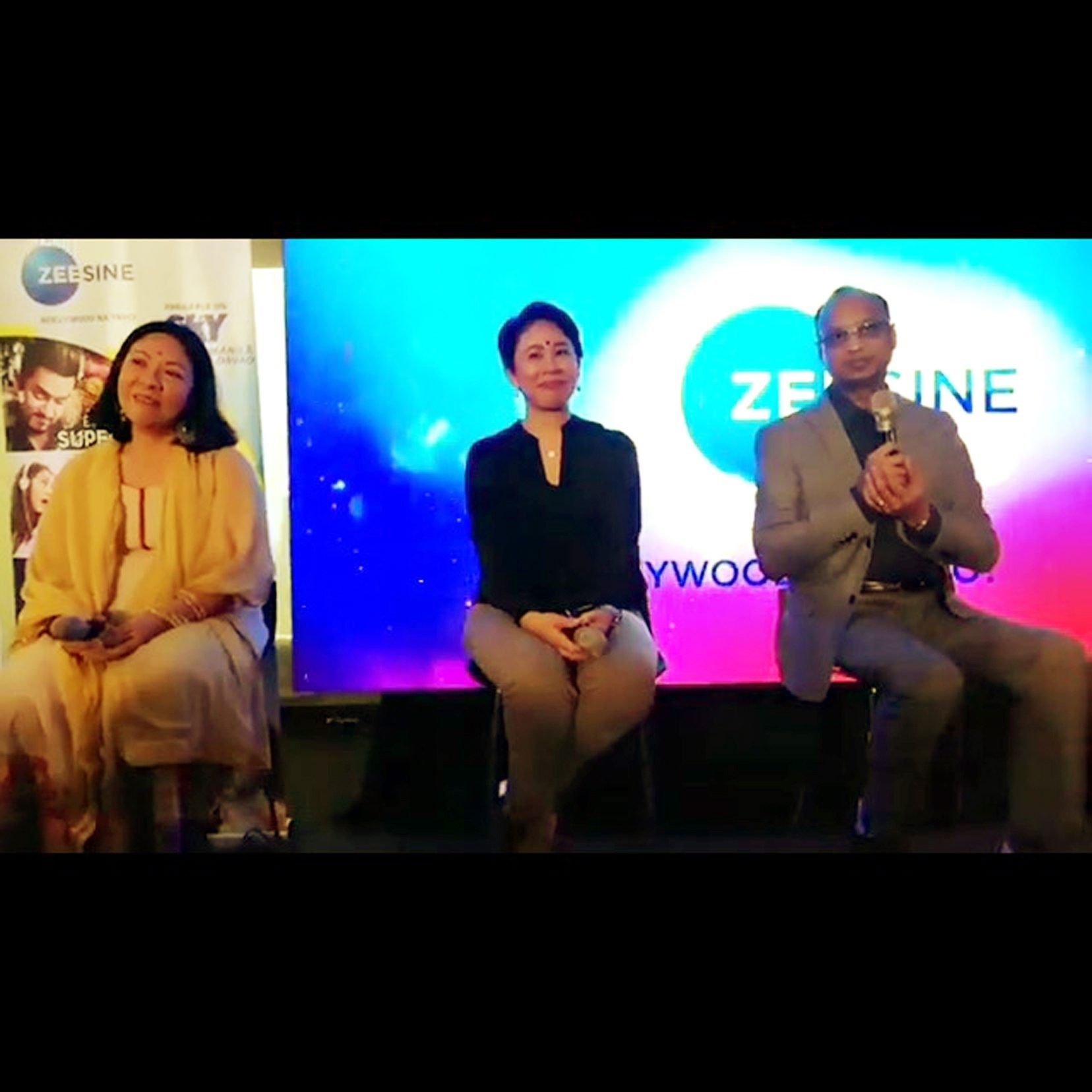 From left: Maria Liza Ginting, Zee Entertainment country head in the Philippines and Indonesia; Gidgette Marie Faustino, SKY head of Integrated Marketing; and Harish Goyal, Zee Entertainment CEO for Asia-Pacific and Africa
Zee Sine for Bollywood films
The Filipino audience is a global viewer. Proof to this is the impressive box-office results of most, if not all, Hollywood and Chinese movies. French and Spanish films receive positive results during their respective film festivals. On TV, Koreanovelas are as equally popular as Pinoy soap operas. Also enjoying a fair share of viewers here in the Philippines are the Bollywood contents made available 24/7 by SkyCable.
Through its partner channel Zee Sine, the ABS-CBN cable arm continues to bring a variety of Bollywood movies great for relaxation and family bonding. According to Maria Liza Ginting, Zee Entertainment country head in the Philippines and Indonesia, extensive research had been done before coming up with Zee Sine.
"Part of the study was how to introduce Bollywood to Filipinos — what are the things we share in common and without you knowing it, we are almost the same. The movies may look different but they practically come across as a Filipino story. We are the same like the love for family, the moral values we show in most of the movies, respect for one another, and even respect for nature," Liza said. "We also both love comedy, so we have so much in common."
That said, Zee Sine is evidently dedicated to its objective of giving nothing but pure entertainment to its target audience. It also identified how the viewers could exactly relate to stories the channel presents to its partner country. In the Philippines, Zee Sine made sure that Filipinos will truly understand and feel the shows.
Gidgette Marie Faustino, Sky head of Integrated Marketing, pointed out that part of the company's commitment is to always bring a diverse set of contents for subscribers.
She added, "We've transcended the times when we only had our local shows. In fact, that's what I think is the beauty or the positive difference we have as Filipino because we're very open to new learning and to new content. Our love for foreign content is really tremendous. That's why we're very happy to partner with Zee Sine because they know how to come close to our hearts and Filipinizing is one sure way of bringing Bollywood really close to us."
The localization process goes as far as creating movie themes like Unli Tawa Monday, Hari ng Aksyon Thursday, Pinoy Bollywood Box Office, Star of the Month, Bollywood Divas and Kilig Monday. Even the original character names in the movies are changed to names familiar to the audience. Zee Sine also offers three original movies and three original drama series on weekdays and five original movies on weekends, and premieres three "first-airing" movies every month on weekends.
Zee Entertainment CEO in Asia Pacific and Africa Harish Goyal revealed that they produce Bollywood content every day. "We are the largest Bollywood content producer and we have content library of over 250,000 hours. We are not only drama shows producers but also we have movie production with more than 3,000 titles of Bollywood movies."
Liza furthered that 380 movies have already been fully dubbed and the number continues to grow since they produce three movies every month. Alongside the movies, Zee Sine also has TV dramas that feature the latest love teams from India for weekday afternoons.
Among India's popular celebrities that viewers can expect to watch in these shows are former Miss Universe Sushmita Sen, Miss World Aishwarya Rai, Priyanka Chopra, Aamir Khan, Shah Rukh Khan, Deepika Padukone, Amitabh Bachchan, Hrithik Roshan and Kareena Kapoor.
Subscribers can enjoy Zee Sine on Ch. 112 for Metro Manila, Ch. 424 in Cebu and Davao via SkyCable Select for P20 only. Zee Sine is available in 173 countries and entertaining over 1.3 billion viewers every day.