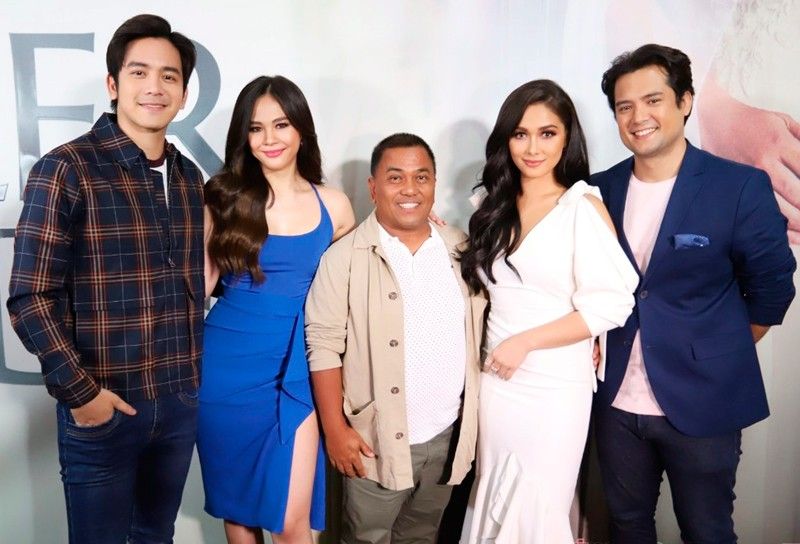 The Killer Bride director Dado Lumibao (center) with lead stars (from left) Joshua Garcia, Janella Salvador, Maja Salvador and Geoff Eigenmann
A gothic drama for Kapamilya
Jerry Donato
(The Philippine Star) - July 29, 2019 - 12:00am
MANILA, Philippines — "Gothic drama" was how director Dado Lumibao framed the genre of the upcoming Kapamilya series, The Killer Bride, in a brief interview with The STAR. "It's not horror horror but (it has) the feel (of it). It's about superstitious beliefs. You know Pinoys have this penchant for (spirit) possession, which the story tackles," he added. So the gothic is the supernatural aspect (like a ghost who returns to the physical world and manifests sightings among the living), while the drama refers to a person's suffering fueled by hate and revenge. Romance, a rudely interrupted kind, completes the compelling narration.
The Killer Bride seems to be the first foray of the Kapamilya network into gothic drama, as direk Dado put it, "(ABS-CBN is) more inclined to (doing a) love story." His being a screenwriter also comes handy in this latest project.
"Yes, (I focus on) the flow of the narrative more than (let's say) the blocking," he said. "Even if the blocking is simple, the presentation (of the story) should be logical." That's true because the motivations of characters, particularly the leads, have to be well defined so that the audiences can follow their stories and understand their character arcs.
"All characters are significant, like what others say wala yun sa exposure, nasa laman ng character mo (The significance of one's character is not based on its exposure [or screen time] but is based on its weight in relation to the entire storytelling)," he said. They are pieces of the puzzle that need to be put together to discover the core of the story.
In a gothic drama like this, doing story research is a must. The narrative stands on some superstitions Pinoys are familiar with. There's the concept of feng shui to drive away "malas" or bad omen or possession (which shows why individuals are vulnerable to the "games" played by wandering spirits). Again, all this is set against the themes of love (a generational one), family feud (between the Dela Torre and Dela Cuesta), fear, forgiveness and revenge. Another interesting point that the series might explore is how an "urban legend" is created.
"Although the theme of revenge is implied… the feel of romance is still strong," Dado said. The series has been shot in Davao (for the banana plantation scene), Batangas, Laguna and Quezon.
Taking on the roles of Camila dela Cuesta, the bride and her "alter-ego" Emma are Maja Salvador and Janella Salvador, respectively.
"Like what I've said in my (previous) interviews, I would always love to challenge myself," said Maja (in a recent media call) who portrayed the cunning, vengeful Ivy in Wildflower. "So when The Killer Bride was offered to me, parang ang hirap tumanggi. I knew it would surpass (what) Wildflower (had achieved) dahil din sa ganda ng kwento at sa mga magagaling kong kasama. Wildflower became a success not just because of me but also because of the people I worked with." Maja added that she had "butterflies in my stomach" when she learned about the teleserye's line-up of stars, among them are Cris Villanueva, Dominic Ochoa, the come-backing Aurora Sevilla and veteran actor Eddie Gutierrez, who worked with Maja in the hit Ina, Kapatid, Anak. Also in the cast are James Blanco, Lara Quigaman, Sam Concepcion, Alexa Ilacad, Eric Nicolas, Keanna Reeves, Ariella Arida and Loren Burgos. "I was excited, iba ang bigay ng (The) Killer Bride, iba ang maibibigay namin," she said.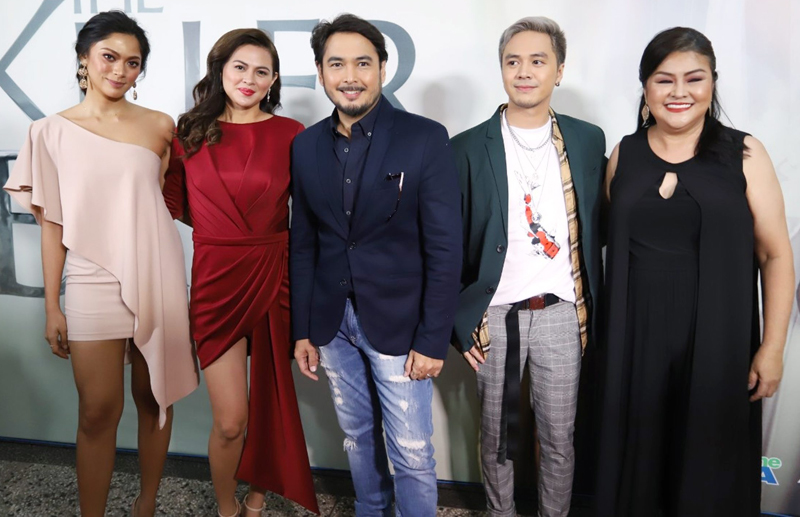 From left: Ariella Arida, Lara Quigaman, Cris Villanueva, Sam Concepcion and Aurora Sevilla, cast members of the upcoming Kapamilya series
For Janella, she considered the series as manna from showbiz heaven.
"This soap is actually a big blessing to me, sobra kong tagal na nawala because life happened, things happened," she said. "I used to have time to think about kung ano talaga ang gusto kong gawin to improve myself. My last soap was like one or two years ago. When it was pitched to me, the first thing that came to mind was 'Wow.' Ang galing talaga ng timing ni God. Before they offered (it) to me, I was going through a medyo rough patch, bakit hindi ako nag-wo-work ngayon? Ano ba ang dapat kong gawin? Ano ba ang tamang path for me? Then, this came. It's so challenging, it's the most challenging role I have ever decided to (play), I hope I would get it kasi napaka-ganda ng role. (Hopefully,) I will give it justice."
Yes, The Killer Bride is a story of its own, but one can't help but be reminded by it somehow of Patayin Sa Sindak si Barbara and how female characters traverse the travails of their lives, especially when theirs are connected.
Maja and Janella will be partnered with Geoff Eigenmann and Joshua Garcia.
"I'm very excited of the challenges that will come my way," said Geoff. "Hopefully, I will be able to show something different (here)… I'm very happy to be back." As for his and Maja's working relationship, the two simply click together. "We're comfortable with each other. Matagal na kaming nagkasama. This is the first time that we can show what we're capable of (as a team-up). We're very excited. So this is the right time that we are being paired off (on the small screen)," he said. Geoff and Maja appeared together in Maalaala Mo Kaya (MMK) a few times and were supposed to star in a teleserye before. Since they've been friends for a long time, "We can talk about anything," shared Geoff, whom Maja calls "kuya," but when their scenes in The Killer Bride demand them to be romantically involved, they just jump into their roles and deliver.
The feeling of excitement to collaborate with new partners was also evident with Janella and Joshua. Being comfortable in each other's presence was also the tall order of the day for these young stars.
"Actually, I was excited... because there (had been plans in the past) for us to work together in projects. This is the right time, the right project for us to work," said Janella.
"Masaya ako for this is an opportunity… Thank you, Lord for the blessing," added Joshua. "Since it was my first time to work with her (Janella), there was the initial ilangan (awkwardness), pero na break namin yun for the unit provided us a workshop." As for the way things are going in his life, Joshua said: "Masaya lang po ako sa ngayon. Puro trabaho lang ako recently (It's all work)."
With The Killer Bride, fans of teleserye have something new to add in their daily TV watching routine and a gothic drama to follow once it unfolds.