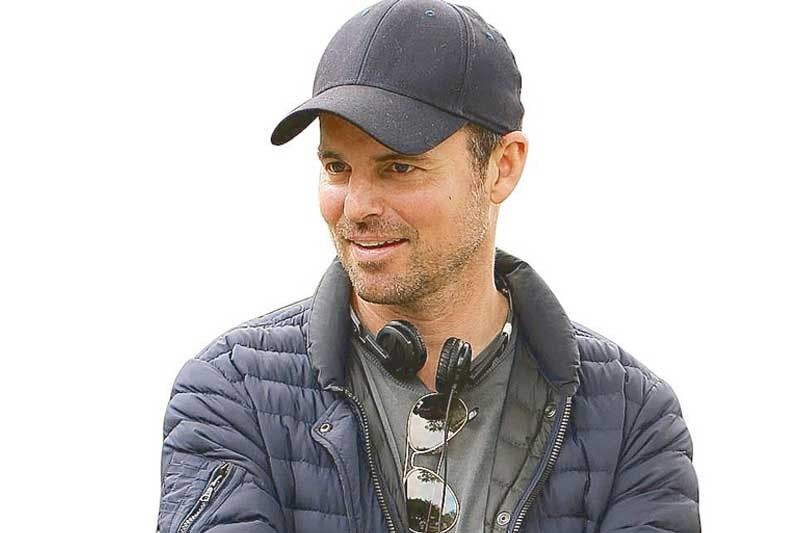 The director of the new Netflix film talks about what he thinks is a perfect date ­– and much more.
Chris Nelson: A simple evening is fun, with good food & good conversation
(The Philippine Star) - April 26, 2019 - 12:00am
Now streaming on Netflix is the feel-good romantic-comedy The Perfect Date, directed by Chris Nelson based on Steve Bloom's debut novel The Stand-In which he adapted into a screenplay. The film follows a high school senior named Brooks Rattigan (played by Noah Centineo) who needs money for college. He creates an app where anyone can hire him to be a stand-in boyfriend for any occasion. He enters the world of wealthier private school girls and he figures out who he is along the way.
"It's a fun coming-of-age romantic comedy," said Nelson. "One of the film's executive producers, David Blackman, showed the script to producer Matt Kaplan who took it on to produce. I had done Date and Switch with them previously and they asked me to work on The Perfect Date. Randall Green then came on board to give the script a more modern twist. We all felt it was a really fun concept for a romantic comedy."
An American filmmaker, Nelson had his debut at the Sundance Film Festival (SFF) with the premiere of his first feature film, Ass Backwards, followed by Date and Switch starring Nicholas Braun and Dakota Johnson. He started in commercials, directing clients like Gatorade, Reebok, ESPN, Miller and HBO. Prior to directing, he produced the commercial and music video work of fashion and celebrity photographer Herb Ritts. Nelson graduated with honors in Modern Culture & Media from, Brown University.
Noah's character gets into several makeovers like art connoisseur, tennis player, salsa dancer, douche bag and cowboy. The other members of the cast are: Laura Marano as Cecilia Liberman who helps Brooks eventually achieve his life goals of earning extra money, deciding on his dream college and making him realize that they're perfect for each other; Odiseas Georgiadis as Brooks' gay best friend Murph who programs the Stand-In app for Brooks and who has his own romance arc; and Camilia Mendes as Shelby Pace, Brooks' dream girl (Camilia appears in only a few scenes).
Funfare did an exclusive phone interview with Nelson (from L.A.).
Excerpts (with additional input from an e-mail interview):
What did you find most interesting about the story?
"I loved the dynamics in the script between all of the main characters. I also loved that the main character, in an effort to make money for college, was launching an app where he was a chaperone. I felt like I hadn't seen that type of story before in a young romantic comedy."
What was your favorite scene to shoot?
"I'd probably have to say the scene where Brooks and Celia stage their breakup at the 18th birthday party. It was actually the last night of our shooting schedule and we found that location at the very last minute. It was originally scripted to take place at a country club.
"There weren't any available options, but that ended up working in our favor since the idea of a country club didn't feel true to the character. We felt like a wealthy kid in today's world would rent a much cooler space. We looked at restaurants and typical event spaces but nothing was clicking.
"The locations department finally showed me that unique columned event place that was in the park. It just felt different and special. We lit the columns and the production designer created a great layout with seating areas. When we went to shoot, it just felt so satisfying. The actors and I had a lot of fun shooting it."
And what was the most difficult scene to shoot?
"All the driving scenes when the actors are in the car. It's always a bit chaotic to rig, light and direct those scenes because I'm working off of a camera car and the actors are in the picture car on a trailer behind us. There's quite a lot to coordinate with policed traffic control. And I have to give direction to the actors via walkie-talkie as we are driving along freeways and the (not so well-paved) roads of New Orleans. It's a fun adventure but never exactly simple or easy."
Which of the characters did you identify with?
"Truthfully, when I direct a film, I try to find something in all the main characters that I relate to. That said, I related to the enterprising quality of Brooks' character and the strong will of Celia!"
How much of your personal experience did you draw from in telling the story?
"I remember the pressure I felt about getting into the right college when I was in high school. I also went to a public school and I related to the awe that Brooks' character initially feels when he steps into the world of the wealthier private school kids."
What was it like working with the cast?
"They were honestly amazing. We had such a tight and ambitious schedule and they were all so professional and prepared. We really concentrated on the tone of the movie when we rehearsed and talked about the characters. I wanted a certain type of rhythm with the witty dialogue that we developed in the script. It's almost like a throwback to some of the early screwball romantic comedies, but I wanted it all to feel natural and not too forced. They all really got it.
"We wouldn't have made our schedule if they hadn't been so great. There were no attitudes, no egos. We all clicked and had a lot of fun working together. On the very last day of shooting, Noah, Laura, Camila and Odiseas all got together and had a picnic in the park to celebrate the successful shoot. I remember seeing the photos they took and they looked so happy together."
How different is The Perfect Date from your other films?
"It's a different type of story than my other two films and a different style of humor."
How do you think the film will resonate with millennials?
"Millennials, and everyone really in today's world, are used to connecting with people online. And the character of Brooks has to try on various personalities before he gets a better understanding of who he really is. I think that basic idea is very relatable, now more than ever with social media."
What's your idea of a perfect date and what would it require (aside from money)?
"I'm pretty simple when it comes to dating. In the beginning, I just want good food somewhere and good conversation. If a simple evening is fun, then it's a good sign in my opinion!"
What do you want audiences to take away from the film?
"This is meant to be a fun, feel-good movie with a heart and a healthy dose of wit to it. I really hope audiences have fun watching it and that they connect with the characters. I always like when I see a film where I want to hang out with the characters and spend time in their world."