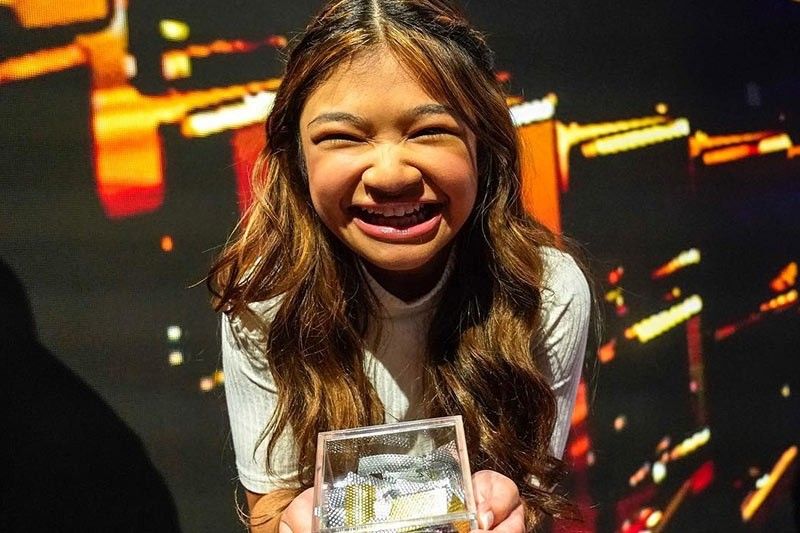 In a post on Instagram, Fil-Am singer and "America's Got Talent" contestant Angelica Hale said she could not believe that she got her second Golden Buzzer. "I can't believe that I now have TWO #goldenbuzzers Thank you @howiemandel for believing in me and sending me through to the finale of #AGTChampions!!!" she captioned her post.
Angelica Hale/Instagram
Fil-Am child singer carves name in 'America's Got Talent' history
MANILA, Philippines — Filipino-American singer Angelica Hale made history on "America's Got Talent" after she recently became the show's first two-time Golden Buzzer contestant, earning her a ticket to the finals.
"HUGE congratulations to @angelicahale on becoming the first two-time #GoldenBuzzer in @AGT history!" NBC Entertainment tweeted Tuesday.
Judges and members of the audience gave the 11-year-old singer a standing ovation after she sang Rachel Platten's "Fight Song" for her comeback performance as a contestant of "AGT: The Champions."
"Angelica, you are like the little boss lady that you are. You came here to win. I can see that. I can feel that," said Heidi Klum, one of the four judges in the competition.
Judge Howie Mandel who pressed the golden buzzer said he would help Angelica win the contest.
"When people show up on this show, the level of competition is much higher. Just by the title, you are amongst champions. You show up and you ripped the ceiling off this theater. That was your fight song and if I can do anything, I am going to help you win this fight," Howie said.
Angelica burst into tears when she learned that she is going to the show's finals.
"I can't believe this is actually happening to me. I never expected this to happen. I wanted to thank you so much. This is a dream come true," Angelica said.
Angelica got her first Golden Buzzer during AGT season 12 in 2017 when she became the show's youngest runner-up.