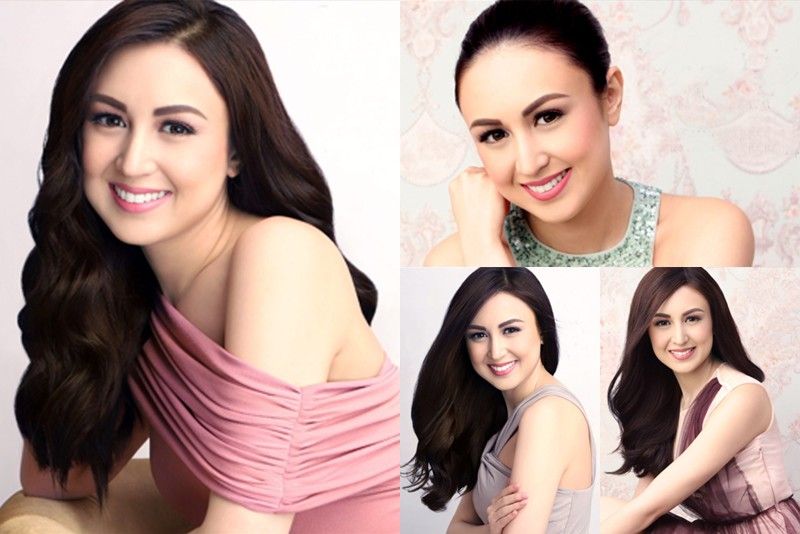 The 'Kamisetization' of Yasmine
CONVERSATIONS
-
Ricky Lo
(The Philippine Star) - April 15, 2018 - 12:00am
Kamisetize.
Soon (if it is not yet), it will be the new verb in the local beauty-business vocabulary, defined as a painless procedure of making your skin glow and glow. No, you won't find the word yet in any dictionary but I'm sure it's familiar to celebs who have been Kamisetized at Kamiseta Skin, owned and managed by Cris Roque (along with, among other businesses, a hotel in Baguio City, the Vanilla Restaurant and, yes, Kamiseta clothing line), celebs like Mai Mai Cojuangco (featured in this corner early this year) and Yasmine Espiritu-Vargas, wife of Quezon City (Fifth District) Rep. Alfred Vargas, the new addition to Kamiseta's growing roster of endorsers.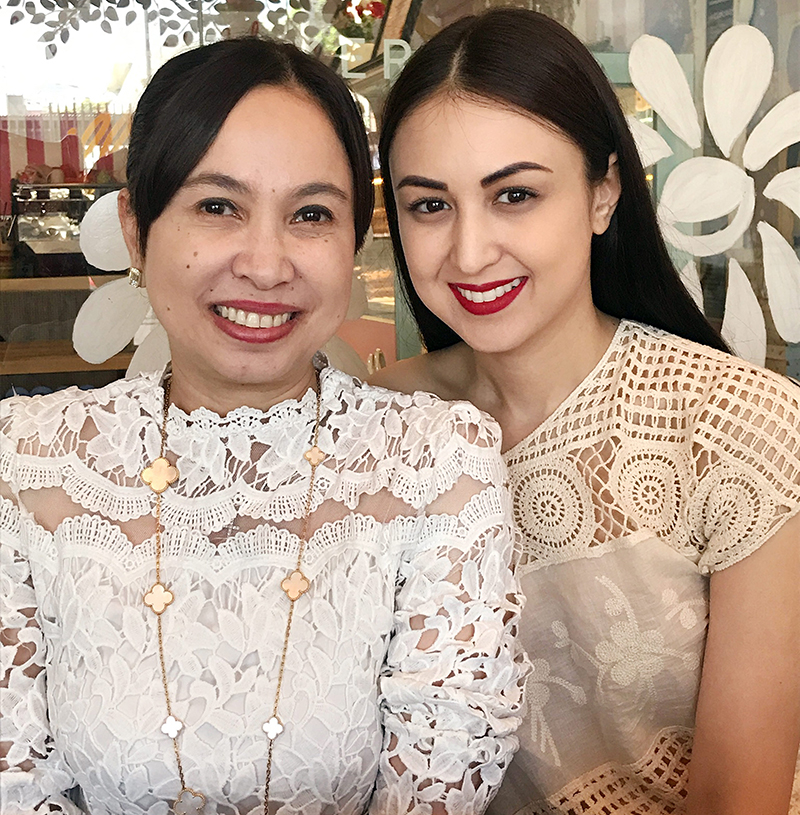 Kamiseta

Skin owner

Cris

Roque (above, with

Yasmine

Espiritu

- Vargas): When I met

Yasmine

, I knew that she was the perfect endorser. She's beautiful inside-out, with skin that glows.
Kamisetization is achieved with the help of state-of-the-art laser machines in five-star rooms at Kamiseta Skin (at the Third Floor of Ayala Malls 30th on Ortigas Avenue, Pasig City), including the following treatments: Ulthera, the very popular laser for skin-tightening; Revlite for skin brightening, whitening and rejuvenation; White Laser for skin whitening for both face and body; Gmax Pro, the gold standard for laser hair removal for face and body; Venus Freeze for skin tightening of face and body (it also aids in losing inches in the body); hydra facial and super facial which are the gold standard for facial (it has the infusion of anti-aging and brightening serum for skin rejuvenation, brightening and whitening); Legend laser for skin tightening, toning for body; Therm-Lift, the gold standard for non-invasive face and body lift; Fotona 4D laser, the 4D non-invasive face lift, at the same time for skin resurfacing and perfect for acne skin; and, of course, the Kamiseta signature facial, the basic facial that lightens the skin and gives it a distinct glow.
"I really like Yasmine the first time I saw her pictures on her IG," related Cris. "That was only in November. Like Mai Mai, she's the perfect face for Kamiseta Skin. Her beauty shines through; she has a skin that glistens. I called her and that was it. My staff was impressed! Ang kinis-kinis daw! She came with Rep. Alfred. They're such an ideal couple. Her being a good wife and a good mother contributes to her beauty. She's beautiful inside-out."
When Yasmine walked into the Kamiseta Skin clinic, she thought she was in a five-star hotel.
"Very classy," was all Yasmine could say.
Although she was born with flawless skin, Yasmine admitted that when she turned 30 early this year (Alfred is 38), she felt that she needed maintenance. She continues to use sunblock and washes her face with just soap and water.
"I've been visiting Kamiseta Skin every Sunday since last year," said Yasmine (Kamiseta is the first beauty endorsement that she accepted). "I really like the treatments, especially Revlite and Therm-Lift."
It helps that Yasmine and Alfred lead a stress-free married life with their daughters, Aryana Cassandra and Alexandra Milan. But in Congress, Alfred does experience some stress…understandably so. "Alfred has never given me any problem," confessed Yasmine, adding in jest, knocking on wood, "so far, wala pa naman."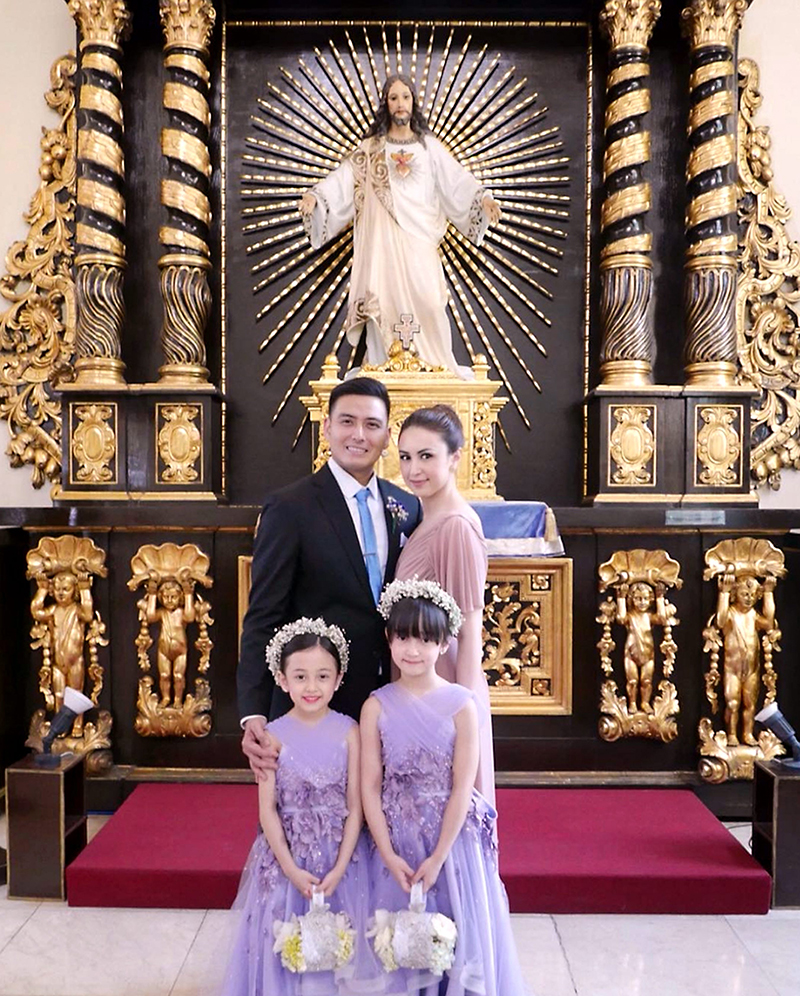 Yasmine

with husband, Quezon City (Fifth District) Rep. Alfred Vargas, during their church wedding in July last year, with their daughters

Aryana

Cassandra and Alexandra Milan. 'I married a good man,' says

Yasmine

, 'No regrets.'
They have been married for eight years, first in civil rites in 2010 and in church in July last year, same dates. As you probably know by now, the half-Italian/half-Filipino Yasmine was (still is!) a fan of Alfred who never let go of her after their chance meeting in Laguna where Alfred had a show. "He's my first (and only) boyfriend," revealed Yasmine.
Of course, Alfred had counted a few girlfriends before he married Yasmine. "Kasi naman," said Yasmine, "nasa Ateneo pa lang siya, talagang hunk na siya."
Yasmine used to eat anything (including junk food) but when she turned 30, she drastically changed her diet.
"Now, I'm more into bread and meat." And, since she's Italian, "Pasta and Risotto. I avoid rice na. I'm heavy on vegetables."
But she has no time to work out.
"My exercise is limited to running around with the kids. They are girls pero malilikot sila."
As much as possible, she gets seven hours of sleep every night.
"But I can't sleep when he has a shoot or a taping. I have to wait for him." (Alfred is in the GMA soap Kambal-Karibal. His schedule is like this: Monday, taping and Congress; Tuesday, Congress; Wednesday, taping and Congress; Thursday, at his office in his district; Friday and Saturday, still at work. Sunday is strictly family day.) "Up to now, nasanay na akong natutulog na nakadikit sa kanya. The kids sleep in their own room. Then I wake up early to prepare breakfast for the kids before I drive them to school. Sanay ako mag-drive. In Italy, I drive. Hatid-sundo ko sa school ang mga bata."
To unwind, the family doesn't have to go somewhere.
"Basta we are with family. Masaya na kami. But every night, as soon as he gets home, after dinner, he plays with the kids, nagti-tickle-tickle sila. Every year, we visit my folks in Milan. One time, Alfred started to hike at Santiago de Compostela but he didn't finish it. He had to rush back to Milan when I got sick." (Santiago de Compostela is the capital of northwest Spain's Galicia region, known as the culmination of the Camino de Santiago pilgrimage route and the alleged burial site of the Biblical apostle St. James.)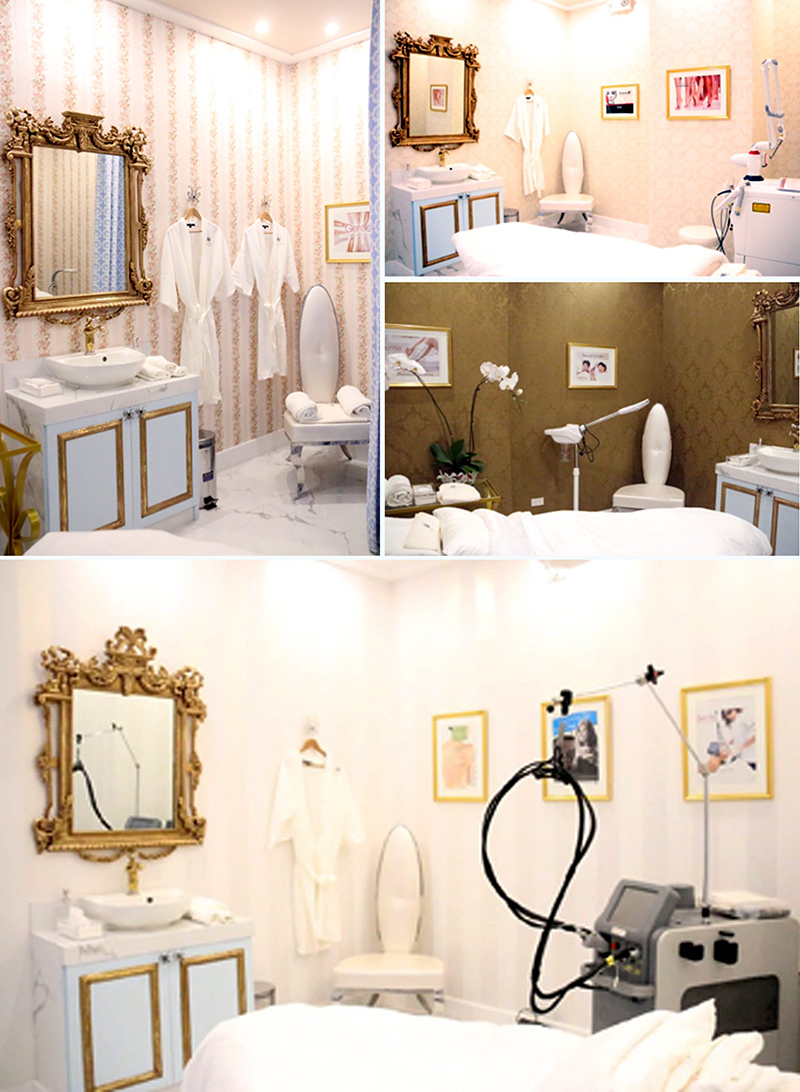 The
Kamiseta

clinic has treatment rooms that have a five-star-hotel feel. Procedures are done with state-of-the-art laser machines.
Did you know that Yasmine almost joined showbiz? In 2008, Yasmine was a member of Star Magic but she backed out when she met Alfred.
"Alfred didn't know that I was starting in showbiz. Pero sandali lang 'yon. Before he learned that I was with Star Magic, Alfred said that hindi niya type maging girlfriend ang taga-showbiz. But okey lang daw ituloy ang showbiz kung tapos na ako ng school. So I did. I took up Fine Arts in Italy. When I came back, kami na ni Alfred. A year later, we got married na (civil rites) and I got pregnant na."
No regrets, assured Yasmine.
"I married a good man."
(E-mail reactions at rickylophilstar@gmail.com. For more updates, photos and videos, visit www.philstar.com/funfare. or follow me on Instagram @therealrickylo.)