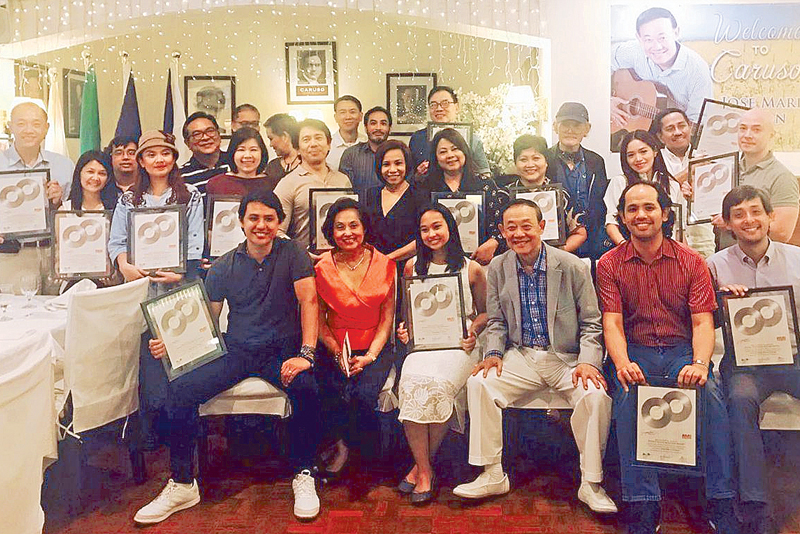 Seated: At the Caruso Italian restaurant in Makati City, Jose Mari Chan and wife Mary Ann Ansaldo and sons Franco, Michael and Joe and granddaughter Ramona Isabel Buñag Chan who is one of the 'Double Platinum' awardees (others shown at the background) for Joe Mari's second Christmas album Going Home To Christmas. — Photos by Ricky Lo
Joe Mari worried about the future of OPM
FUNFARE
-
Ricky Lo
(The Philippine Star) - January 25, 2018 - 12:00am
The local music industry is in a sad state and Jose Mari Chan finds it alarming.
"Some recording companies have shut down," noted Joe Mari, a pillar of the industry, "and some record outlets have closed. It's sad, isn't it?"
No thanks to the advent of the digital platform which provides such apps as Spotify, iTunes and others on which anybody can upload songs which can be copied and shared with other people in a jiffy.
"That's why today," added Joe Mari, "few people buy CDs because they can easily download songs. Social media has changed the way artists promote their songs."
Joe Mari was talking to media guys covering the awarding of recognition to the singers, writers, arrangers and artists involved in the production of his second Christmas album Going Home To Christmas (GHTC) which was declared a Double Platinum (30,000 copies sold) since its release in 2012, exactly 22 years after Christmas In Our Hearts which has sold more than 850,000 copies, making it the all-time biggest selling album in the local music industry. His Constant Change album got the first 10-time Platinum award for selling over 400,000, the first Diamond award in the industry.
The awardees present at the Caruso Italian restaurant in Makati City were: Father Johnny C. Go, SJ; Joel Trinidad; Homer Flores and daughter Hannah; Moy Ortiz and The CompanY; Psalmo 47; Jun Latonio; Mary The Queen Children's Choir; Ria Villena-Osorio; Kitchy Molina; Jude Roldan; Yaron Gershovsky; Robert Delgado; Alan Smallwood; Loren Steele; Junie Devecaiz: and Joe Mari's musician sons Jose Antonio, Michael Philip Ciprian and Francisco Rafael, and granddaughter Ramona Isabel.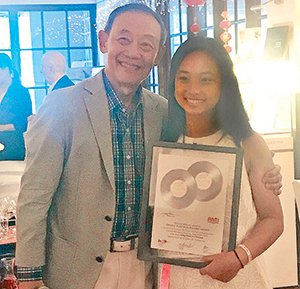 Lolo Joe Mari and Ramona duet in the Song of the Firefly
Aside from Joe Mari's daughter Liza Chan-Parpan (who was in Singapore for a family affair), those who begged off were Jimmy Santiago, Gerard Salonga, Freddie Santos, Ogie Alcasid, Pinky Valdes, Shiela Valderrama, Noelle Cassandra, Teenee Chan, Louie Ocampo, Trina Belamide, Noel Mendez, Marvin Querido, Rudy Lozano and Khalil Refuerzo.
Joe Mari only shrugged off being called King of Christmas because of his two hit albums, saying, "I'm just the Little Drummer Boy. The real King of Christmas is the Baby in the Manger…Jesus Christ."
Going back to the dire state of OPM (Original Pilipino Music), he admitted, "Many times, I worry about the future of OPM. There has been a dramatic drop in record sales, that's why the industry lowered the standard. During my time," continued Joe Mari who celebrated his 50th anniversary in the industry last year, "Gold meant 20,000 copies sold and Platinum, 40,000. Now, it's only 7,500 for Gold and 15,000 for Platinum. Giving a Gold and/or Platinum award is calculated to spur more sales and to inspire artists to do more albums."
Asked what made a hit song, Joe Mari turned to Moy for his opinion.
"There's no formula, no guarantee," said Moy. "Writing music is like flying a kite. You do your best that it will soar. You really don't know what song will click."
"Of course," added Joe Mari, "it would help if radio plays your songs. They can always ask copies of your new songs but they seldom do. Very few stations play OPM."
The situation has gone so bad that it disheartens not just Joe Mari but perhaps younger artists, citing as example his own sons.
"My three sons are songwriters in their own right. Michael did an album called 5 Corners that won an award. If it were 40 years ago, he could have come up with a second or third album but he did not. Joe and his band Generation (with the sons of Celeste Legaspi and Sampaguita) also did an album produced by Star Records. It didn't sell well not because it wasn't good but because of the situation."
GHTC is aptly titled because in it Joe Mari sings not only with his children (Joe, Michael, Franco and Liza, who sings the carrier single of the first album) in the song Christmas Moments, but also with his and wife Mary Ann Ansaldo's 10-year-old granddaughter Ramona Isabel Buñag Chan (Joe's daughter) in Song of the Firefly.
"I am giving these Double Platinum awards in recognition of all those involved in the making of GHTC," explained Joe Mari. "The success of an album is the work of not just any well-known artists no matter how established he is; it is the collective effort of other artists, the musicians, composers and arrangers."
The musical journey hasn't stopped for Joe Mari who refuses to rest on his laurels.
"The past 50 years have been fun and exciting, even if sometimes challenging, especially if we local artists have to deal with foreign acts," adding, "but that's another story altogether.
(E-mail reactions at entphilstar@yahoo.com. For more updates, photos and videos, visit www.philstar.com/funfare or follow me on Instagram @therealrickylo.)